My favorite headline for the 2017 edition of Bookshop Valentine's Day: "Kim Kardashian skips Super Bowl fun to shop for 'Valentine's Day books for Northie' in deserted store." Actually, my real favorite is not bookish at all: "Love is in the air at the Valentine's Day Digester Egg Tour at the Newtown Creek Wastewater Treatment Plant."
Am I a cynic? Maybe, just a little, though I'm also fascinated by the varieties of Valentine's Day experience that indie booksellers take advantage of during what is actually the cruelest month (apologies to T.S. Eliot). Merchandising cards, gifts, candy, "blind dates with books," rugs and more keeps the registers ringing for a "holiday" that, as the American Independent Business Alliance noted, "is a big deal for many indie businesses.... Go Local for Valentine's Day! About 60% of people in North America make Valentine's Day purchases each year, totaling about $20 billion."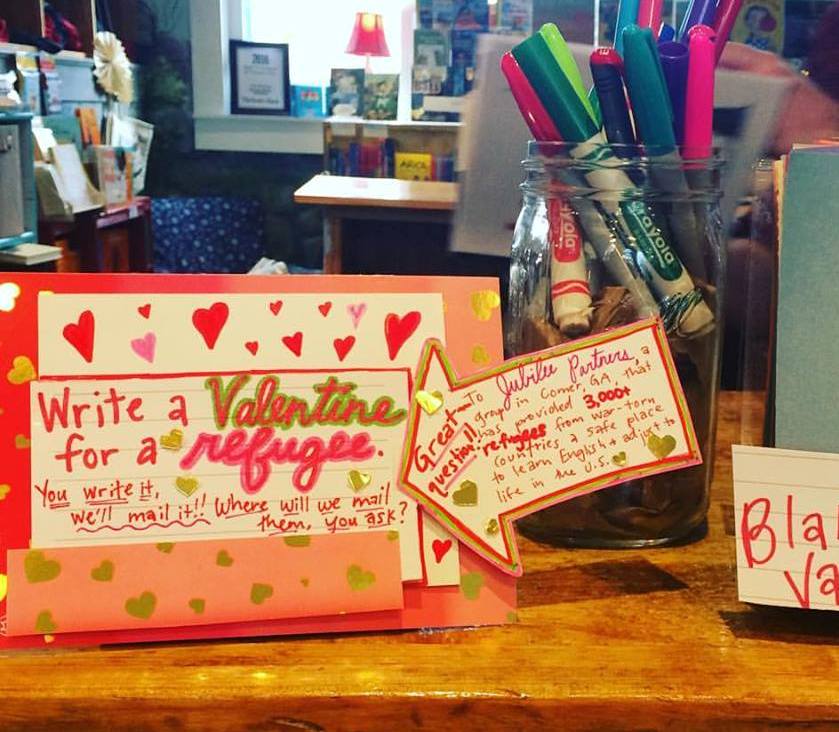 There's also a political edge to Valentine's Day 2017 in the book world, including the Leaders Are Readers project: "This Valentine's Day, share our love of literature and hopes for a better world by burying the Oval Office in a mountain of great books. In the process, we'll support local bookstores and the publishing industry."
Avid Bookshop, Athens, Ga., invited people to stop by its Prince Ave. store "during the next week to decorate Valentines for refugees! You write it, we'll mail it to Jubilee Partners, a group in Comer, Ga., that has provided over 3,000 refugees from war-torn countries a safe place to learn English and adjust to their new home. #refugeesarewelcome #allarewelcome #jubileepartners #avidloves #valentines #avidactivism #avidonprince #avidgivesback #refugeeswelcome".
In a letter e-mailed to customers yesterday, Annie Philbrick, owner of Bank Square Books in Mystic, Conn., and Savoy Bookshop & Café in Westerly, observed: "As Valentine's Day approaches, our bookstores are more determined than ever to show support and love for everyone in our community, no matter their opinions, background, race or national origin. In this spirit, we will be donating 20% of all sales this weekend to the ACLU of Connecticut and Rhode Island, WARM Center of Westerly, and the New London Homeless Hospitality Center. We believe that this support will show our love for our country and its freedoms."
At Malaprop's Bookstore/Café, Asheville, N.C., where "book valentines are now taking over our computers," a sidewalk sandwich board asked: "Need something for a love? Feeling frustrated with the Gov.?"
Good stuff. And here's a sampler of what some other indie bookstores are up to this Valentine's Day:
"Did someone say open bar?" asked WORD Bookstore, Brooklyn, N.Y. "Come out to Villain for our second annual Galentine's Day Romance Bash featuring raffle giveaways, drinking games, hilarious conversation, and more with authors Sarah Maclean, Maya Rodale, Suleikha Snyder, and Damon Suede. This panel will be moderated by WORD's Romance Book Group leader Madeline Caldwell. It's going to be a PARTY."
McLean & Eakin Bookstore, Petoskey, Mich., noted: "Let's face it, Valentine's Day is not for everyone.... It is, after all, an arbitrary day that is supposed to be fun. If it's not fun for you, forget about it! Lots of other historical things happened on February 14th. The state of Oregon became the 33rd state, the first personal computer was revealed, and the first GPS went into orbit. All of those have a lot more impact on your life today than whether or not you celebrate Valentine's Day this year. Here are some traditional, and not-so-traditional Valentine's picks for you to peruse."
For the Tattered Cover Book Store, Denver, Colo., "every day is a love affair with authors and stories of every genre, and in honor of that, we are dedicating the month of February to the authors we love. Throughout the month we will be sharing letters written by our staff and booksellers to express their respect, adoration and affection for the writers who have lifted them up, inspired them, and propelled them down the path to becoming the wonderful and passionate bibliophiles they are today."
"With Valentine's Day coming up, we thought it might be an appropriate time of year to share some of our staff members' favorite love stories," Brilliant Books, Traverse City, Mich., observed. "Of course, we've got a very eclectic group of readers on staff, so their selections are just as unique. From adorable and charming to heartbreakingly beautiful, these love stories span the full spectrum of relationships. What better gift for your special someone this February 14th?"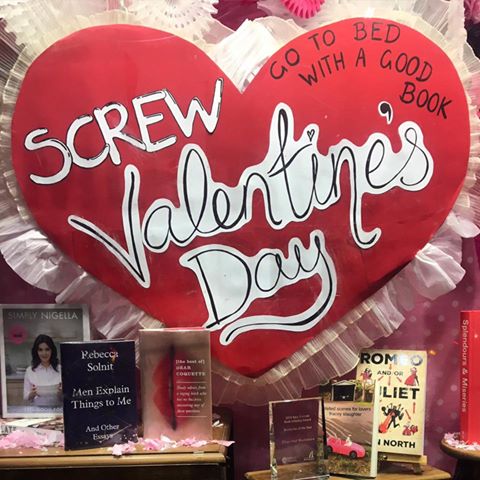 Speaking of staff picks, New Zealand's Wardini Books, Havelock North, asked: "How about this for Valentine's Day guys and gals? You can't really go past Amy's succinct description!" And another Kiwi shop, Time Out Bookstore in Auckland, offered an alternative strategy with a balloon that says: "Screw Valentine's Day. Go to bed with a good book."
Ultimately, however, I think Greenlight Bookstore summed up Valentine's Day best in its e-newsletter this week: "And whether you love the holiday or hate it, books make everything better."
--Publiished by Shelf Awareness, issue #2935