Friday, August 5, 2016
"Beach reading" takes on a whole new meaning for the next couple of weeks as the 2016 Olympic Games open in tropical Rio de Janeiro. And even though idealistic visions of Chariots of Fire dudes running in slow motion have been replaced by cautionary news reports of polluted waters, Zika virus and doping scandals, the beachy opening ceremonies will nonetheless be staged tonight with all the anticipated five-ring hoopla.
In the spirit of the Olympics and their long, if occasionally stumbling-at-the-starting-line, history, I thought I'd officially propose adding a Bookathlon competition for booksellers to the 2020 Tokyo Games, with the following events:
Weightlifting (stacks of books)
Precision Shelving (timed event)
High Jump (for books on top shelves)
Staircase Sprint (with an armload of books)
Sales Floor Speedwalking (dodging customer hurdles)
Yes, I'm just a bit of a cynic when it comes to the spectacle. Reading David Goldblatt's brilliant The Games: A Global History of the Olympics recently has only fanned my world-weary Olympic flame. But reading is my way through most things. Find the best stories, like the ones Goldblatt shares.
Signature recently featured a "Summer Olympics primer: 10 books for the Rio de Janeiro games"; and Electric Literature recommended "18 books for your Summer Olympics deep dive." The July issue of Words Without Borders, "Brazil Beyond Rio," offered a compelling and "different look at the South American giant that will host this year's Olympic Games. The writers here--both those from abroad and those from Brazil--set out to rediscover and portray the diverse Brazils within this dynamic country."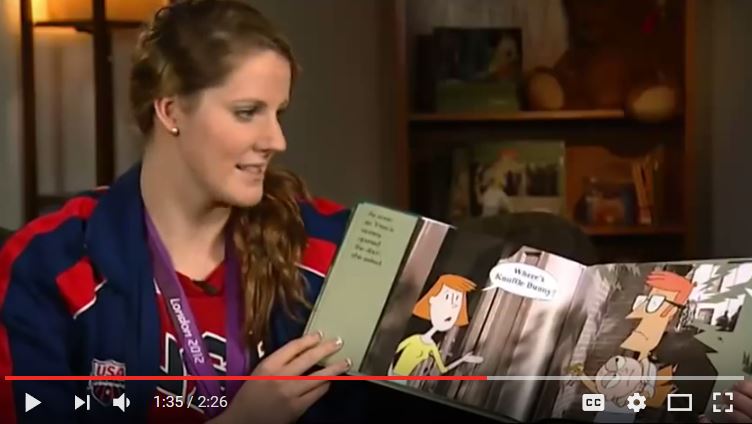 Olympic swimmer Missy Franklin reads Knuffle Bunny for One Book 4 Colorado.
On a lighter note, Olympic swimmer Missy Franklin shared her "Rio Reading List" with Travel & Leisure magazine. "I'm a huge reader," she said, adding that a visit to the bookstore is generally part of her pre-packing routine. "A few days before a trip, I have a great time researching what everyone is reading and picking the books for my flight.... I really have to make sure that I have a good library set for me before takeoff."
Don't forget the kids. "Read your way to Rio! Your family's summer Olympics primer," Brightly advised. And Changing Hands bookstores in Tempe and Phoenix, Ariz., have been in the spirit with a Summer Olympics Reading Program.
A Rio bookseller has had his Olympic moment, too. In June, we reported that Rodrigo Ferrari, co-owner of Livraria e Edições Folha Seca, had to remove a sign from his display window that included the word "Olympics" because of product licensing violations. "I was worried, so I took it down, despite finding it absurd," he said.
Absurdity is something of an Olympic tradition, as the amazing BBC Four series Twenty-Twelve proved in the run-up to the London Games. There's even a Rio connection in scenes where British organizers discuss the "proper gift for a visiting Brazilian Olympic delegation," and then take them on a less-than-successful bus trip to tour facilities under construction and meet Lord Sebastian Coe.
A notable 2012 Olympic bookselling moment was the Quixotic, if well-intentioned, effort by David Mitchell, owner of Scarthin Books in Cromford, to act on his belief that the Olympics "should mark the efforts of those who come fourth in their event" by creating a new medal himself. No word on whether the organizing committee set its licensing wolves after him.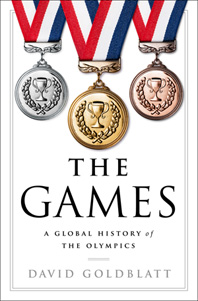 The arts have long played a role in Olympic tradition. In his introduction to The Games, Goldblatt notes that Baron de Coubertin, who organized the first modern Olympics in 1912, "had long believed that sport was not antithetical to the arts, but a distinct and important component of a society's cultural life. It therefore seemed natural to him, though not too many athletes and artists at the time, that the Olympic Games should also stage artistic, literary and musical competitions on the theme of sport."
While the 2012 London Games, for example, featured an ambitious "Cultural Olympiad," Rio's efforts have been hampered by drastic funding cuts, and "for the first time since 1992, the Olympic host city has not organized a four-year cultural program to culminate in the Games. Instead, it has focused on activities throughout its Olympic year and during Games time.... Organizers admitted there had been setbacks but said the line-up would be revealed soon and would feature flashmobs and 'surprises,' " Deutsche Welle reported.
What's an Olympic cynic to do? Maybe I'll just follow the sound advice Goldblatt offered in a recent Vice Sports interview:
A good dose of skepticism, a splendid sense of humor, and a deep sense of history, I think, are the essential equipment to take to the sofa.... I'm not asking people to take the weight of guilt upon their shoulders. And I don't think we're colluding by watching. But take a critical air, read around, and above all I encourage people to think, how could it be otherwise? It doesn't have to be as it is. There are things we like about it, but there will be a thousand things one finds irritating or irksome or unjust about it. And here's the critical moment to say: how can it be otherwise? What else would we like? It's a spring to the imagination.
So lift, shelve, reach, climb, walk and, above all, "read around." You're a future Olympic bookathlete in training. Act like one.
--Published by Shelf Awareness, issue #2811
Robert Gray
|
Comments Off
|