Friday, July 13, 2012
Whether you're lured by headlines promising entertainment (Beach Reads You Can't Put Down; 5 Geeky Beach Reads for this Summer), enlightenment (Beach Reads for Smart People; Brainy Beach Reads for 2012) or even a preemptive cure for beach book self-consciousness (Summer Reads that Won't Embarrass You), there's no avoiding the fact that it's high season for sun-drenched tomes.

Just the mention of "summer reads" or "beach books" can spark myriad reactions, including unbridled enthusiasm over the luxury of reading just for the fun of it; mild concern for good friends who insist on reading bad books; or loud cries of indignation about the end of civilization as we know it due to bestseller feeding frenzy (see Fifty Shades of Grey).

But even a quick perusal of the digital archives offers some intriguing 19th-century perspective. "Same as it ever was," as David Byrne counseled.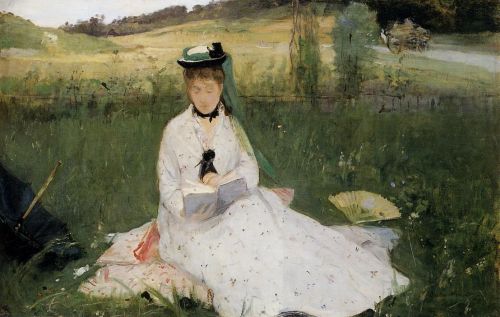 "It is a well-established tradition that reading for the summer must consist of fiction, or other forms of what is called light literature," wrote O.B. Bunce in The Critic (1888). "From May to September the publishers vie with one another in the production of books that are designed to meet the supposed requirements of the season; on all hands we encounter catalogues of 'Summer Books' and suggestions to readers of volumes that are supposed to be light enough to accord with the idle humors and vagrant purposes of summer solstice."

Mr. Bunce suggested "the notion is so prevalent that light reading only should be undertaken in summer, that many a person, I am convinced, struggles to interest himself in a dull novel, sighing wearily over its pages, when by boldly discarding tradition he could in weightier matter find just the stuff that would awaken his mind, stir his faculties, and carry him through the hottest day with satisfaction and pleasure. Ennui may live in a novel, and die in the page of a philosopher."

In an 1885 edition of Friends' Intelligencer and Journal, the morality of youth was said to be at risk from summer reading fare: "There is no season of the year in which there is more trash read than during the midsummer weeks or months, when nearly every one takes some kind of a vacation. People seem naturally and willingly to fall into a sort of literary demoralization then.... Hundreds of young people return from a summer vacation with their literary tastes perverted, filled with unwholesome fantasies, a morbid sentimentalism the result of their unguided summer reading. 'Where we go,' said a lady, 'one has to read trash or nothing.' "

Since this is an election year, it's also worth noting a call for patriotic summer reading in a Baltimore American piece (1887) headlined "Patronize American Books," which scolded: "About this time many people, and especially the ladies, are selecting their reading matter for the summer season. Most of them, although they may wear the most expensive clothes, will buy the cheapest books. They will take the works of foreign authors because they can get them in the ten and twenty-cent reprints, and will ignore American books because they cost a little more. Now this isn't right."

Touting American literature as "full of beauty and strength and interest," the writer suggested that "patriotism, wisdom and self-interest should combine to make us determined to get fully acquainted with this literature.... Any young lady, or old one for that matter, or any young man can in a summer's reading get a very good acquaintance with the literature of this country, and such an acquaintance will be of untold good for the future as well as the present."

For the book trade, 19th century summer challenges included a perennial quest for "cool covers," literally. "Look which way one may the words 'Summer Reading,' 'Outdoor Books,' 'For Tourists,' 'Summer Series,' etc. meet the eye," the American Bookmaker reported in 1888. "It need hardly be said that these books are all complete in one volume, and mostly in paper or flexible covers.... But there is one thing which the book for summer reading should have and that is a cool cover. By cool cover is not necessarily meant a paper one. Some cloth covers have a trim and airy look about them, pleasant to the eye, agreeable to the touch."

The concept of "light" summer books was also on the mind of our friend Mr. Bunce, who concluded: "Light literature for summer reading is a notion that had its origins with men who read little else, but books light in weight are a desideratum that every one feels who wishes to carry his favorite author with him into the fields or the woods." Or the beach.--Published by Shelf Awareness, issue #1782.
Robert Gray
|
Comments Off
|