Friday, October 21, 2016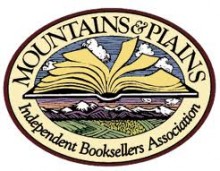 One of the things that we hear a lot of in terms of feedback and questions is, 'How's it going in other regions? What's going on right now with the indie channel?' We're very happy to say that the indie channel is strong.
--Dan Cullen, American Booksellers Association senior strategy officer, speaking at the MPIBA's general meeting
So there I was a couple of weeks ago, sitting in a room filled with energized booksellers at the Mountains and Plains Independent Booksellers Association's Fall Discovery Show. There was good news--15 new bookstore members, 221 booksellers in attendance--and animated conversations among bookstore owners who were (Dare I say it?) feeling pretty good about the book trade.
Valerie Koehler of Blue Willow Bookshop and Fred Ramey, co-publisher of Unbridled Books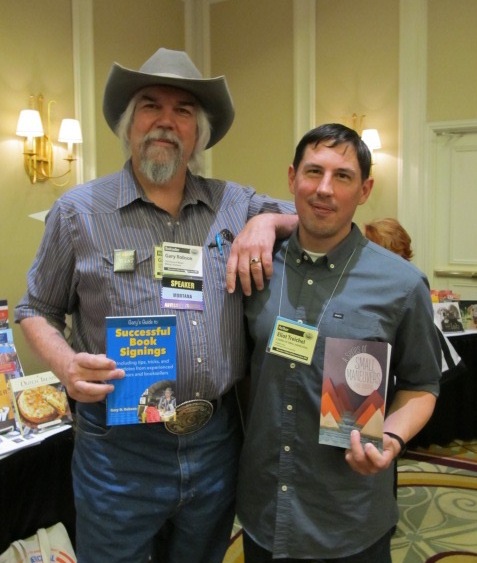 Gary Jobson and Eliot Treichel
But just for a moment, like a passing dark cloud, I recalled an author lunch during the 2008 MPIBA show in Colorado Springs. I'd been sitting at a table with several booksellers who were discussing how much longer they could reasonably justify staying in business. "Bookselling in Challenging Times" was one of the education sessions that year.
The times, as our latest Noble Lit Laureate has often reminded us, are a-changing. Education sessions at this year's MPIBA show featured options like Profiting from Non-Profit Partnerships; Increasing Book Sales at Events; Diversity Through Merchandising; and The Mathematics of Bookselling. Raising your bookseller game, rather than just surviving it, was a predominant theme. The exhibit hall was active and interactive. That 2008 survivalist mentality seemed a distant memory, a bad dream.
Valerie Koehler, owner of Blue Willow Bookshop, Houston Tex., said she liked that the show was "relaxed. People are really engaging with each other. The reps are excited to talk with booksellers. Long time booksellers engage with new booksellers. In the sessions, when booksellers ask questions they are answered by everyone in the room. The sessions are geared toward many levels of booksellers which is helpful for the newer stores. The many events for gathering (meals, banquet, Books & Brew, etc.) give ample opportunity for everyone to meet. It's a great show."
Gary Robson, general manager and CEO of This House of Books, Billings, Mont., agreed: "The name 'Discovery Show' is perfect for this conference, because it's all about discovering new authors, new books, and new connections. The authors I meet in Denver in October are often the ones putting on book events in my store later in the year, and the exhibit hall gives me a chance to catch up with sales reps that don't always make it up to Montana for store visits. This year I had an opportunity to not only learn from the education sessions, but teach as well. The beauty of teaching a seminar like 'Bookselling by the Numbers' is that the research process is as educational for me as it is for the attendees."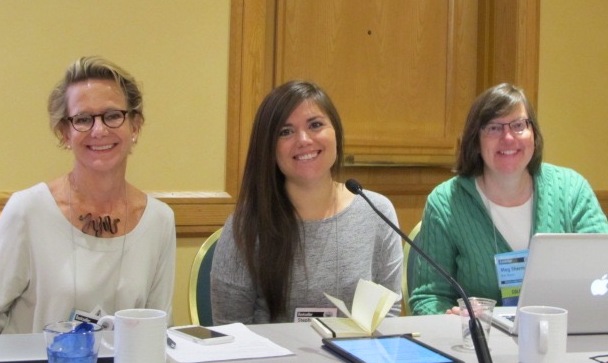 Frontlist buying session: Tattered Cover's Cathy Langer and Stephanie Coleman with Norton sales rep Meg Sherman
And, fortunately, bookselling history is about much more than the dark ages of 2008. At the beginning of an informative session called Frontlist Prep from a Pro, Cathy Langer, director of buying for Denver's Tattered Cover Book Store, shared a bit of nostalgia: "I started at the store in 1977, when we were one teeny, tiny store, working off yellow and brown inventory cards. That was helpful for buying and restocking, but we also did a lot of buying out of blind gut buying. We say buying is an art and a science. Back then, there was a lot less hard science and a lot more art. Things have really changed over the years."
No small part of that change has been booksellers' evolving engagement with the Internet. A Social Media for Frontline Booksellers session reminded me that even a decade ago, such discussions were often about convincing half the room that a store website might not be the worst idea ever. Now these sessions drill much deeper into the finer points of social media strategies as an everyday part of operating a 21st-century indie bookstore. Convincing booksellers that they should be involved seems almost as outdated as inventory cards.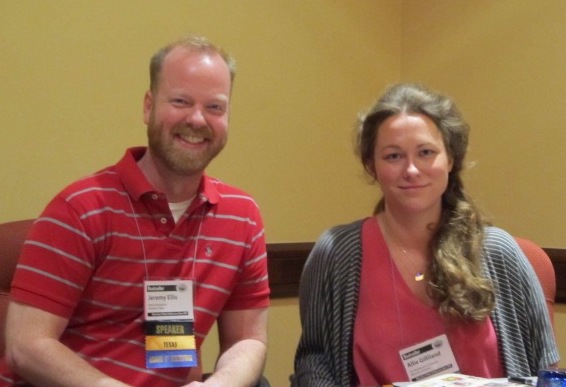 Social media session: Jeremy Ellis of Brazos Bookstore and Ally Gilliland of The Bookworm of Edwards
At the social media session, Jeremy Ellis of Brazos Bookstore, Houston, Tex., said, "One of the secrets about bookselling is that everybody sells the same books, but nobody has you. You are the unique thing. The real product of an independent bookstore is the bookseller. That's the only thing that's truly unique. And so, being yourself as much as you can be on these platforms conveys your real brand. It has nothing to do with the logo; it has nothing to do with your color scheme. Your brand is the promise of who you are."
So where do we go from here? At the Reading the West Book Awards Luncheon, Eliot Treichel, winner of the children's category for his YA novel A Series of Small Maneuvers, shared some life-altering words of wisdom from his first whitewater kayaking instructor, who counseled: "Two deep breaths, then go."
Expressing gratitude to the MPIBA and indie booksellers, Treichel recalled spending his first year of college in Missoula, Mont.: "I was lonely and homesick and all of that, except that a few blocks from my dorm was this bookstore called Freddy's Feed & Read, which became a second home to me.... So whenever I travel to a town, I always look for a bookstore. I've come to realize that that's what bookstores are. They're homes. Whatever city I go to, no matter how lost I feel, how turned around, if I go to a bookstore there's a sense of orientation."
When I consider that 2008 Bookselling in Challenging Times education session, and all that has happened since in our chosen field, I can't help but think the best advice is at once the simplest and most complex: "Two deep breaths, then go."
--Published by Shelf Awareness, issue #2864
Robert Gray
|
Comments Off
|