Sunday, September 18, 2011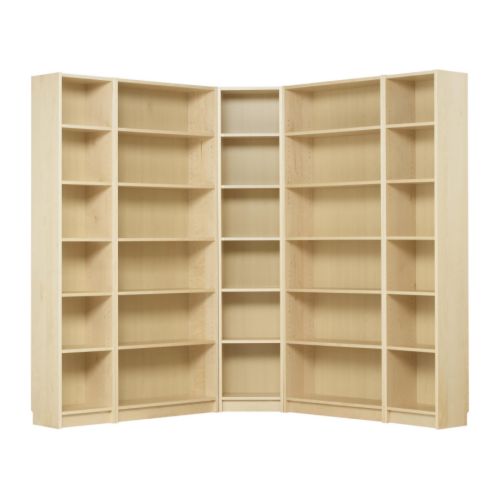 When Lisbeth Salander needs to furnish her new apartment in Stieg Larsson's The Girl Who Played with Fire, she drives to the IKEA store at Kungens Kurva, where she spends "three hours browsing through the merchandise, writing down the item numbers she needed." Apartment Therapy conveniently documented her purchases, including two Bonde bookcases.

I thought about Lisbeth's $13,000 shopping spree when panic hit the streets of BookWorld last week, triggered by an Economist article that began: "To see how profoundly the book business is changing, watch the shelves. Next month IKEA will introduce a new, deeper version of its ubiquitous 'Billy' bookcase. The flat-pack furniture giant is already promoting glass doors for its bookshelves. The firm reckons customers will increasingly use them for ornaments, tchotchkes and the odd coffee-table tome--anything, that is, except books that are actually read."

Within hours, the terror had spread via Twitter and Facebook, followed by media headlines that once again were trumpeting the end of book civilization as we know it. Here's a sampling:

IKEA Hates Books
IKEA Resizes Billy Bookshelf. Pundits Declare Death of Books
The End of Books: IKEA Is Changing Shelves to Reflect Changing Demand
IKEA Redesigns Classic Bookshelf, Foreshadows the Demise of Books
Has the Bookshelf Become a Dinosaur?

Over the weekend, reality began to intrude, as it sometimes--though not often enough--does in these situations. IKEA's PR manager Marty Marston told Reluctant Habits the Economist's story had been misleading: "We are not removing the original Billy. It's interesting that everybody has jumped on this," she said, adding that a new Billy bookcase with shelving 15-inches deep will be joining the original 11-inch version. "Billy has gone through transformation since it started in 1979. This is just one additional transformation. And we'll probably see some other ones." E-books were not a factor in the company's decision.

Anthropomorphic clarification was produced by Curbed, which quoted Billy him-...er... itself: "Reading is one of the most enjoyable and smart things one can do with their time. And who knows better about reading than me, Billy Bookcase.... My shelves are deeper so I can house bigger books. Deeper books. And I can hold all those mementos and pictures to keep all those books company. And my original Billy size still remains. You can count on it. My endurance remains high. So please, no more talk about reading books and how they are on their way out."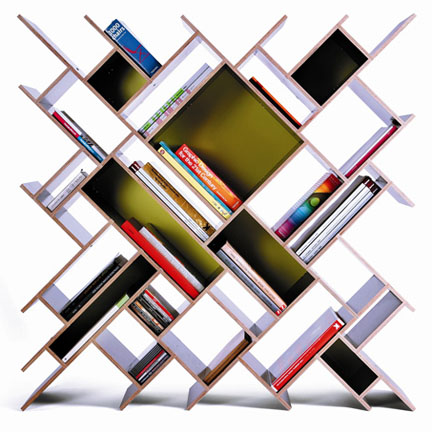 Paranoia may strike deep and fast in the book heartland, but ultimately it will save neither the traditional book nor the traditional bookcase. A design change by IKEA is not an omen, even if many of the early reactions to Billy's evolution resembled medievalish predictions of a digital plague. Bookcases are furniture, not monuments.

Sitting here at my desk, I'm surprised to discover that I cannot count how many bookcases there are in our house right now. Of course I could wander the rooms and take an inventory, but it doesn't really matter. Simply put, there are a lot of bookcases here. Some are expensive and some inexpensive. Some are made of wood and some of steel. Some have deep shelves and some narrow. In the shadowy depths of the basement, there's probably even a CD/DVD shelving system, if you want to discuss storage ideas that had a painfully brief "shelf life."

And yes, on more than a few shelves there are even the dreaded "ornaments, tchotchkes and the odd coffee-table tome" that struck fear in heart of the Economist. As there should be in anybody's personal library.

In what I assume was a purely coincidental interior design piece on bookshelves in the Wall Street Journal last Saturday, Sara Ruffin Costello wrote: "A good bookshelf is the foundation.... My favorite look is a collected-over-time weave of hardbacks, sculpture, mementos, art and bookends--the bits and pieces of a curious and full life."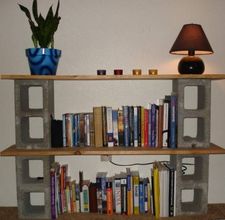 There are so many things to worry about in BookWorld, but shelving isn't a priority. Remember, as a fallback strategy there will always be the board-and-cinderblock option so many of us chose in our youth.

So we can all just exhale now. IKEA's place in our bookscape remains secure. Hell, it has even been known to perform extra duty as a simile. In her 2008 review of The Girl with the Dragon Tattoo, NPR's Maureen Corrigan noted that the author's "multi-pieced plot snaps together as neatly as an IKEA bookcase."
--Published in Shelf Awareness Pro, issue #1559.
Robert Gray
|
Comments Off
|