Friday, September 30, 2016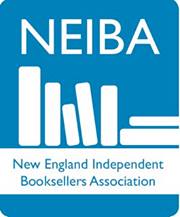 I just ran the numbers. The word "conversation" has appeared in about 300 (more than half) of my columns, dating back to 2006. And here it is again, because that is precisely the word that came to mind often during last week's New England Independent Booksellers Association Fall Conference in Providence, R.I., where the atmosphere was a generous blend of conversation, energy and enthusiasm. And books, of course... lots of books.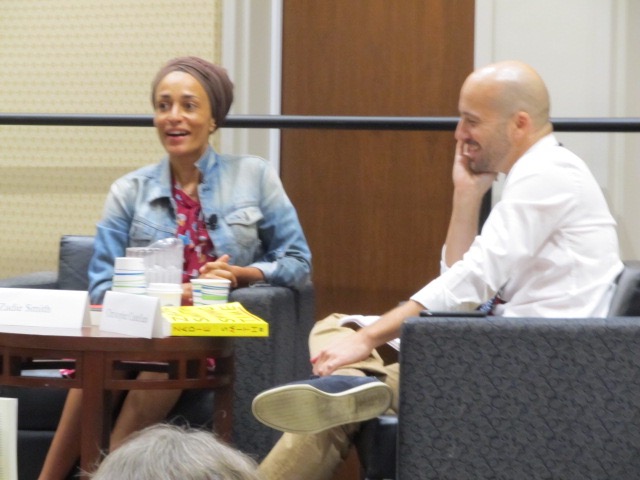 Zadie Smith and Christopher Castellani
It all launched Tuesday at an extraordinary keynote event, featuring Zadie Smith (Swing Time) "in conversation" with author Christopher Castellani, who began by saying, "We've already started our conversation, so you're just joining us."
Smith covered a wide range of topics, including the challenges of writing in first person ("It's quite curious the power that the 'I' has."); power dynamics ("Nobody thinks of themselves as an unimportant country or an unimportant person, but the world is structured in such a way that you're made to accept that role, or asked to accept it."); privilege ("There is no such thing as a perfectly right or authentic position to exist in.... I kind of work from the assumption that everyone is in some kind of existential pain."); cultural appropriation ("To me it's always a specific matter between an artist and a subject, between a reader and what they read. I can't generalize on the topic."); and the bond between authors and readers ("The relationship is fundamentally unfinished unless there is someone on the other side to talk about it with.... I do absolutely need readers.").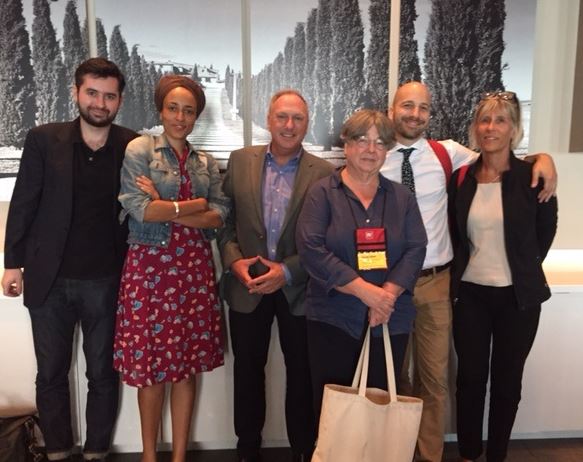 (l.-r.) Tom Wickersham (Brookline Booksmith), Zadie Smith, Karl Krueger (Penguin Random House), Carole Horne (Harvard Book Store), Christopher Castellani (Grub Street), and Ellen Jarrett (Porter Square Books)
Claire Benedict of Bear Pond Books in Montpelier, Vt., described the keynote as "the highlight of my NEIBA experience. Her thoughtful and compassionate discussion on everything from cultural appropriation to Facebook to Anthony Weiner was inspiring. I particularly appreciated what she said about cultural appropriation being more about aesthetic failure than ethical failure--I couldn't agree more. I now have a massive crush on Zadie and am smack dab in the middle of her gorgeous new novel."
Jan Hall of Partners Village Store, Westport, Mass., agreed: "I thoroughly enjoyed the conversation between Zadie Smith and Chris (another favorite author). Hearing her speak has added several other dimensions to reading Swing Time. I can now hear her voice, and respect more the story's time, place and characters. Zadie Smith is both elegant in visage, and eloquent in words."
The keynote, which NEIBA executive director Steve Fischer called an "extraordinary and a wonderful way to open the conference," proved to be an excellent launching pad for three days of panels, meetings, exhibits and celebrations, along with less formal yet equally important bouts of "talking books." Fischer noted that while the number of exhibitors at this year's conference was up 7% and authors (64) up 10%, bookseller attendance (400) was level with 2015, though we both agreed it felt like there were more booksellers.
"It has to be because the vibe was so positive and the enthusiasm for the authors and education was so apparent," Fischer said. I'll write in more detail next week about some of the education sessions I attended, since so much useful information was shared. This week's focus is on the events.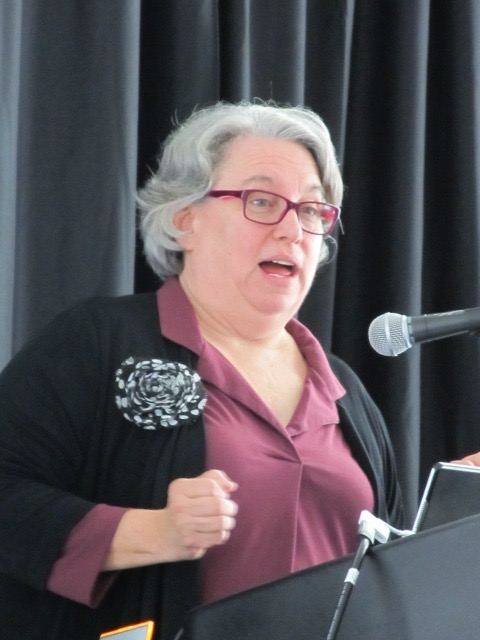 Andrea Beaty
As is often the case, authors celebrating booksellers was an ongoing theme. At the Children's Author & Illustrator Breakfast, Andrea Beaty (Ada Twist, Scientist), said, "You are the lifeblood of children's books.... The love you've shown for all my books has been breathtaking." She ended the presentation by reciting her "Ode to an Indie," which began "I want to say thanks to you indie booksellers/ Thank you book gals, and thank you book fellers," and concluded:
You are the heart of great kids lit.
Without your fine work we would lose much of it.
Not to get mushy, but I think it's true
That so many great books would be lost without you.
So thank you once more, yes thank you indeed,
For just the tonic this cranky world needs.
Your shops and your books soothe us like dogs with their bones,
And the best thing of all, you don't even need drones.
Fischer noted that he was "very happy with what we've done making the Awards Banquet such a festive evening of food and drink, authors and recognition of reps and bookstores." In addition to honoring Anne DeCourcey as this year's Gilman Award winner for outstanding rep, Norwich Bookstore for its Indie Spirit Award, and Elizabeth Strout as President's Award recipient, the banquet showcased the 2016 New England Book Awards winners and finalists.
In brief remarks, finalists Robin MacArthur (Half Wild: Stories) described indie bookstores as "holy places"; and Howard Frank Mosher (God's Kingdom) offered his thanks "for all you've done for clueless scribblers like me and for millions of readers throughout New England. Thank you so much for everything you've done for constitutional rights."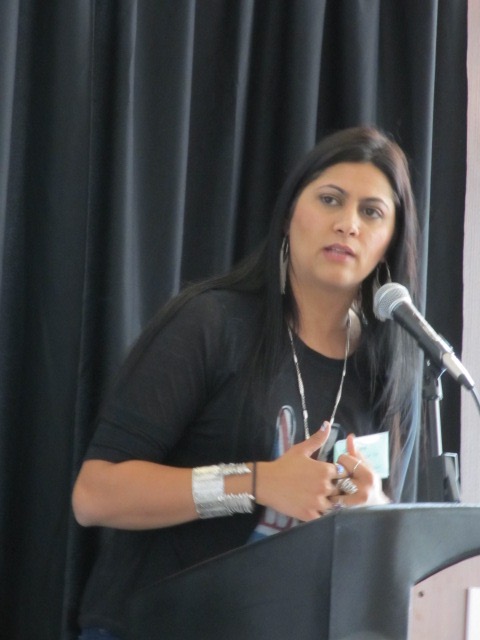 Sabaa Tahir
During the author breakfast on the final day, Sabaa Tahir (A Torch Against the Night) spoke of the range of people she writes for, adding: "You are the purveyors of such stories. Because it was someone very much like you who gave me my first story that, by extension, set me on this very crazy and twisty and weird path that has led me here in front of you. So, I want to say thank you for all that you do for readers, whether they're young or they're old."
And Min Jin Lee (Pachinko), whose first novel, Free Food for Millionaires, had been a BookSense #1 Pick a decade ago, summed it all up nicely: "If it had not been for independent booksellers, I would not be here today. I would not have a career."
"With 400 booksellers representing just over 100 stores we are firmly a retail booksellers conference," Fischer observed. "Our education is focused on bookseller education and the authors we choose are there so they can meet booksellers and booksellers can learn more about their books. The strong sales that most of our stores have been having for the past couple of years continued through the summer. Fall is teed up to be very strong which feeds in to a positive mood about the business in general. And wasn't it a relief to not harp on e-books and Amazon and to stick to our knitting and do what we've all been doing so well for so long--sell books!" The NEIBA conversation continues next week.
--Published by Shelf Awareness, issue #2850