Friday, January 6, 2017
These questions are an integral part of my New Year's resolution. They look forward. They engage. They prompt both replies and infinite follow-up "Have you...?" questions from others.
Why these in particular? Maybe because the second day of 2017 began so badly, with news of John Berger's death. His writing and art have been in my life for a long, long time. In November, I'd written a column to celebrate his 90th birthday. Just after Christmas, I watched the new documentary film The Seasons in Quincy: Four Portraits of John Berger. He had an extraordinary life by any measure, but his death still hit me hard.
On Monday, Simon McBurney, the actor, director and founder of British theater company Complicite, tweeted: "Listener, grinder of lenses, poet, painter, seer. My Guide. Philosopher. Friend. John Berger left us this morning. Now you are everywhere."
In a 2014 BBC Radio interview, McBurney spoke of how Berger's And Our Faces, My Heart, Brief as Photos had influenced his theatrical work with ideas of connection, memory, narrative and mortality, noting that Berger "digs in the vulnerable earth of human experience, and joins the fragments he uncovers with an eye as sure as an astronomer, a gesture as gentle as a carpenter."
This particular new year demands a sensory adjustment. As it happens, I just had one. On Wednesday night, I saw McBurney's extraordinary new play The Encounter on Broadway. In his New York Times review, Ben Brantley wrote: "The great privilege of being there, in person, to witness The Encounter comes from seeing a performer, in the sweaty flesh, and a team of technicians working hard to put on a show that somehow transcends what they're doing in plain view.... Let yourself go, if you dare, and you enter a world beyond borders of regimented thoughts and senses, one in which the ear sees more than the eye."
I can't begin to capture the magical blend of visual and aural effects McBurney employs to re-imagine Petru Popescu's nonfiction book Amazon Beaming, which recounts the adventures (much too tame a word) of Loren McIntyre, an American photographer who became lost in a remote area of Brazilian rainforest in 1969 and experienced a life-altering encounter with the Mayoruna tribe. (To note that the audience wore headphones during the performance is just a hint at the immersive nature of McBurney's staging of the tale.)
Have you seen it? Have you heard it? Have you read it?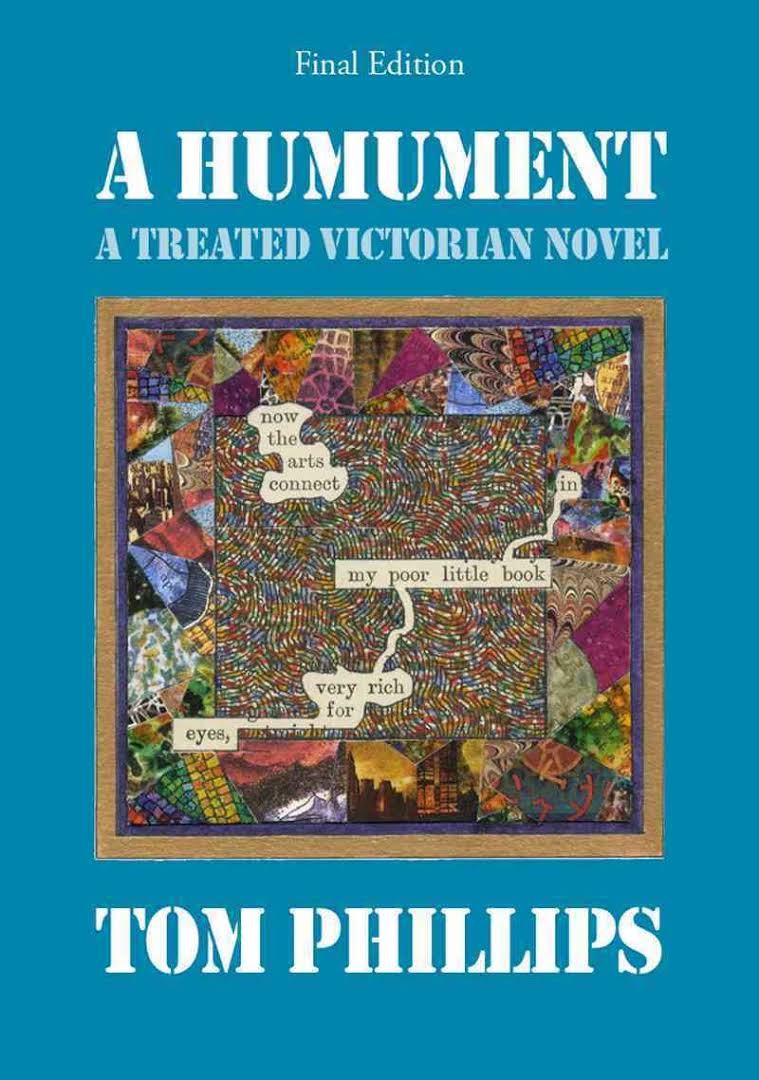 Maybe those are just questions that lead to this one: Have you read A Humument: A Treated Victorian Novel by British artist Tom Philips? This book has been following me around for awhile. I've written about it several times, including a brief Tin House essay in 2004, and a 2012 Shelf column after the fifth edition of this ever-evolving art/fiction/poetry/time travel project was published.
Next week, the sixth and final edition of A Humument will be released by Thames and Hudson here. I'll buy that one, too, and shelve it next to my volumes two, four and five. They are as similar and unique as siblings.
For the past 50 years, Phillips has been acquiring used copies of W.H. Mallock's overheated Victorian novel A Human Document and "treating" the pages with his art while leaving selected words from the original text exposed. In the process, he has become Mallock's consummate and all-consuming reader by creating an illustrated narrative in verse that merges the contemporary with the 19th century.
Have you heard that Phillips was recently named to the panel of judges for the 2017 Man Booker Prize, along with Colin Thubron, Sarah Hall, Lila Azam Zanganeh and chair Baroness Lola Young? The Guardian introduced Phillips as "a polymath who has painted Iris Murdoch, collaborated with film-maker Peter Greenway on a TV series based on Dante's Inferno and designed album covers for Brian Eno and King Crimson--[He] made his literary name with collage works, beginning with his cult 1970 classic, A Humument."
I think he's an excellent choice. A love for words and literature infuses his art ("After Henry James," "Curriculum Vitae," "Samuel Beckett," "A TV Dante"). Phillips, who read English Literature and Anglo Saxon at St Catherine's College, Oxford, has observed that he loves "the smell of a library and the feel of books. Most of all I love the serendipity and the aleatory quirks of browsing.... Every book, however unpromising, will turn out to have its day."

Have you heard (and seen) him discuss A Humument in a recent video?
Writing about the new edition, Allison Meier noted: "Yet one of the last challenges of this edition related to Mallock himself. Phillips finally tracked down an image of his grave, and it's his name carved in its stone that concludes the ultimate edition of A Humument. Over the tomb wind these concluding words that give tribute to their long posthumous collaboration: 'by whose/ bones my bones/ my best,/ perpetuate/ your grave in mine fused/ page/ for/ page.' "
Which leads me back to John Berger. "Now you are everywhere," McBurney wrote on Monday. And from the stage of the Golden Theatre Wednesday night, he whispered in our ears, with the telepathic voice of a Mayurama headman, "Some of us are friends."
Good words... for a new year. As I said at the beginning, I've decided to "celebrate" the start of 2017 with questions instead of resolutions. Have you heard Kamasi Washington's album The Epic? Have you seen Jim Jarmusch's film Paterson? Have you read Will Schwalbe's Books for Living?
Go ahead, ask me questions.
--Published by Shelf Awareness, issue #2911
Robert Gray
|
Comments Off
|