Friday, December 23, 2016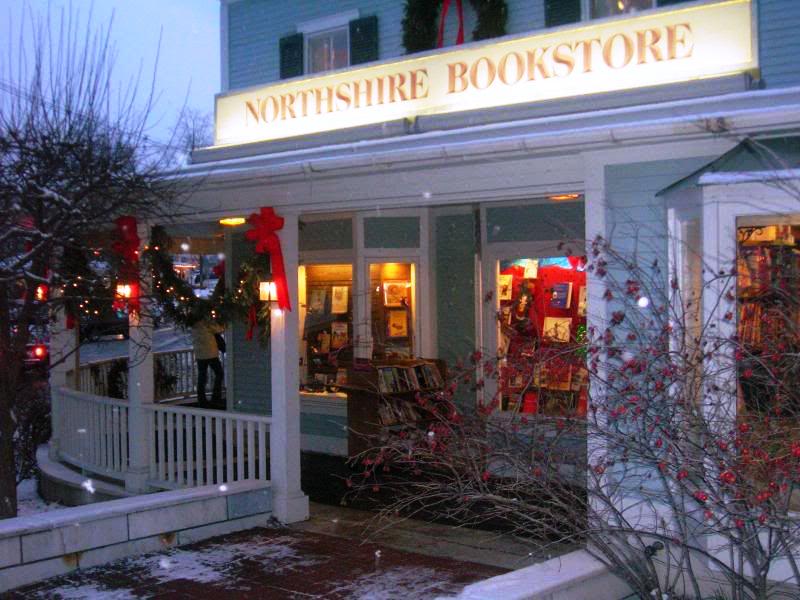 Dec. 17, 2005
6 p.m.: Still standing, but I wobbled occasionally today. Just heard a customer say: "I want to get a book for my uncle. Have you read this (holds up copy of Bad Dog)? He doesn't have a dog, but..."
Dec. 23, 2016
I posted the previous entry on my then year-old blog, Fresh Eyes: A Booksellers Journal, during my final holiday season rush as a full-time bookseller at the Northshire Bookstore in Manchester Center, Vt. As that Christmas week began, I had decided to chronicle life on the hectic sales floor with a series of entries headlined "Where the Holidays Take Me: Counting Down."
Now, 11 years later, I'm feeling a little nostalgic. There are, I suspect, two primary catalysts for this. Last June, I celebrated my 10th year as an editor at Shelf Awareness, and in September I attended a dinner marking the Northshire's 40th anniversary. As I considered what I might write about for the final column of 2016, I kept coming back to those two signature events. That led me to explore ancient online archives in search of what I might have been thinking during Christmas week 2005, as I transitioned out of one job and into, after a few stumbles, my new home at Shelf Awareness.
And I did find something. In the spirit of the season, here are a few excerpts from my own Digital Ghost of Bookseller Christmas Past:
Dec. 16, 2005
3:13 p.m.: The snow is still falling, but many brave souls have fired up the ol' SUVs and braved their way down the mountain to the bookshop. I don't sense true gifting desperation yet. Because Christmas falls on a Sunday this year, there is still a kind of delusional confidence exhibited by shoppers today because they think they have more time left than they actually do. I suspect the shopping window will be narrow this afternoon and will close with a thud when darkness descends in an hour or so. This town has a medieval relationship with the night. The streets empty as the skies darken.
Dec. 17, 2005
1 p.m.: Wow. three-and-a-half hours have flashed by since my last entry. Guess it's busy, huh? It's hard not to be amazed at the STUFF people buy for holiday gifts. Books, sure, but also games and calendars and toys (TOYS! in fact, heaps and mountains of toys) and neckties and computer games and DVDs and CDs and... Well, let's just say the feeding frenzy is at optimum level today thus far. I sometimes think that my time here has turned Christmas into a spectator sport for me. You can only watch so much of this (with full realization that it's what keeps this store in business) without questioning your own approach to what George Carlin calls, and I paraphrase, this great old pagan holiday.
Dec. 21, 2005
7:28 p.m.: I'm back home after a full shift at the bookstore, which seems like a minor miracle given how sick I was a couple of days ago. We were VERRRRYYY busy today, the genuine holiday gift madness kicking in full steam. I never stopped moving from one task to another, my colleagues reminding me again and again about my "lame duck" status. Funny.
Dec. 22, 2005
8 a.m.: I will be a Northshire Bookstore frontline bookseller for three more days. People ask me what I'm going to call myself in my new venture, Fresh Eyes Now. It's a logical question. For a while, I used the dreaded word "consultant," but lately I've been reverting to a more accurate description: "Bookseller." That is what I will be in my new life. It's probably what I will be until I croak.... During my years at this bookshop, I've had no personal goal bigger than to elevate the visibility of the frontline bookseller, and I was doing this long, long before I ever considered writing about it in a venue like this blog...
Dec. 23, 2005
Wow! Details tomorrow.
Dec. 24, 2005
4:30 p.m.: It's over. We won.
Dec. 25, 2005
Christmas morning. The day after my last day as a full-time frontline bookseller at the Northshire. It's been an incredibly busy week, the pace increasing dramatically as the weekend approached and reaching hyper-warp drive proportions yesterday. So many people buying so much stuff (some of the stuff even included books, thankfully) and heaping these piles of stuff on one of our eight checkout counters....
I need a week to heal and rest, so this will be my last post until the new year. Thanks to everyone who has been so supportive of the blog and my new venture, Fresh Eyes Now. Despite my Scrooge-like relationship with the season (forged from more than 30 years of retail experience), I do hope your holidays are safe and joyful, and I'll see you next year.
Dec. 23, 2016
...and to all a good night.
--Published by Shelf Awareness, issue #2907