Friday, December 9, 2016
I love Christmas trees, but only as a spectator sport. In other words, I love other people's Christmas trees, which are now everywhere--posed fully decorated in house and store windows; strewn undecorated and for sale across parking lots like pop-up forests; or strapped triumphantly to the roofs of passing SUVs.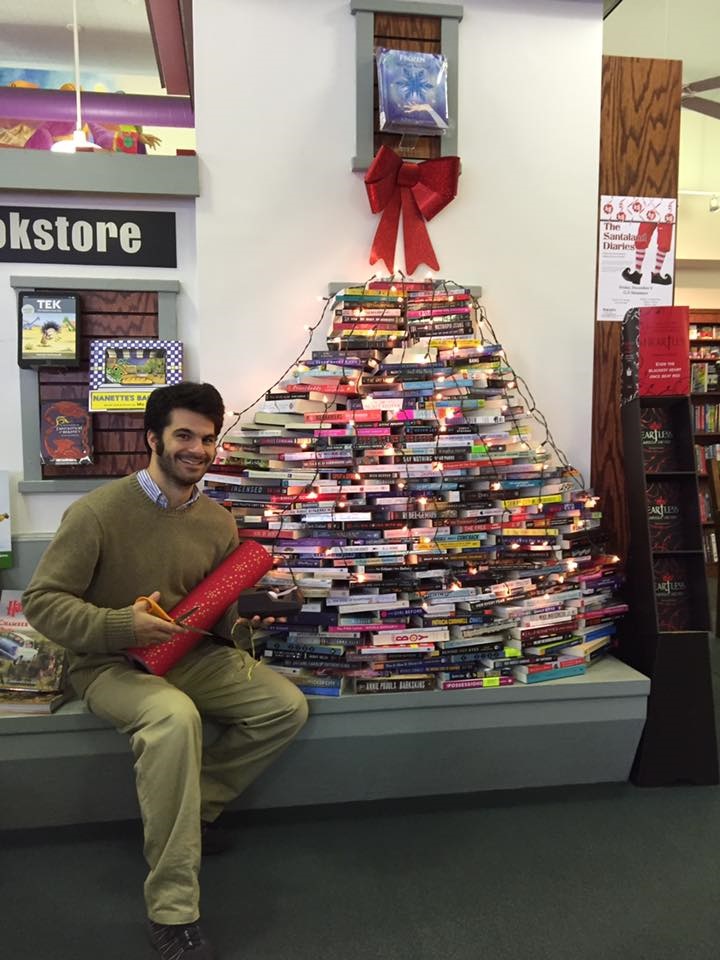 river's end bookstore's "book tree is trimmed!"
And in bookshops, of course, where you can go traditional like Paragraphs on Padre Boulevard, South Padre Island, Tex.; or new wave, as the river's end bookstore, Oswego, N.Y., did: "Our book tree is trimmed! And our gift wrappers are standing by (or sitting). We have our holiday catalog full of beautiful gift ideas (books!). And in the days to come we look forward to seeing you in the bookstore!"
Many bookstores have variations on the Northshire's Book Angel Program, featuring a tree decorated with paper angels that customers can buy to make a book donation for a child recommended by area schools and organizations.
This year, I'm trimming a monumental imaginary Christmas tree (Rockefeller Center would be jealous), its decorations handmade from the festive ideas, displays, events and pics that indie bookstores are publicizing nationwide. To find raw materials for these decorations, I went rummaging through boxes in my Internet attic. Here's just a sampling of what I found there (And the season is still young!):
Village Books, Bellingham, Wash.: "O.K., we know the holidays have officially arrived here at the Fairhaven store because--drum roll, please--our book tree is up!! Lovingly crafted by our own talented staffer, Laura, this darling decoration can be admired by all down at our used-book counter. Fa-la-la-la-la-la-la-la-lovely!!"
Bridgeside Books, Waterbury, Vt.: "Star Night @ Bridgeside Home! #starbrightstarnight" And: "Our giving tree is filling up beautifully! So many generous donations of amazing books for the Children's Literacy Foundation!"
Downtown Books, Manteo, N.C.: "First Friday! Music--wine--friends--dogs in Christmas sweaters--and Vivian Howard's cheese ball!!"
Viewpoint Books, Columbus, Ind.: "Three great ways to get in the holiday spirit today at Viewpoint Books: 1) Get 20% off all gifts purchased for Toys for Tots (donation box is here in the store!) plus 20% off one item on your shopping list for kids, too! 2) Advent calendars are still available and it's not too late to start! 3) Help us fill the Pajama Bag!... Thank you for joining us in celebrating the season!"
Let's Play Books, Emmaus, Pa.: "Almost ready to host our first event on the 3rd floor (or the CATtic)! We are looking forward to our Journey to the North Pole at Let's Play Books."
Brazos Bookstore's #bearddecorations
Brazos Bookstore, Houston, Tex.: "Are y'all ready for our holiday open house tonight? We couldn't get merrier if we tried. #maxiumyuletide #beardbaubles #christmasbros #houstonevents #hipsterbeard #bearddecorations #booksellerlife #christmasparty #holidayparty." And: "When The Nutcracker comes on the holiday playlist and you just gotta dance... #bookseller #retaillife #christmasmusic #holidayplaylist #nutcracker #nutcrackerballet."
Prairie Lights Bookstore, Iowa City., Iowa: "Prairie Lights Gift Certificates make people happy. They may be redeemed in the bookstore or the cafe, and they NEVER EXPIRE..."
Titcomb's Bookshop, East Sandwich, Mass.: "Today is our annual Holiday Open House, come have a cup of hot chocolate and some holiday treats!"
The Book Shop, Hayward, Calif.: "The Christmas Art Display in our window is presented by the Flying Phoebe Cloth Doll Club! This gingerbread village comes with a scavenger hunt in poetry form. Feel free to stop by and spend a few minutes with the display, then come inside and warm up with a book!"
House of Books, Kent, Conn.: "Santa Claus will be arriving by Fire Truck to House of Books at 10 a.m., Saturday, Dec. 17th! So stop by and get your picture taken with Santa and find the perfect gift for everyone on your Holiday List!"
Little Joe's Books, Katonah, N.Y.: "First Saturday in December means it's time for Holiday books!!!! #getexcited #katonahholiday #westchester #holiday #christmas #Chanukah"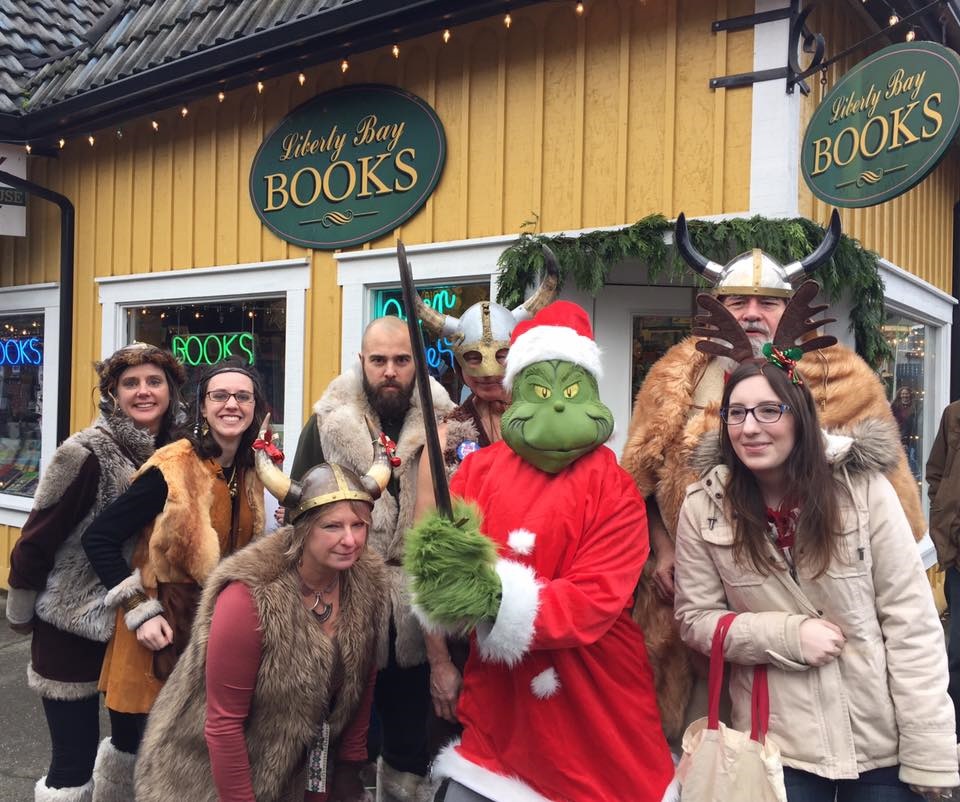 Merry #Grinchmas at Liberty Bay Books
Liberty Bay Books, Poulsbo, Wash.: "We're getting into the #Christmas spirit now! Merry #Grinchmas from us here in Historic Downtown Poulsbo...."
And here's a little holiday music, courtesy of Bookbug, Kalamazoo, Mich.; Main Point Books, Wayne, Pa.; and Sparta Books, Sparta, N.J.
On Monday, I was in New York City for a few days, and took time out for what has become an annual pilgrimage to the Metropolitan Museum of Art to visit my primary Christmas tree and its 18th-century Neapolitan Baroque Crèche. A few hours later, I was walking down Broadway on the Upper West Side, where every couple of blocks yet another Christmas tree vendor had staked a sidewalk claim. One of them displayed larger trees at the curb, along with a few diminutive trees near the storefront. Above the latter a sign of the times read: "Gluten-free Christmas trees." In with the old, in with the new.
--Published by Shelf Awareness, issue #2897
Robert Gray
|
Comments Off
|