"It was a baking February day. The ocean was a mirror." --from Tim Winton's novel Breath
Is there anything more bittersweet than the end of summer? For reasons known only to my subconscious (though partially explained by a self-diagnosis of Northeastern U.S. Deep-Freeze Winter Brain Syndrome), I've been keeping a bookish eye on the hazy days of summer in Australia and New Zealand for the past couple of months.
This exercise can be a little disorienting when their season includes Christmas, New Year's and Valentine's Day instead of Fourth of July and Labor Day, but it has also generated some welcome psychic heat. As snow piled up and wind whipped around my house, I kept bookmarking warm weather social media posts, wrapping them around myself like a digital patchwork quilt. You can even see the pattern: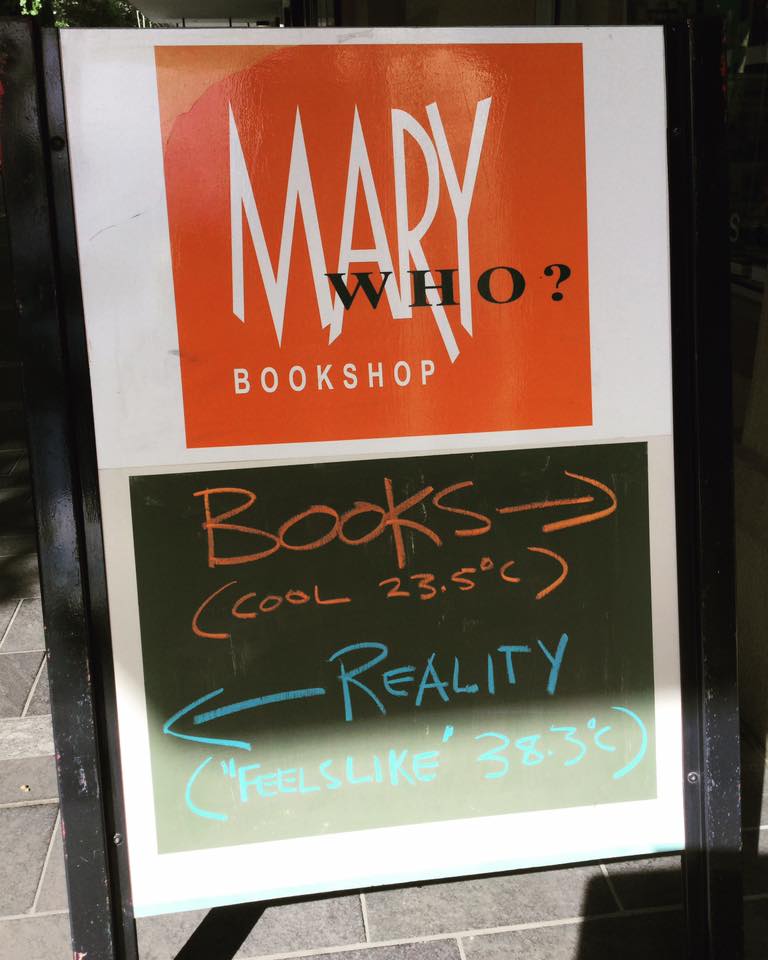 In mid-January, a sidewalk sandwich board at the Mary Who Bookshop in Townsville, QLD, offered a "Books vs. reality update" by inviting readers inside to cool down.
"Come into our beautiful cool shop and enjoy picking up some undoubtedly cool books tomorrow. And you can always have your coffee 'iced', in the café," Riverbend Books in Bulimba, QLD, posted on Facebook. And before that: "Escape into Riverbend... we have air conditioning and lots of lovely books!"
On Instagram, Unity Books in Wellington, N.Z., noted: "The perfect summer read! Beach Life by Douglas Lloyd Jenkins--a compelling, illustrated account of our connection with beach life in NZ #beachlife #newzealand #summerreading #welovebooks".
Beachside Bookshop, Avalon, NSW: "Get your #loveozya Surf on. Characters who Surf #YAwriterswhosurf and a fab read about witches. And we sell cool @moelocoflipflop so you too can leave your very best mark on the sand".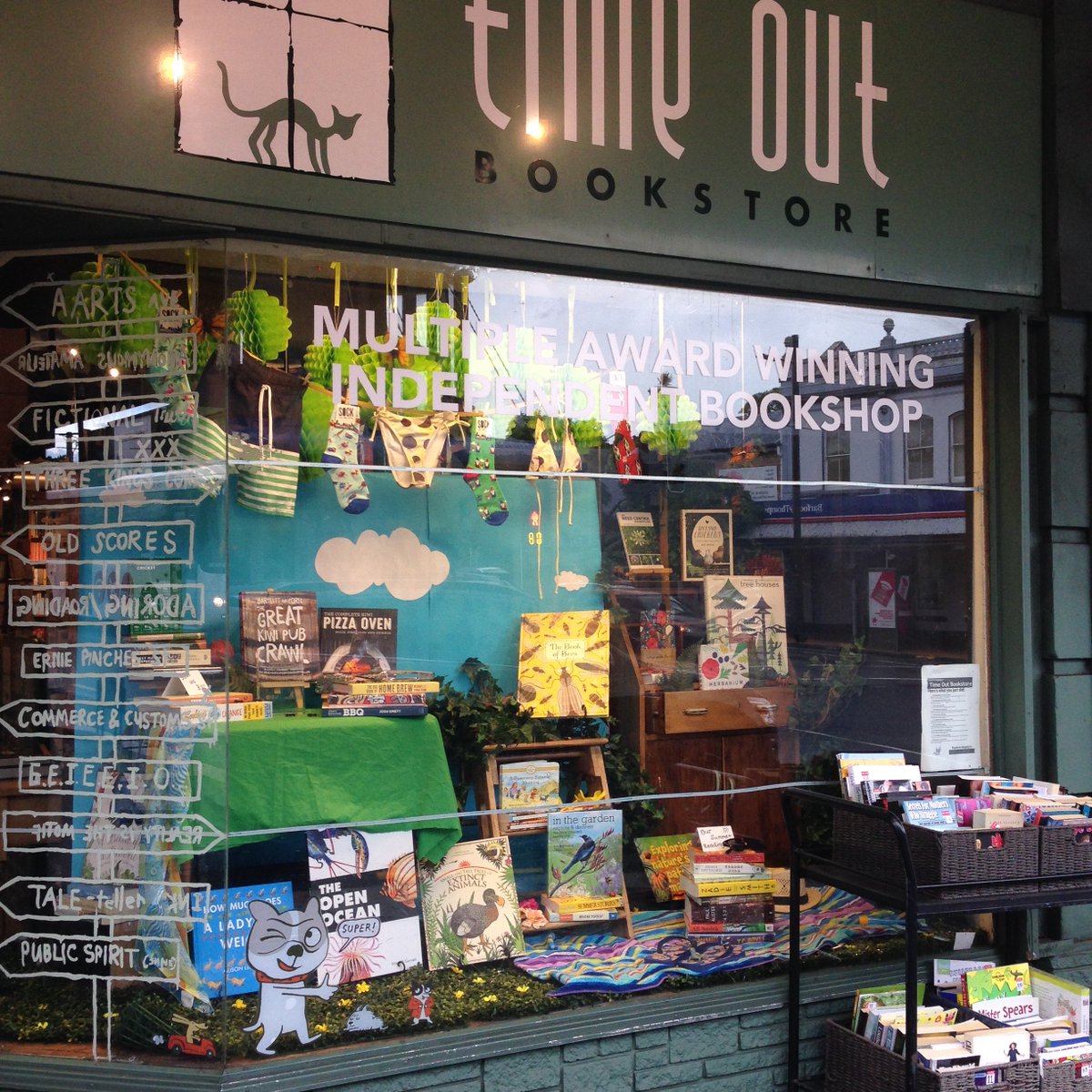 It isn't all sun and sand, however. Last week, Time Out Bookstore in Auckland, N.Z., tweeted: "It's rained every day since we installed our summer window. On the bright side, it's perfect reading weather."
Way back in November, Booksellers N.Z. launched its Summer Reading Guide for 2016/17, which Kim Pittar, manager of Muirs Bookshop in Gisborne, described as "an excellent selling tool, arriving in the local newspaper just as people are about to start shopping for Christmas It remains in the store for another 6-7 months as the books are still current and usually selling well."
Meanwhile, in Western Australia, Boffins Books, Perth, exclaimed: "Happy Summer Reading Guide day! If you've been a Boffin for over a year, then you may recognize this momentous occasion. The release of the Summer Reading Guide heralds the start of the festive season, summer and the competition of the year (a chance to win one of two book hampers valued at over $3,500 each)...."
And what would summer be without beach read recs? The myriad lists included: The 23 books that eight Canberrans will (collectively) be reading this summer holidays; 11 books you should be reading this summer; and Kids summer reading guide: Keep your children hooked on books these holidays."
Australian authors spoke with the Weekly Review about the books they were reading as well as their all-time favorite summer read. Even politicians got into the act: "Stalin, Churchill, Cicero, Harry Potter, Tintin and Awesome Man are on the reading lists of our federal politicians this summer," the Age reported.
For a Stuff feature on "experts' picks," New Zealand author Jenny Pattrick​ wrote: "Summer reads gives the impression of reading while lying on a beach, or reclining in a deck chair with birdsong all around. Do we like to read lighter fiction while on holiday or during the warm months? From my point of view, no. A good book can be a summer read or winter one." Patrick teamed up with other authors and the New Zealand Book Council to help promote the Aotearoa Summer Reads initiative.
Elsewhere, "Power Up with Books," the Scholastic summer reading challenge, has logged almost 2 million reading minutes for Australia.
Dunedin's University Book Shop created a bookshop-based annual residency for emerging writers. "We often have writers who say light-heartedly 'I could live here!', and now with the help of the Robert Lord Writers' Cottage Trust they almost can," said UBS Otago manager Phillippa Duffy.
Readings, which operates seven bookshops in Melbourne, traced summer's arc eloquently with three blog posts:
Nov. 30
: "The official first day of summer is tomorrow!"
Jan. 17:
"This summer, we've been busy reading in parks, on beaches, and in the frozen food aisle of our local supermarket."
Feb. 8:
"School is back, summer is in its final month, and there are plenty of new books to read."
In his novel Cloudstreet, Tim Winton wrote: "Summer came whirling out of the night and stuck fast. One morning late in November everybody got up at Cloudstreet and saw the white heat washing in through the windows."
And now, it's the end of summer Down Under, while over here the week has brought a hint of spring (or at least Mud Season). Who says reading doesn't take you places?
--Published by Shelf Awareness, issue #2944