Friday, June 23, 2017
As a big fan of small (a relative term) indie bookseller gatherings, I was pleased to learn recently that the second Bookmanager Academy, held June 8-11 in Kelowna, B.C., was a resounding success. The inaugural BMA took place in 2015, and this year's event drew representatives from more than 60 stores, with just over 100 booksellers in attendance, along with about 50 reps, publishers and industry leaders. In addition to the forums, panels and education sessions, BMA featured numerous social outings like the Usborne Houseboat Cruise, the Canadian Manda Group "BBQ" at Hanna's, the Penguin Random House Cocktail Party at Mosaic Books, and the Raincoast/PGC/BookExpress Wine tour.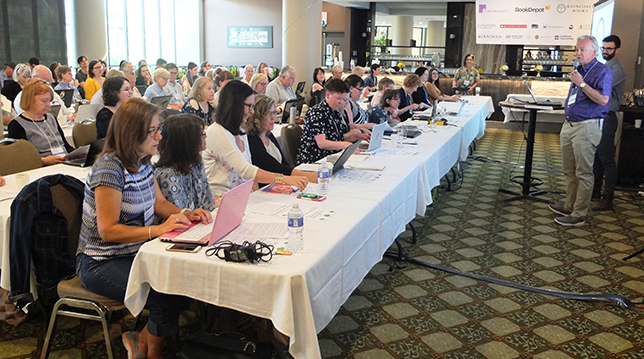 In his post-show roundup, Bookmanager president and Mosaic Books owner Michael Neill wrote: "All said, I think the mission was accomplished. Our primary goal was to try and fill an industry gap by creating the opportunity for booksellers, and their suppliers, to meet face-to-face. I was very impressed with the professional and positive dialogue between everyone, including discussions on more sensitive and troubling issues. Kudos to all. Diana and I met with over 20 publishers and reps for three hours on Sunday morning. It was wonderful to see competing companies show each other mutual respect and focus on common ground. The interest in independent booksellers seemed especially strong this year, and they were all eager to continue supporting and improving the tools we build for booksellers. Lots of new ideas here."
Diana O'Neill, Bookmanager's head of sales & technical support, added that "a big takeaway from this event is how hungry we all are for excuses to get together, and share ideas and woes and concerns and have an audience to share with. Hopefully several action points on key things should be addressed within the coming weeks and months. It was so great to see booksellers old and new in attendance, some with sage wisdom and advice, others with keen new perspectives and ideas on things."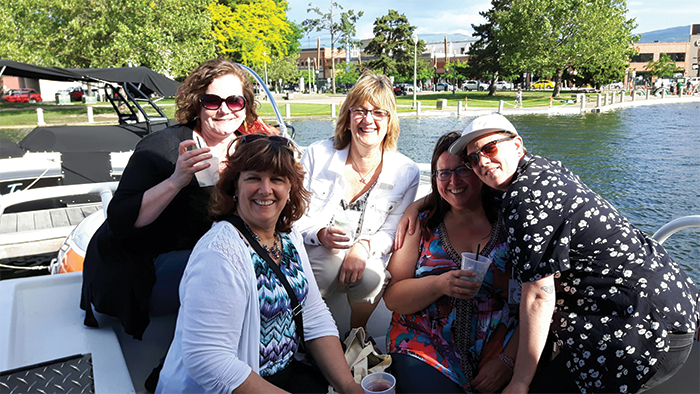 Black Bond booksellers on Usborne's housboat tour.
The booksellers I contacted enthusiastically agreed. Cathy Jesson of Black Bond Books (10 locations in B.C.) described BMA as "amazing. The attention to detail and frenetic pace was filled with aha moments. The ability to get booksellers from across Canada to come together was a feat. Even booksellers from the north made the trip. The education sessions were packed, loved the town hall, getting a feeling for what we need as an industry and where we can go together."
Kirsten Larmon of Munro's Books in Victoria said: "Like the previous event two years ago, it was a rare opportunity to be in the same room with booksellers and publishers from across Canada and the U.S. Each session covered a topic essential to our industry.... Probably the most memorable were the Round-table and Bookmanager Town Hall forums at the end of Friday and Saturday. In these sessions, booksellers, reps and publishers had a very frank, productive and memorable exchange of ideas. On the fun side, the sponsors of the Academy made sure we were very well treated indeed.... It was a fantastic weekend that managed to inspire, educate and rejuvenate."
Calling the conference "an incredible, mind-melting few days" of learning and fun, Erin Dalton of Lotus Books in Cranbrook praised the Bookmanager and Mosaic Books team for doing "an outstanding job of organizing and hosting the event. I took something home from every presentation. The BookManager sessions were a great confidence-booster regarding new ways of using the program to run my business more effectively. The Paz & Associates 'Show & Sell' was fascinating, and I have some great, practical ideas to implement in my store in the very near future. The bookseller round-table and town hall sessions were fantastic opportunities to share ideas, stories, and tips."
She also noted that "the opportunity to connect both professionally and personally with other book-folk from across Canada (and into the States) was invaluable. (Also, frankly, validating! Nothing like a gathering of the tribe to re-energize a person.) I think the conversations and connections will continue going forward, and I'm excited to see where that leads. I came away invigorated (well, once I caught up on my sleep), with a to-do/wish list as long as my arm. I really hope that once the BMA folks catch their breath, they feel it was worth their while, because I'm already looking forward to 2019."
Asked about the prospect of a future BMA, Neill replied: "It may be too soon to pen anything in for the next BMA. The joke was it was like asking a mother just after delivery if she would do it again. However, we could and should do it again if there is still an appetite from the booksellers and publishers (judging from the feedback we received, I think we are on the hook). We seem to be the only venue in Canada getting everyone together. That's pretty important even if it continues as a bi-annual event put together by a bunch of now semi-professional event coordinators."
Black Bond's Jesson summed it all up nicely: "I covet what has been attained south of the border by indies. Publishers there have come to value the independent bookseller voice. Socially, all was fun, from the houseboat to dancing at the Manda party, a throwback to what indies in Canada used to like to do when we are together: talk books, drink some wine and then dance. I heard from my team the wine tour finale was great fun. Our crew gave it 10 out 10; lots learned, new friends made and old ones renewed. What could be better?"
--Published by Shelf Awareness, issue #3029
Robert Gray
|
Comments Off
|