Friday, October 28, 2016
Begin with Neil Gaiman: "Books are the way the dead communicate with us." I read this sentence recently in his prose collection The View from the Cheap Seats. That moment was, strangely enough, bookended by a visit yesterday to the autumn gardens at Yaddo, the legendary--and purportedly haunted--artists retreat in Saratoga Springs N.Y.; and, in early October, to The Stanley hotel in Estes Park, Colo., a ghostly locale that inspired Stephen King to write The Shining and has been hosting Twin Terror Weekends, including a RedRum Mystery Dinner.
If that's not a prelude to Halloween, I don't know what is.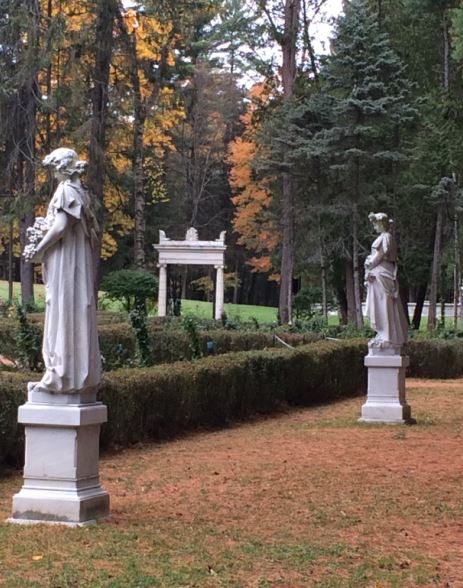 Yaddo's garden five days before Halloween
Yaddo isn't far from my house. If you were here today, we could take a "Ghosts in the Yaddo Garden Tour," during which you'd "experience the Spirits of the Gardens. Feel the energy and creativity of the forces of the Earth. Share in the spiritual intrigue from Native Americans, Edgar Allan Poe, the Trask family and other contemporary visitors!"
In 2014, author Peggy Riley wrote of her time there: "Yaddo is imbued with ghosts: ghosts of four children who didn't survive to inherit a mansion; ghosts of artists who have lived and worked there; ghosts of artists still living and working, who last worked in the chair you sit in, who stared at the walls as hard as you. They are all still there, at Yaddo, haunting the rooms, living in the pages of the books they leave behind, the Yaddo library filled with Yaddo writers: Sylvia Plath, Ted Hughes, Katherine Anne Porter, Carson McCullers, Truman Capote, Flannery O'Connor, etc. etc...."
Although I was an excellent Halloween kid, I've never considered myself an accomplished Halloween adult. I do, however, seem to wander door to virtual door collecting treats this time of year. Like this WalletHub data:
$8.38 billion: Projected Halloween-related spending in 2016 ($3.14 billion on costumes)
$547.9 million: Halloween candy sales (fourth biggest candy-selling holiday)
$300+ million: Annual revenue from ticket sales to haunted attractions (80% of which are charity-operated)
72%: Share of parents who say they steal Halloween candy from their kids.
And I find it hard to resist seasonal clickbait:
I'm also intrigued by the many and varied ways indie booksellers get into the spirits of the season.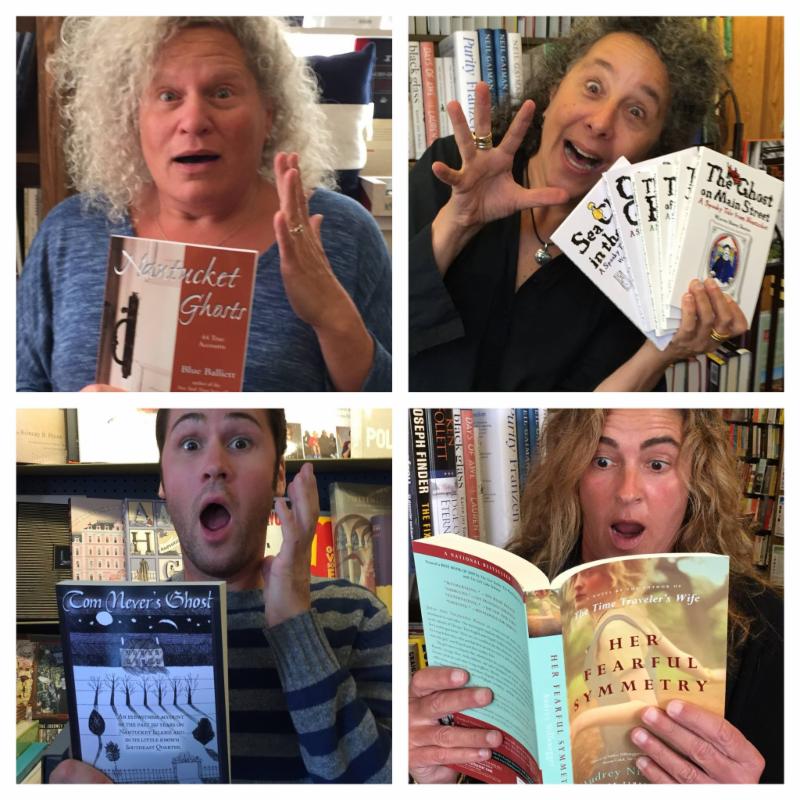 Scary reading at Nantucket Bookworks
Nantucket Bookworks, Nantucket, Mass.: "It's getting spooky over at Bookworks! Trick or Treat with candy, hats, trinkets, witch tights, tattoo sleeves, masks, & MORE! Pick up a scary book to read this October while you are at it."
Green Apple Books, San Francisco, Calif.: "Spooky staff picks!... Keep reading to discover which scary books keep our staff up at night!"
Tubby & Coo's Mid-City Book Shop, New Orleans, La., e-newsletter: "The bookstore hosts two Halloween costume parties. Saturday's party caters to adults with games, adult trick-or-treating and Are You Afraid of the Dark-style stories; a child-friendly party Sunday has readings from Goosebumps, trick-or-treating and a costume contest."
Andover Bookstore, Andover, Mass. (e-newsletter): "Kids Halloween Party! On Saturday, October 29th at 2 p.m. we will be having a Halloween costume party! We'll read Halloween themed picture books, decorate Trick-or-Treat bags, have a costume parade around Andover Village Square, and more! It will be fun for all ages. The party is completely free and open to all!"
The Spiral Bookcase, Philadelphia, Pa.: "WITCH WEEK is going strong!"
The Last Bookstore, Los Angeles, Calif., "has been celebrating Halloween all month, with an array of events that seek to put a little fear or quirkiness in your life. That continues this week."
Brookline Booksmith, Brookline, Mass. (e-newsletter): "I don't know how many folks out there still do handmade Halloween costumes, but between my efforts on behalf of my two kids, and the intrepid seamstresses-and-sters among the Booksmith staff, I know of at least a dozen pairs of hands that have been pricked by pins and needles this week. So, while we won't build your costume for you, we do have a ton of fun and frightful books and accessories for Halloween, courtesy of our kids' booksellers and the Giftsmith. Come in and check it all out, quick, before a zombie eats your brain!"
Halloween, it seems, has crept up on me this year after all, despite my best efforts to keep it at bay. I'm like one of those nice families that decide to stay in their new home even after the walls start to bleed and a disembodied voice screams, "Get out!"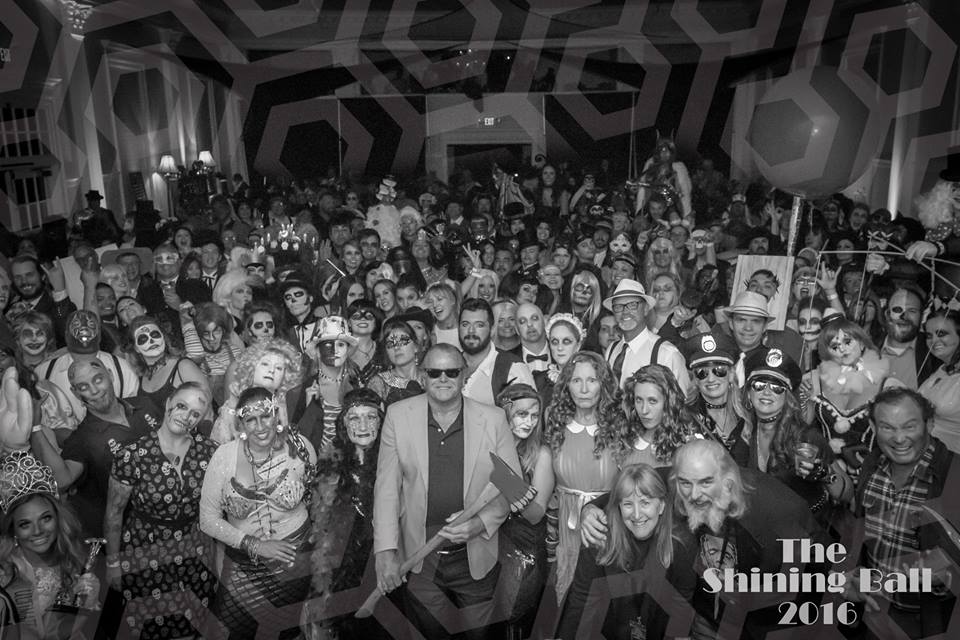 The Shining Ball 2016 at The Stanley Hotel
It was my brother's idea to visit the grand old Stanley hotel a couple of weeks ago. I learned that in 1974, Stephen King and his wife spent a night there as the only guests one day before it closed for the winter. "Wandering through its corridors, I thought that it seemed the perfect--maybe the archetypical--setting for a ghost story," he recalled. Disappointed with Stanley Kubrick's film version of The Shining, King became the force behind a late 1990s TV miniseries, which was filmed at the Stanley.
But it is Kubrick's terrifying image of the terminally blocked writer and his only reader, horrified by what she encounters on the page, that haunts me still. If these words don't scare you, nothing ever will: "All work and no play makes Jack a dull boy."
Happy bookish Halloween... if you dare.
--Published by Shelf Awareness, issue #2869
Robert Gray
|
Comments Off
|