Friday, June 15, 2012
"Pay attention, he thinks. Not to the grand gesture, but to the passing breath."--Lauren Groff, Arcadia
You walk into Javits Center on the first day, blink once and suddenly you're checking out of your hotel. After all the anticipation, BookExpo America happens so fast it's as much a snapshot of the book world as an exhibition.

Although we tend to write and talk about the "grand gesture" of the BEA experience--author breakfasts, celebrity sightings, "big books" and parties--I'm often struck by smaller moments: the unexpected encounter, the memorable quote, the discovery of an "under the radar" book.

Here are a few of my snapshots from this year's show album: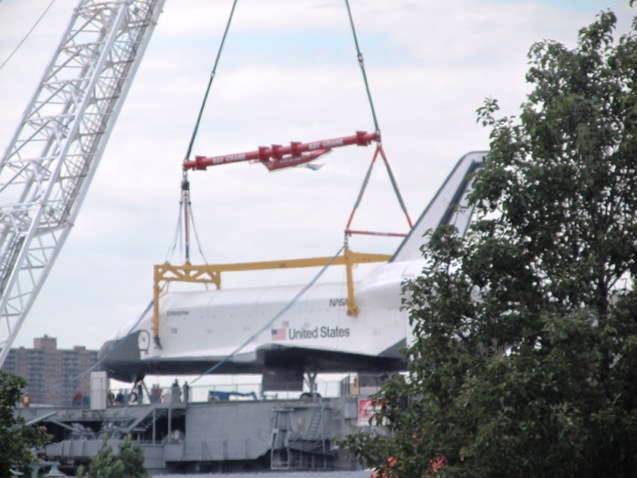 BEA in space: Heading up the West Side Highway from Javits on Wednesday, I realize the space shuttle Enterprise is supposed to "land" on the deck of the Intrepid Museum today. Is it there yet? I take out my camera. Seated on the right side of a moving bus, I know my only shot will be through the opposite window and across the highway. When the moment arrives, I snap two quick photos. Like many aspects of our business, it comes down to planning, reaction, adaptation and execution, plus a generous dose of blind luck.

Change is good: "I can guarantee you that nothing is permanent," says Chris Zane of Zane's Cycles at ABA's "Putting the Sell in Bookseller" panel. "The relationship that we have with our customers today is very different than five years ago and than it will be five years from now."

We meet at last: Despite the best of intentions and all those "See you at BEA!" exchanges online beforehand, you can easily spend the week at Javits without seeing a particular person. And yet, chance encounters happen every minute. After several years of virtual conversations about the book trade, I finally meet Kelly Justice of Fountain Bookstore, Richmond, Va., and we continue our bookish dialogue in person.

Passing ships: I just miss having my first conversation with Nancy Olson of Quail Ridge Books & Music, Raleigh, N.C. She's a bookseller I greatly admire, though we haven't met before. Unfortunately, when she stops to say hello on the show floor, we are both "on the run" and I immediately regret the opportunity that slips by. It's just the way of BEA.

Everywhere we go: On the other hand, Chuck and Dee Robinson of Village Books, Bellingham, Wash., are among the first booksellers I encounter Monday at Javits. And that night, as I stroll down Broadway after dinner--trying to avoid President Obama's motorcade on the way back to my hotel--there they are again, headed in my direction from their own dinner engagement. So we have another nice chat.

BEA Bookseller's quest: "This is what I look for. These are the books that may be the next The Help," says Kathy Patrick of Beauty & the Book, Jefferson Tex., smiling as she holds up a few of her recent discoveries.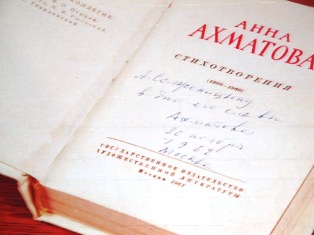 My favorite book: BEA is all about finding great new titles, but one now forever imprinted upon my mind is the photo of a collection of Anna Akhmatova's poems, inscribed to Aleksandr Solzhenitsyn. It is part of the vast Solzhenitsyn Archive, which was the subject of an extraordinary slide show presentation at BEA by his widow, Natalia.

Russia on my mind: I return often to the Read Russia booth during the show and will write about that experience next week. Even in the aisles, however, Russia keeps finding me. Knowing about my obsession, Schilt Publishing of Amsterdam's North American marketing liaison, Mary Bisbee-Beek, tells me about Schilt's determination to publish beautiful Russian photo books, including My Moscow: Photographs and Contemporary Russian Photography. Open Letter's Chad Post offers me a copy of Mikhail Shishkin's Maidenhair, which will be my first post-BEA read.

Memory ain't what it used to be: Barbara Kingsolver on buying a tablet: "I told him that what I mostly wanted to do with this tablet was read books. And he assured me that I needed almost no memory at all for an activity as primitive as that."

But memories are: Richard Russo on the important role of indie booksellers in discovering young writers like Lauren Groff and Jess Walter: "You wouldn't know who the hell Richard Russo was if indies in 1986 weren't handselling my books.... Anybody can sell my books now, but they couldn't in 1986."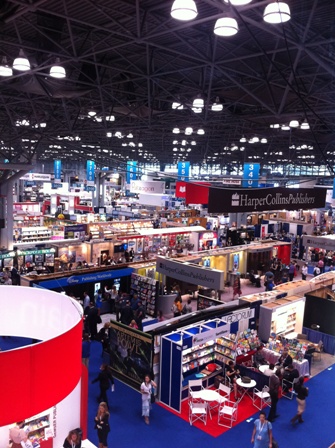 BEA in space, part 2: On the final day, I stand by the Galleria windows, which afford a panoramic view of the BEA show floor. It's like being on the command deck of a spaceship, scanning the planet below for signs of intelligent life. You can see those signs everywhere you look, if you're paying attention.--Robert Gray, contributing editor (column archives available at Fresh Eyes Now)--Published by Shelf Awareness, issue #1761.
Robert Gray
|
Comments Off
|