Friday, September 2, 2016
I am the sequel he never wrote. --Danielle Flood, The Unquiet Daughter
When I find the right book, or when the right book finds me, it's cause for celebration. There should be a ceremony. Maybe that's what this column is.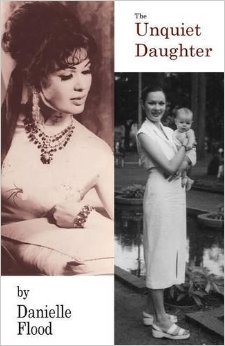 The Unquiet Daughter: A Memoir of Betrayal and Love by Danielle Flood was released yesterday by Piscataqua Press, which is run by Tom Holbrook, owner of RiverRun Bookstore in Portsmouth, N.H.
Flood was a staff writer for the Associated Press and five newspapers, has freelanced for many publications and is currently working on three novels. She managed to earn a U.S. Coast Guard fishing boat captain's license along the way, and is a self-described "proud Mom" who lives with her husband, a Pulitzer Prize-winning cartoonist, in Ogunquit, Maine. But (and herein lies an amazing tale), she was also the daughter of a complex (woefully inadequate word in this case) French/Vietnamese woman who was part of a wartime love triangle that inspired the one in Graham Greene's novel The Quiet American.
That was the initial hook I stumbled upon earlier this summer, and how the book found me. I'd read Greene's novel many times over the years, and was intrigued to know more about the story behind The Unquiet Daughter. While the Greene connection may have lured me in, it was Flood's compelling "sequel" that kept me riveted as she chronicled her often harrowing childhood, an intensive search for her real father, and finally the unraveling of impossibly fine threads woven between her parents' lives and Greene's fiction. Journalist and storyteller are in perfect sync in these pages.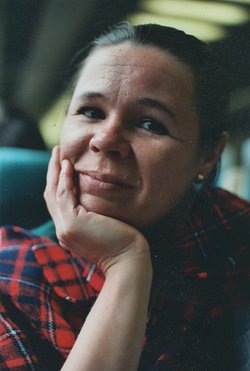 Danielle Flood
I was also fascinated by the story of how The Unquiet Daughter had found its way to Piscataqua Press. So I asked both Flood and Holbrook to share that tale.
"For the last three years, Piscataqua Press has been doing what I tend to call 'assisted self-publishing,' and it's safe to say that our publishing endeavor has been instrumental in keeping the bookstore going," Holbrook said. "As we've been doing this, we've been keeping our eye out for books that we could produce as a regular publisher; books that we thought had the merit to be published by the big publishers but just never made it there. As a longtime bookseller, I've always secretly wanted to publish a book that was a commercial success. Danielle Flood has had a long career as a professional journalist, and I believe spent some time shopping the book through an agent before coming to us. I recognized right away that not only was the quality of the book a cut above, but that Dani had the ambition and drive to make sure that the book found readers."
Flood told me that she'd had an offer six years ago from one of the then Big Six publishers, "but 'something happened' and I don't talk about it because it wasn't the fault of the executive editor involved and I don't want her publicly embarrassed. As far as I'm concerned her strong actions in support The Unquiet Daughter were something that kept me fueled emotionally until publication." Two other big publishers had the manuscript for a month each, but Flood said her "disappointment when all fell apart caused me to be unable to try and sell the book again and unable to work on it for about four years." She left her agent when he declined to seek out independent and university presses.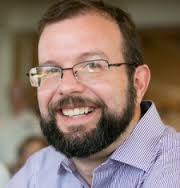 Tom Holbrook
Eventually, however, the story took an unexpected turn: "RiverRun and I decided upon each other after I discovered it while looking in its bookstore window. I saw a charming little sign that said: 'We Publish Books.' Tom Holbrook does help some authors get self-published, but this is not a self-published book; I don't need to self-publish a book, though I thought about it. Tom is publishing me and I find it kind of lovely that his little publishing house and my book support his independent bookstore. There's some kind of symphony there, it seems. And, what a breath of crisp, new air: I am treated nicely with respect, politeness; after the struggle, it's a delight."
The Graham Greene connection was not the primary reason for Holbrook being drawn to The Unquiet Daughter. "I was more interested in the mommy dearest type childhood, and the way Dani was able to portray that story through the eyes of her younger self," he recalled. "There are things going on that the reader understands but that young Dani doesn't understand--and this is a tough trick to pull off. There was a point in the book where somebody she was counting on actually came through for her, and I heard myself exhale because I had been so tense waiting for the next terrible thing to happen."
Flood said she is "excited about release day because I know in my heart that my book will help a lot of people and they will finally get to experience it. I wrote The Unquiet Daughter so that the fatherless feel less alone and in hopes that some young men and women would see how much it mattered to someone to have a father and that they might hang in there and stay together for a child, or at least stay in touch with their child. Just because plenty of people don't have fathers in their lives doesn't mean it's okay. It's not okay."
And now, a gifted author and a dedicated indie bookseller/publisher are just looking for some readers.
"I love, love stories and I love David and Goliath stories," Flood observed. "I am in favor of the thriving of all bookstores, but especially the smaller independent bookstores that in their spunk to stay alive sing of their identities and struggle to prevail. I say: bravo and bravissima. The independent bookstore is and can forever be a strong community force and book reading the best form of entertainment I can imagine."
Holbrook added: "We've found a side business that takes a lot of work, but is very rewarding and deeply tied to our mission, so much more fun than selling socks or coffee mugs or other sidelines. And who knows? We might find the next big thing--stranger things have happened."
Booksellers with questions about wholesale pricing or author events for The Unquiet Daughter can contact Holbrook directly at info@riverrunbookstore.com.
I'm glad The Unquiet Daughter found me this summer. That in itself is a story with a happy ending.
--Published by Shelf Awareness, issue #2831
Robert Gray
|
Comments Off
|