Saturday, July 16, 2016
Rumor has it that we have a Pokémon. Only one way to find out! --Tales of the Lonesome Pine Bookstore, Big Stone Gap, Va.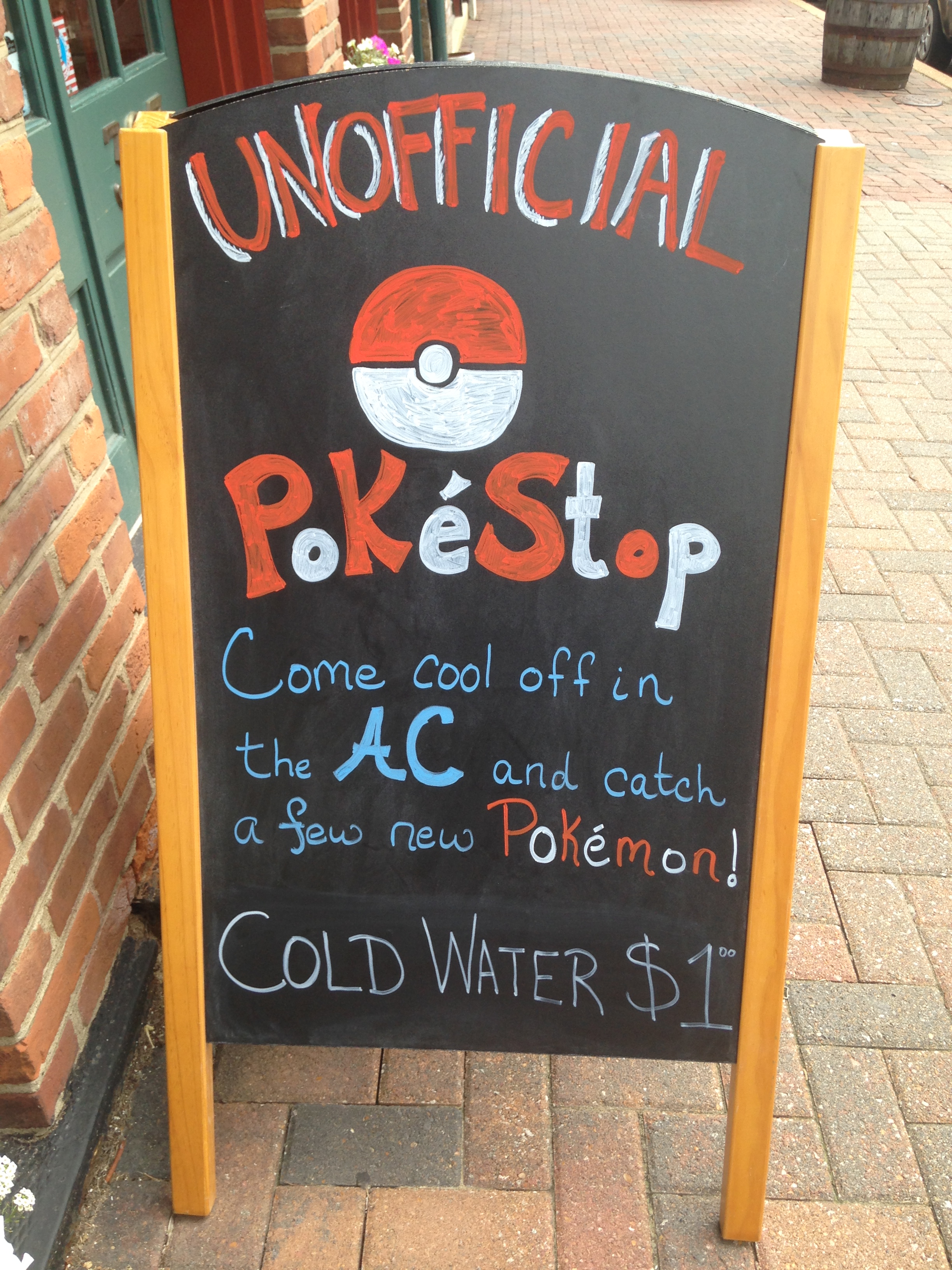 At Main Street Books, St. Charles, Mo.
I see myself as the kind of guy who would never write about something like Pokémon Go. And then, quite suddenly.... Sure, I used to sell the card packs when I was a bookseller. Well, to be honest, I usually asked customers to point directly at the versions they wanted or, when Pokémon complexities arose, deferred to a younger colleague.

Then July hit, a time I assumed would be all about the fifth annual Find Waldo Local campaign. And while Waldo is hiding and being found with his usual flair nationwide, recent headlines have been dominated by Pokémon Go. (What is it? I cede the podium to Vox, which explains the game "in fewer than 400 words," and answers "9 questions about the game you were too embarrassed to ask.")

There can be compromises, of course: Cindi Whittemore of Ink Spell Books, Half Moon Bay, Calif., told the Review: "The kids are having a blast. While they're catching their Pokémon Go they are looking for Waldo."

Earlier this week, we highlighted a couple of indie booksellers on the Pokémon Go hunt. Books & Books in Coral Gables was listed as one of the "10 best places in Miami to play"; and Main Street Books, St. Charles, Mo., was "going to do everything we can to help out those intrepid future Pokémon Masters down here on Main Street."

Well, that's just the tip of the Pokémon Go augmented reality bookseller iceberg. While I won't be searching for Pikachu anytime soon, I did embark on a brief virtual hunt to capture Pokémon Go bookstore emanations:

Politics and Prose, Washington, D.C., "is a bit of a hotspot for Pokémon Go players," Fox5 reported. On Facebook, P&P noted: "Pokémon Go isn't just an excuse to get off the couch. Turns out it's good for local business."

On Instagram, Third Place Books, Lake Forest Park, Wash., posted: "On trend, as usual. #pokemongo #pokemon #booksellerlife #indiebookstores #bookstore #lakeforestpark#getem #pokebomb."


Bryan Samsone, manager of BookPeople, Austin, Tex., told Entertainment Weekly: "We expect it to be a part of what we do, if it's not too disruptive. We facilitate folks who are here in Austin looking for entertainment. I would not be surprised if BookPeople ended up with a Pokémon display sometime in the next couple weeks."

In the same EW piece, John Valentine, co-owner of the Regulator Bookshop, Durham, N.C., noted that Pokémon books "are starting to sell again. It's an interesting thing, because you have both young people discovering it and older people who knew it back in the '90s. They really scored a hit on this one. People are talking about it; it is really popular."

And Tattered Cover Book Store, Denver, Colo., asked the big question: "Want an egg? We have eggs! Plus, look at all these Pokémon hanging out in our stacks! Rattata even found the VIB table! #pokemongo #gottacatchemall."

"What happened after the Strand Book Store was listed as a Pokémon Go destination?" PRWeek asked, noting that communications director Whitney Hu, a self-described "avid Pokémon fan," made the connection right away and planned ways the Strand could capitalize on the situation.

"We are such a cultural institution in the city, and we have such a large footprint that this gives us another way to work with our community and bring in some new faces, people who might just walk right by us," Hu said. The Strand also put together "Your Definitive Pokémon Go Reading List."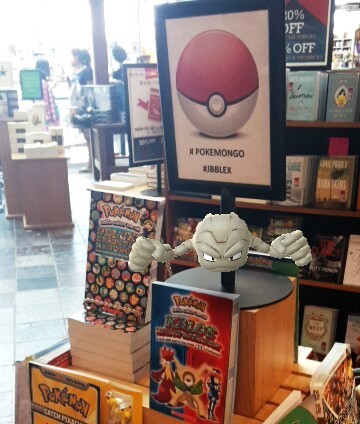 Themed display at Joseph-Beth Booksellers
In Lexington, Ken., Joseph-Beth Booksellers "is an avid purveyor of Pokemon goods and markets its four PokéStops and 'gym' where players gather to battle each other," the Herald-Leader noted. Merchandise manager Travis Rison said, "We're all for it, if it helps us get foot traffic in the door. It allows us to better serve customers who may not have come in before."

A sidewalk "Gotta Read'em All" chalkboard beckoned Pokémon Go players to enter Curious Iguana Books, Frederick, Md.

Coldwater Books, Tuscumbia, Ala., is a PokéStop "and we're loving it! Each day a different team will be randomly chosen (so as not to show any bias towards our own teams) to receive a special discount! Today the team we've chosen is Team Valor! Look out for lures at our PokéStop on a regular basis and feel free to stop in for some ice cold drinks as a reprieve from the heat. And of course, enjoy your journey towards becoming The Very Best!"

Nicole Sullivan of the BookBar, Denver, Colo., told us: "Wanted to share what we're doing to participate in Pokémon Go. I'm just now starting to figure this thing out. BookBar is lucky to be a PokéStop so we're encouraging people to come in and drop lures (whatever that means)."

Amy Reynolds of Horizon Books, Traverse City, Mich., and her colleagues "are trying to wrap their minds around this whole Pokémon Go phenomenon, but they figured out pretty quickly that the bookstore is a PokéStop," IPR reported. Reynolds said: "Yes, I did know that. Because I have a son playing, and my grandson's playing, as well."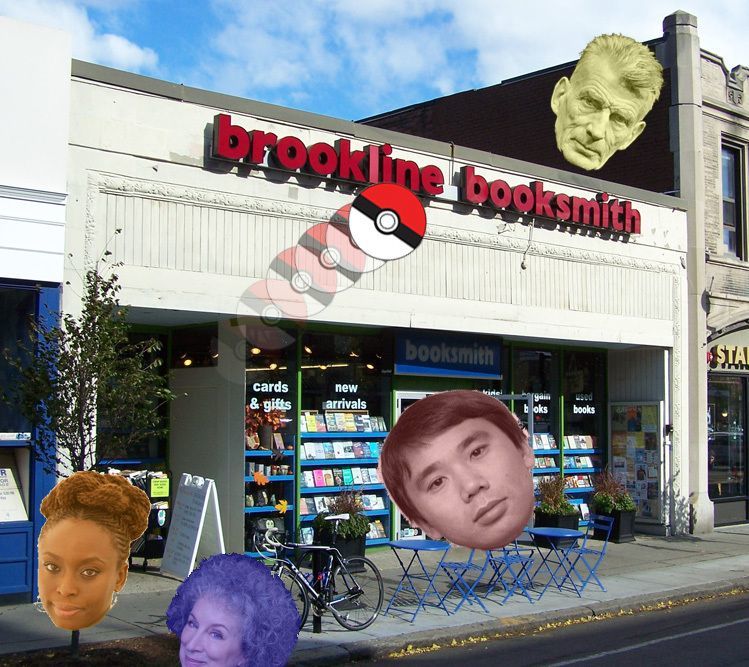 A challenging literary alternative was suggested by Brookline Booksmith, Brookline, Mass.: "I've got so many Adichies, Atwoods and Murakamis, but check it out, there's a Beckett! So hard to capture Becketts. Don't know what I'm talking about? That's okay, it's probably for the best."

An observation by the Strand's Whitney Hu speaks to the challenge many booksellers are facing: "I am trying to figure out the best way to market it without seeming gimmicky. We want to organically connect with current trends; we never want to seem like the old person in the room trying to hop on, not accurately using a meme."
--Published by Shelf Awareness, issue #2796
Robert Gray
|
Comments Off
|