Sunday, March 22, 2015
Do you remember your first independent bookstore? Maybe your parents started taking you there even before memories stuck because it was their indie. Did the shop have a huge children's section, where you could sit on the floor and read quietly? Was there a bookseller you loved seeing every time you stopped by, someone who called you by name? Do you treasure memories of cool story hours, book-themed parties or eventually, depending upon your age, a Harry Potter midnight launch or two?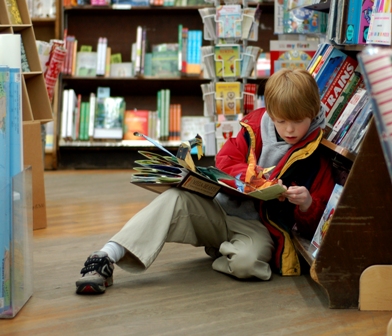 As a bookseller and then editor, I've been closely attached to the indie bookselling life for almost 25 years, and I am always entranced by the never-ending ceremony of parents introducing their children to bookshops and spending genuine, no-rush time there. And yes, before you say it, I'm also aware of the many exceptions to this idealized image--like the toddler left on his own to reorganize the board books section with the deft touch of baby Godzilla. But early introduction to an independent bookstore that a child can claim as his or her very own is both magical and fundamental. (Photo by Tim Pierce)

I was not one of those kids. I didn't find my first indie bookstore--the Hartford Bookshop in Rutland, Vt.--until I was 18 or 19 years old.

I was born a reader, apparently, but for much of my childhood, books came to me as gifts or hand-me-downs or from school. I don't have any memories of going to a magic place to obtain The Wizard of Oz or the many Big Little Books that reached me. Later, I devoured the Hardy Boys series, but I don't associate the appearance of those books with a retail wellspring either.

Only when I reached adolescence did commerce enter the picture. I was a working man by then--mowing lawns or shoveling snow, mostly--and my investment portfolio was heavily weighted toward comic book stocks.

I inherited my first stack of comics when I was about 11 from a kid in the neighborhood who was a few years older. Soon I'd expanded that collection with issues featuring then-new superheroes like Spider-Man, Thor and Sgt. Fury & His Howling Commandos. The key aspect of those formative comic book years was that I finally made my first genuine connection between what I read and the retail store it came from. In the small town where I lived, there was a newsstand that sold the usual array of print goodies--newspapers, magazines, comics, paperback books, etc. I knew the exact release day every month for new issues of my favorite comics and I was always there with cash in hand.

It was at this newsstand that I first began purchasing paperbacks, the highlight of my nascent library being all 24 editions of The Man from UNCLE novel series based on the TV spy show, as well as several of Ian Fleming's James Bond books.

I still had not found my first indie bookstore.



But all that that changed in the late 1960s, once I had my driver's license a little mobility. I finally discovered the Hartford Bookshop, which was located in an old building in downtown Rutland. Although my memory is hazy about specific details, I do recall that upon entering, the service counter was on the left, books lined the walls and freestanding bookcases stretched deep within the high-ceilinged space.

The owner, whose name I've long forgotten, was the first genuine bookseller I ever met. In time, he would recognize me when I stopped by and our conversations about the books I bought, as well as his suggestions for future titles, were a new and welcome experience for me. During that period, I also had many conversations with a close friend of mine about eventually opening a bookstore together, a golden if never-realized idea inspired by our pilgrimages to the Hartford Bookshop.

There must still be several books in my personal library that I purchased there long ago, but the only two I'm certain of are Modern Library editions: Walden & Other Writings of Henry David Thoreau and The Journals of Ralph Waldo Emerson. Well-worn from multiple readings and teeming with marginalia, they served me well this week as Proustian madeleines to evoke memories of my first indie bookstore, which itself exists only in memory. I don't think the Hartford Bookshop survived the 1970s.

What was your first indie bookstore? I'd love to hear that story. --Publishe by Shelf Awareness, issue #2467
Robert Gray
|
Comments Off
|