Saturday, October 12, 2013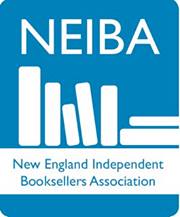 How big is a community? How big is your imagination? Last weekend, I was briefly part of the New England Independent Booksellers Association fall conference community, a ritual gathering of the book clan at the Rhode Island Convention Center in Providence.

Flash forward: On the long drive home after the conference, I kept thinking about two moments that bookended my NEIBA experience. The first was at the opening brunch on Sunday, when author Scott Turow, the keynote speaker, chronicled the misadventures that caused him to arrive at the hotel around 4 a.m. after what we have all come to recognize as the routine flight from hell that is Chicago's O'Hare airport to, well, anywhere.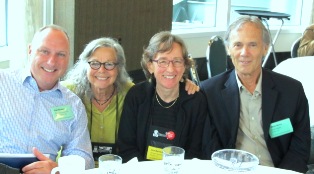 Karl Krueger, Penny McConnel, Liza Bernard, Steve Bercu
Steve Bercu, ABA president and co-owner of BookPeople, Austin, Tex., was on the same flight, having made a harrowing connection in the Windy City. As Turow spun their entertaining tale of high altitude woe, Bercu was sitting at my table, along with a small, if representative, selection of our wonderful, bookish extended family: Norwich Bookstore co-owners Penny McConnel and Liza Bernard, as well as Penguin sales rep Karl Krueger. You can do the math--author, indie booksellers, sales rep, editor; Chicago, New England, Texas, upstate New York = community.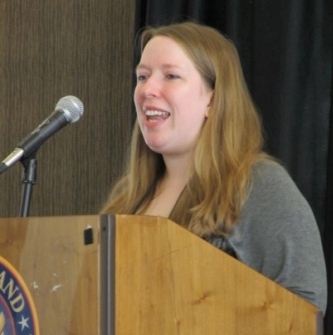 Suzanna Hermans
The second key moment involved transition. It occurred at the start of Tuesday's Author Breakfast when Suzanna Hermans, co-owner of Oblong Books & Music in Millerton and Rhinebeck, N.Y., got things started by mentioning, to hearty applause and cheers, that she is NEIBA's new president. Oblong was founded by her father, Dick Hermans, in 1975. "I was 13 when I first came to NEIBA," she said. "Ever since then, I've been a big NEIBA nerd."

Community and transitions. Between these two moments were hours and hours of great conversations and upbeat reports from booksellers. Evidence of the level of attendance and enthusiasm at NEIBA could be found in the fact that the Publishers Pick-Nic Lunch Monday had to be moved to a larger venue just to accommodate the crowd.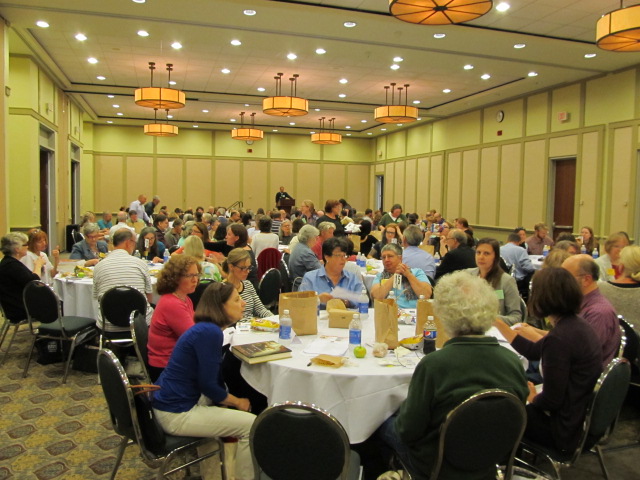 That's NEIBA executive director Steve Fischer way off in the distance, serving as timekeeper for the well-attended Publishers Pick-Nic "speed dating" roundtables
In an interview yesterday, NEIBA executive director Steve Fischer recalled how great it had been to encounter so many first-time attendees at the conference this year, including several babies (aka future booksellers). "I kept running into new people," he said. "I was really pleased with that." This was nicely balanced by the presence at the Author Awards dinner of a distinguished group of retired New England sales reps, who were all acknowledged individually during the ceremony.

"I really see our job as building a community of booksellers," Fischer said. "In fact, the mission of NEIBA, written into the charter, is 'to further the success of professional independent booksellers in New England and to foster a vital and supportive bookselling community.' "

One of the education sessions addressed the theme directly. "Building Bookstore Communities" was moderated by Random House reps Ann Kingman and Michael Kindness, and featured Lynne Reed, co-owner of Misty Valley Books, Chester, Vt.; and Dawn Rennert, co-owner of the Concord Bookshop, Concord Mass.

"People shouldn't only think about going to your bookstore to buy a book," said Kindness.

"Community means relationships," Rennert observed, using the concept of a Venn Diagram to explain how all of the elements--personal, local, national, online and more--interconnect. "We're kind of where everything overlaps." She noted that a popular outreach effort for Concord Bookshop is an ongoing, ever-changing community display in one of the store's four windows. Local organizations build the displays (according to certain guidelines) and books are often added to complement a particular theme. These and other efforts "don't always lead to direct sales, but it's leading to relationship-building and community-building."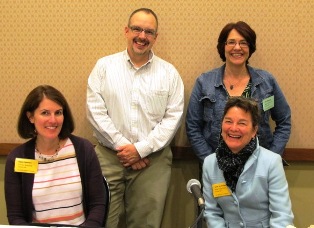 Dawn Rennert, Michael Kindness, Ann Kingman and Lynne Reed
Kingman noted that while community is often defined as a place, "my definition of community is when people are talking to each other." She cited the comments section at Books on the Nightstand, where discussion often evolves among the commenters themselves, so she and Michael can step back. She also has noticed that in many bookstores, a core group of loyal patrons attend every author event, but may not ever interact with other audience members. "What would happen if you could get those people talking to each other, with you at the center?" she asked.

Each year Reed's store hosts a "New Voices" weekend event that gives debut authors and local readers the opportunity to move past the usual walls between them and create a small community of their own. "For the last five years, we've asked community members to introduce the authors," she added. "We feel a responsibility to our small community."

Perhaps the most heartening words from a business standpoint came from Kingman: "It is possible to build community and make money from that. I don't think they're mutually exclusive."

Community and transitions and optimism... and babies. Oh my! More from NEIBA next week.
--Published by Shelf Awareness, issue #2105.
Robert Gray
|
Comments Off
|