Sunday, May 26, 2013
"Badges? We ain't got no badges! We don't need no badges! I don't have to show you any stinking badges!" --from The Treasure of Sierra Madre, a film adaptation of B. Traven's novel.

We will, of course, need our stinking badges when we descend upon the Javits Center next week for BookExpo America. We'll need them to get in, get around and get acquainted. Identity is everything. You may not have thought much about badges as you made your BEA preparations, but here are a few questions to consider:

Why do we wear name badges anyway? The answer seems obvious, but sometimes you wonder if it's clear to everyone at the show (see "badge flipping" below). In addition to getting you into the hall in the first place, a name tag is your ongoing, instant introduction to hundreds of guests at an epic book launch party in a very crowded room.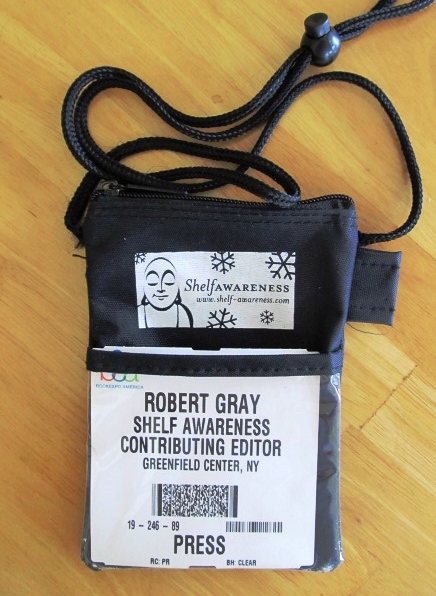 Pin or lanyard or badge holder? BEA veterans made their choices long ago. Primary issues affecting your decision will be tolerance for holes in clothing (pin), "badge flipping" issues (lanyard) and weight-bearing capacity (badge holder filled with pens, business cards, etc.).

Where should you wear your badge? Standard advice in the business world is that a name tag should be located just below the right shoulder, where it can be easily read when you shake hands with someone. Studies have actually shown that you're 85% more likely to remember a name if you don't have to cross the person's center body line to locate it.

But where do book people wear their badges? Look around BEA. Almost none will be near a right shoulder. The natural inclination is to pin it over your heart, like a corsage, or hang it from your neck on a lanyard or badge holder, industry studies be damned.

Where should you never wear your badge? That's easy. At every show, you'll see a few people (mostly guys) who pin their badges waist-high on a belt loop. There is no polite way to read those badges, so we don't care who you are.

What's the deal with badge flipping? If you're wearing a lanyard, the natural laws of motion will cause your badge to flip constantly to the blank side. You're probably not one of the chosen few everybody recognizes on sight, so a flipped badge effectively renders you invisible. Maybe that's your goal (If so, then why are you even here?), but my advice is to practice badge reflipping until it's as instinctive as straightening a tie. A trade show is no place to project a sense of mystery, unless you're publishing mysteries, though even then we shouldn't have to solve you first.

What is badge surfing? Whether on the trade show floor, at parties or even on the streets of Manhattan (where you'll encounter colleagues more often than you might think in a city of 8 million people), badge surfers are always scanning the crowd waves for gnarly breaks. Even while they talk with you, their eyes wander to passing badges just in case. If you happen to get caught in this social undertow, it's well within the rules of etiquette to replace traditional parting words like "See ya!" with the more appropriate: "Surf up, dude?"

When should you wear your badge? This is a key question for conference and trade show attendees everywhere. The easy answer is at all times when you're in the Javits Center. The tricky part comes when you leave the show.

When shouldn't you wear your badge? I remove mine as soon as I'm out of Javits and never wear it at the hotel or on the streets. But what about after-show dinners or parties? Operating on the assumption (based, I confess on deep personal insecurities we won't go into here) that nobody will recognize me, I always bring my badge along, then let the crowd dictate my next move. If I see familiar faces, the badge stays in my pocket. Among strangers, if more than half of the people are "badged," so am I.

Should you wear your badge on the NYC subway system to spark conversations with local readers? No.

Although my trusty Shelf Awareness holder still has last year's badge tucked inside at the moment, it seems anxious to acquire the updated version I'll pick up next week. Hope to see you at BEA. My stinking badge will say Robert, but you can call me Bob. --Published by Shelf Awareness, issue #2003.
Robert Gray
|
Comments Off
|