Saturday, July 2, 2016
You know how sometimes, when you're listening to an album and the right song comes on (well, to be precise, Neil Young's "Tonight's the Night"), and you just keep hitting replay? Maybe--in a Twilight Zone kind of way--this is what's happening now, though instead of an album it's my column, and instead of one song it's an ongoing theme--booksellers and music. The beat goes on.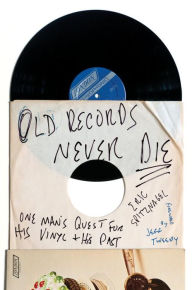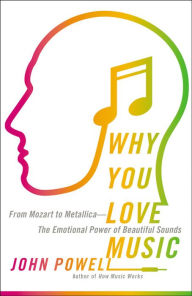 I loved the recent blog post by Daniel Goldin, owner of Boswell Book Company in Milwaukee, Wisc., on his personal history with vinyl records. "Now there's a vinyl resurgence, but a lot of folks have sold off, or even dumped their collections, and some people want them back," he wrote. "I can understand this, though I kept a good bit of mine. I'm a hoarder. But I still took to Eric Spitznagel's new memoir, Old Records Never Die: One Man's Quest for His Vinyl and His Past. Spitznagel, who decided that he was not only going to rebuild his collection, he was going to find the exact copies he lost. He thought it was possible. Whether it was possible is beside the point. It's all about the quest."
And this week, in a Wall Street Journal review of physicist John Powell's Why You Love Music, Peter Pesic noted that he found himself "intrigued by many of the studies he summarizes. Certain kinds of background music in stores measurably induces people to buy more: Classical music increases high-end buying by making people feel 'posh,' as Mr. Powell puts it.... What is more, playing French music will stimulate the purchase of French wine, as German music does for German wine. Using this effect in reverse, city officials in Sydney repelled teenage loiterers by playing 'uncool' music--the songs of Barry Manilow, to be precise; one wonders what would have happened had they chosen Mozart."
Which leads nicely to an e-mail I received from Angela Cozad, owner of Real Books, in response to my piped music columns: "I used to be a manager for Tower Books, a division of Tower records, in Concord, Calif. We had unlimited music to play, as you can imagine, because of the record stores. We used music to move our customers. During the day, we played classical, Bach, Beethoven and the boys as it was. In the afternoons we played light rock as our clientele started to shift to a younger crowd. In the evening, we sometimes played jazz or metal on the weekends but when we wanted to close the store at night--Mantovani cleared the store every night."
Speaking of clearing the store, John Evans, co-owner of DIESEL, A Bookstore, in Oakland, Brentwood and Larkspur, Calif., recalled that his first bookseller job was at Pellucidar, the original of the Berkeley Pegasus bookstores: "I would work Friday nights with Gerry Kleier. We sold records in that store, mostly used, and we would have duels with music. He had particular dislike of Reggae which I would slip in occasionally, hoping he would like some of it. We were really trying to blow each other's minds, not torture each other. But he always had the trump card: William Shatner's psychological renditions of pop songs, illustrating psychological states! 'Mr. Tambourine Man' won every duel."
To which I could only reply: "Ah, Mr. Shatner's golden tones. I do remember. I, however, cannot be too cynical, since in the 1960s I was the proud owner of two albums featuring David McCallum (of Man from U.N.C.L.E. fame). So there..." I never shared Illya Kuryakin's symphonic rendition of "(I Can't Get No) Satisfaction" with my bookstore patrons, however.
"I've been enjoying the music focus in your Shelf Awareness pieces," Evans also observed, "It's a sideways kind of solidarity with the booksellers around the country, through the music played in their stores; the ASCAP ridiculousness (yes we pay them for the music we now play through Spotify); and the changes in customer preference, bookseller choice, and technological apparatus.
"We had vinyl in our Oakland store from 1989 to around 2005; switched to CDs and tapes throughout that decade; and then to Spotify (and the occasional tape!) today. We've never allowed opera or very 'out' jazz (too compelling, attention-grabbing). Our store in Santa Monica plays no music, but there is music outside that is a curated list by an independent DJ and which is often as good as we ever would choose on our own. Our Larkspur store uses Pandora, largely overseen by our manager there Rod Froke, but expanded by contributions from other booksellers.
"Personally, I liked most the periods of both my first years in bookselling at Pellucidar in Berkeley (which also sold LPs and so had a vast range of options) and the first years of DIESEL when personal choice, carefully chosen, ruled the airwaves and where compliments from customers were common. The interplay of music and books was part of a fading cultural time of more open conversation about these two vital parts of our everyday imaginations--unmediated by other personal devices and cultural trends now dominating how we live.
"I still love music as a part of the everyday of our bookstores and know that for some of our customers this just one of the many pleasures of shopping at indie bookstores." Who says you can't get no satisfaction?
--Published by Shelf Awareness, issue #2787
Robert Gray
|
Comments Off
|