Sunday, May 25, 2014
"I'm walkin' here! I'm walkin' here!" --Ratso Rizzo (Dustin Hoffman) in Midnight Cowboy

Next week, those of us attending BookExpo America will become temporary commuters in a city that recently garnered exceptional marks for public transit and walking. According to 24/7 Wall Street, New York City, "where more than 10% of residents walked to work, had a Walk Score of 87.6, the highest in the nation."

We aren't required to hoof it out to the convention and back each day, thanks to the numerous Big Apple transport choices, including BEA shuttle buses, taxis and mass transit (though the still-truncated 7 train subway line and the often jam-packed, unpredictable 34th St. crosstown bus are barely useful). However we choose to get there, we most definitely will be walking while attending the show. And walking. And walking.

If you've observed BEA attendees before in their unnatural habitat (aka the Javits Center), you may have noticed a wide range of of walking styles negotiating their way through the bookish throngs. Since Sibley hasn't yet published a field guide to identify all of these varieties, I tried to assemble a sampling here to illustrate just a few of the walkers you're likely to encounter--or become--during your #BEA14 pilgrimage: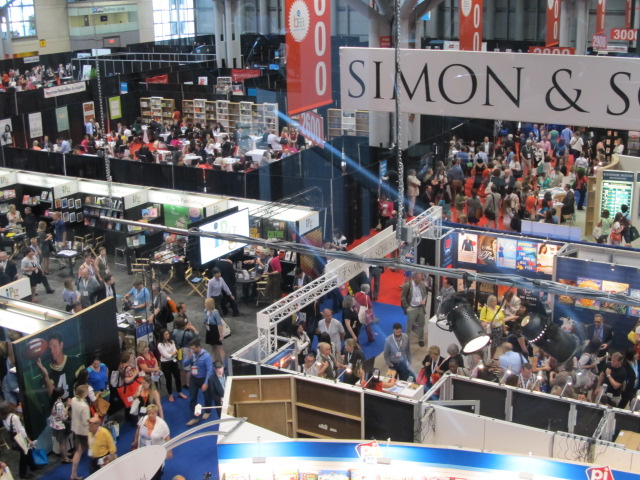 Stampeders: This can happen any time the herd is spooked by news of a celebrity booth signing or hot galley giveaway, but it is most pronounced during the opening moments of the show when the crowd speedwalks en masse from the first Book & Author Breakfast at the Special Events Hall to the main Exhibit Hall upstairs. Beware the frenzied escalator climber!

Salmon: It is one of nature's miracles, and actually quite inspiring, to witness the instinctive determination with which a person will sometimes attempt to walk against the prevailing current in an overcrowded publisher's aisle.

Broken Field Runners: Like football running backs, they dart left and right, move quickly to any open space, sometimes lower a shoulder and plunge through the onrushing line, always focused on the goal, however imperceptible and unimportant that may seem to those left reeling in their wake. Note: Tackling is now discouraged by show organizers.

Striders: They mean business. They move neither left nor right, but assume anyone in their path will step aside, and always keep their eyes trained upon something or someone really, really important waiting out there on the horizon. They are on a critical mission and you, my friend, are not part of it.

Grazers: In bookstores we call them browsers, but at BEA, grazing is perhaps a more appropriate designation for those who stroll casually from booth to booth, sampling the wares as if plucking leaves from trees.

Statues: If an object in motion tends to stay in motion, BEA walkers at rest tend to stay at rest, especially if they have rooted themselves to a spot directly in the line of traffic flow. They appear to be frozen mid-step, about to walk on, and yet... they don't, completely oblivious to the cresting waves of irritated colleagues breaking around them.

Predators & Prey: If you observe closely, you can often predict when an unwary attendee walking past a booth is about to be captured by the exhibitor. A similar drama develops when an attendee stalks a booth, waiting for just the right moment to corner a particular exhibitor who's been chatting with one person after another.

Hunters & Gatherers: Their walk is distinguished by a steady pace and a kind of sixth sense for where the best stuff--ARCs and pens and posters and bookmarks and more--is being distributed at any given moment. They are also exceptionally patient, willing to wait in seemingly endless lines at booth signings.

Pack Horses: Sooner or later, this is the fate for many of us, as we trudge back to our hotels laden with colorful, even sparkly, ARC-filled tote bags that belie the pain of our aching arms and shoulders.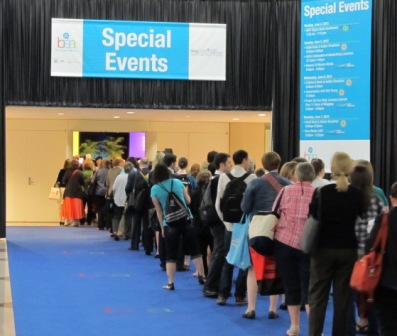 Cattle: Well, you've seen BEA's Autographing Area. Wait, shuffle, wait, shuffle, wait.

Saunterers: You don't encounter them often, but when you do, they are sight to behold. To stroll at BEA is to go completely against the grain. They seem to be unaffected by the madness around them. You wonder why they are there at all, and sometimes, however briefly, you envy their calm detachment.

The Walking Dead: Best observed on the final afternoon of BEA, waiting for shuttle buses back to their hotels.

Soon we'll all be walkin' the BEA walk, but make sure to reserve a little extra time and shoe leather to explore the not-so-mean streets beyond the Javits Center. "If it's a beautiful day, I love taking walks," said quintessential New Yorker Pete Hamill: "The walks are always aimless." Sound advice. --Published by Shelf Awareness, issue #2258.
Robert Gray
|
Comments Off
|