Sunday, February 8, 2015
"I am reading..."

Those three words recur, as a kind of litany, throughout the writings of Thomas Merton, whose birth centenary is being celebrated this year. Although many people know him as the "famous" Trappist monk (a contradiction in terms, I know, but not inaccurate) and prolific author, I was struck from the beginning of my four decades-plus engagement with his books by the literally catholic range of his reading life. Open to any random page, especially in his journals and letters, and you'll discover something important about him as a reader.

Merton's official birthday was January 31 and events have been occurring worldwide, including a discussion at the Brooklyn Public Library hosted by New Directions, which has long been associated Merton's work. On the publisher's blog, Mieke Chew wrote: "I recently found the address of Gethsemani in a rolodex at New Directions. It has been many years since James Laughlin and Thomas Merton exchanged letters, but the evidence of their shared interests and passions can still be found in our archives and in each of the books they worked on together."

Last Saturday at Canio's Cultural Café, Sag Harbor, N.Y., community members were invited to read "a favorite excerpt from Merton's work, creating a Merton "mosaic"--diverse representation of the vast ways in which Merton's work has touched our lives."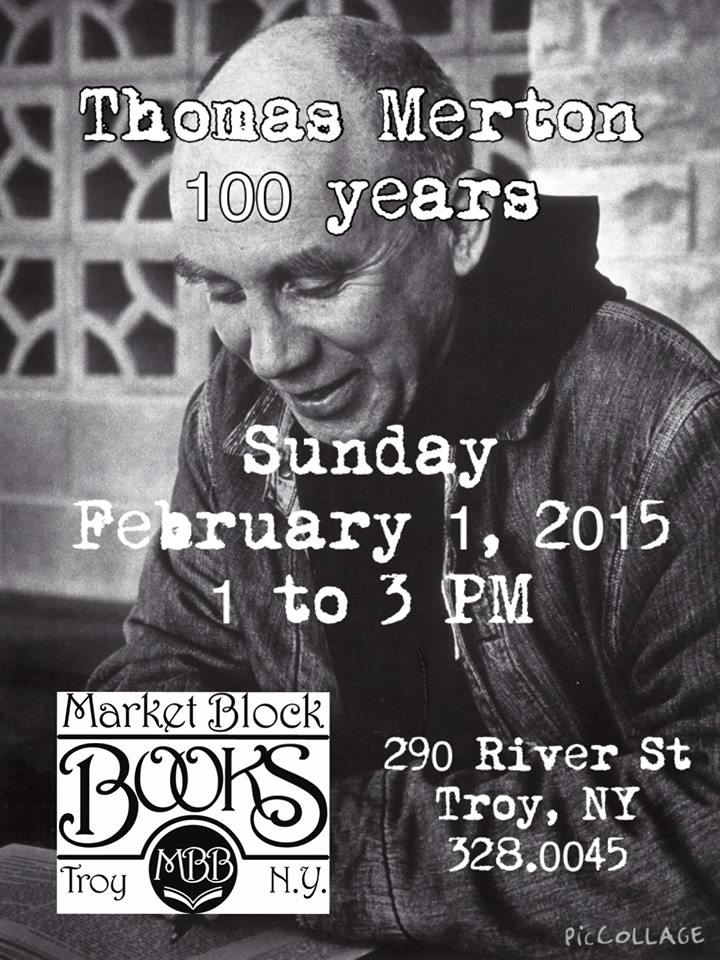 I attended a similar event on Sunday at Market Block Books, Troy, N.Y., where Stanley Hadsell hosted the bookstore's fifth annual Merton birthday party. Although Stanley and I have talked about Merton many times previously, we just realized that we had originally discovered him in a similar manner. I was raised Catholic, but my initial encounter with his writing occurred during the early 1970s, when I began reading books by Zen scholar D.T. Suzuki. Soon I found Merton's Zen and the Birds of Appetite and The Way of Chuang Tzu, which eventually led me to his classic autobiography, The Seven Storey Mountain. The rest, as they say, is reading history.

In the 1990s, Merton's seven-volume journals began appearing, one book at a time, and I learned the value of heightened anticipation as well as patience. Occasionally his name would come up in conversations, and it was like I had encountered another traveler on my reading pilgrimage.

One of those conversations occurred when I was working as a bookseller and answered the phone, fielding a simple customer question: "Do you have any books by Thomas Merton?" I said yes, and what followed was a long conversation with author Jon Katz, who had recently moved to the area and was working on a new book that would eventually be published as Running to the Mountain: A Journey of Faith and Change.

"I am reading," Merton wrote again and again, followed by all those names: James Baldwin, Matsuo Bashō, Boris Pasternak, Federico Garcia Lorca, Czesław Miłosz, Margaret Randall, Graham Greene, Lawrence Ferlinghetti, Meister Eckhart, Gabriella Mistral...

There is a moment in volume five of the journals, Dancing in the Water of Life, that eloquently speaks to the power of a reading life. In June of 1964, Merton received permission to fly from his monastery in Kentucky to New York City for a meeting with D.T. Suzuki, who was 94 years old. Merton wrote: "He read to me from a Chinese text--familiar stories. I translated to him from Octavio Paz's Spanish version of Fernando Pessoa." The words of a legendary Portuguese author, shared with a Japanese Zen scholar via a Mexican poet and an American monk.

One of the many impacts Merton has had on my life is the way he embodied the ideal of reader and re-reader, never ceasing to look for the next book, the next author, while valuing and revisiting those that had come before.

And we all can understand this moment from The Seven Storey Mountain: "One day, in the month of February 1937, I happened to have five or ten loose dollars burning a hole in my pocket. I was on Fifth Avenue, for some reason or other, and was attracted to the window of Scribner's bookstore, full of bright new books."

Or this journal entry (later collected in The Asian Journal of Thomas Merton) from 1968, the last year of his life: "Lesson: not to travel with so many books. I bought more yesterday, unable to resist the bookstores off San Francisco." Always, everywhere... Thomas Merton, reading. --Published by Shelf Awareness, issue #2438.
Robert Gray
|
Comments Off
|