Monday, October 6, 2014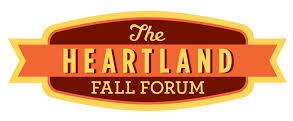 On my flight from upstate New York to Minneapolis last Tuesday for the Heartland Fall Forum, I had to connect through O'Hare just days after a headline-making fire at an FAA radar facility prompted a rolling tide of delayed or canceled flights. Once I reached my hotel room (relatively undelayed), I happened to read a post on the Economist's blog that noted the situation was already improving: "The system was sorely tested, and while it strained under pressure, it held." The piece was titled "Infrastructure resilience," which seemed an apt analogy for the current state of independent bookselling.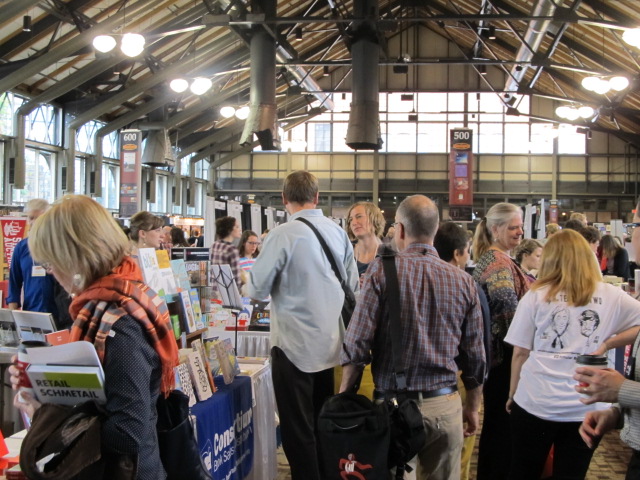 Booksellers hunting for great reads during the Heartland Fall Forum

At the HFF book awards presentation a couple of hours later, I thought about words, which is an appropriate thing to do when you're attending a trade show sponsored by the Midwest Independent Booksellers Association and the Great Lakes Independent Booksellers Association. Words like "connections" and "work" and "business."

In accepting her nonfiction Midwest Booksellers Choice Award for Braiding Sweetgrass (Milkweed), Robin Wall Kimmerer thanked indie booksellers who "tirelessly promote the books they love. Where would we be without them?" She also expressed her gratitude to author Kate DiCamillo, who had carried Braiding Sweetgrass with her to Washington, D.C., when she was sworn in as National Ambassador for Young People's Literature. GLIBA's Great Lakes, Great Reads children's book prize winner Andrea Beaty (Rosie Revere, Engineer Abrams) chronicled the passionate indie support she had received for her first title, Iggy Peck, Architect, adding: "This book only exists because of independent booksellers."

And Nickolas Butler, a double-barreled MIBA and GLIBA fiction winner for Shotgun Lovesongs (Thomas Dunne), admitted that while there had been a time when he "didn't know how I was supposed to approach booksellers," this had changed dramatically: "Many of you I'm proud to say are my friends now." He also said something else: "This is a business and we're in business together."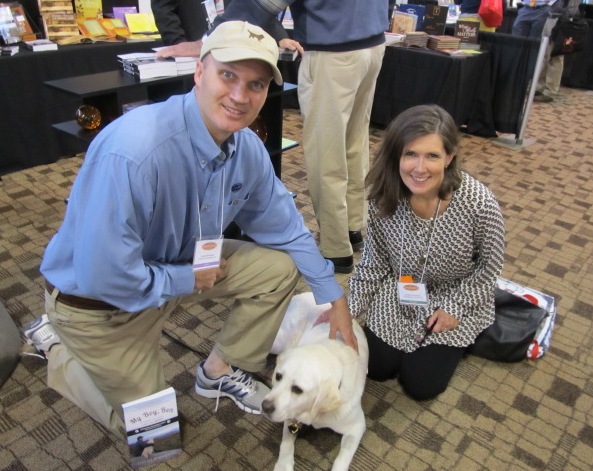 David Wheaton, author of My Boy, Ben (Tristan Publishing) with his dog Gracie (wearing a show badge) and Cynthia Compton, owner of 4 Kids Books & Toys, Zionsville, Ind.
DiCamillo, who won both the Midwest Booksellers Choice YA (for Flora & Ulysses, Candlewick) and Voice of the Heartland awards, told her personal story of moving to Minneapolis two decades ago and landing a job as a picker at the Bookmen's distribution warehouse. Becoming an award-winning author was not on the agenda then. "The only thing you deserve is the chance to do the work," she said, noting that during those years at the Bookmen, she "started to do the work. I started to write.... This award matters so much to me because it is here, with all of you, that I found my voice."

Having attended bookseller trade shows for more than two decades, I've had a front row seat for the rise, and fall, and rise again of indie bookstores. The conversations at these gatherings 10 years ago were often about survival, but many Heartland panel topics focused on getting better rather than just getting by: "Let's roll up our sleeves and analyze turn" or "ABA session: nuts and bolts of personal finance." And once again, a wide range of practical creativity was on display at the popular annual education plenary session "Ideas that work (and those that don't)." I'll write about these sessions in more detail in an upcoming column.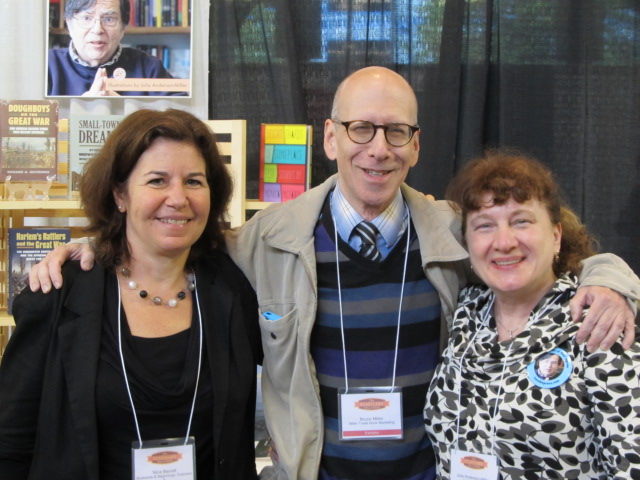 Nina Barrett, owner of Bookends & Beginnings, Evanston, Ill., with Bruce Miller of Miller Trade Book Marketing and artist Julia Anderson-Miller, who illustrated The Lost Clerihews of Paul Ingram (Ice Cube Press). The legendary bookseller at Prairie Lights Bookstore watches over them from a poster in the background.

Infrastructure resilience, personal connections and hard work were also evident during Thursday's exhibit hours in the Depot Pavilion, with booksellers fully engaged in both the business and pleasure of their chosen profession. While there may not be any Pollyannas left in our corner of the world, most of the conversations I had with booksellers and sales reps were decidedly upbeat. That is a good, if hard-won, place to be right now, regardless of how much work remains to be done.

In her education plenary session on the indie revival, Institute for Local Self-Reliance co-director Stacy Mitchell spoke of the next steps on this journey, citing a surprising increase in the number of independent businesses--including long-thought-dead record stores--nationally as a sign that "if you become part of a community, if you can create a sense of place, you can do anything." She also noted that among the ever-increasing number of shop local chapters in the U.S., "almost every one of those groups has a rabble-rousing bookseller" at its core.

"Books don't fly into the hands of readers of their own volition... readers believe you," Elizabeth Berg, author most recently of The Dream Lover (Random House) told her audience at Wednesday night's adult author dinner. "We all trust you. We all appreciate you. We love you, in fact.... Your bookstores are our modern day salons. Merci beaucoup."

The infrastructure is resilient, and good work was being done at the Heartland Fall Forum. --Published by Shelf Awareness, issue #2357.