Sunday, March 30, 2014
"Though this be March Madness, yet there is method in't," Polonius almost said in Hamlet. For the record, the poor guy not only didn't make it out of the play alive, he was also defeated in the second round of 2012's Shakespeare Character March Madness Tourney by King Lear ("O, that way March Madness lies; let me shun that").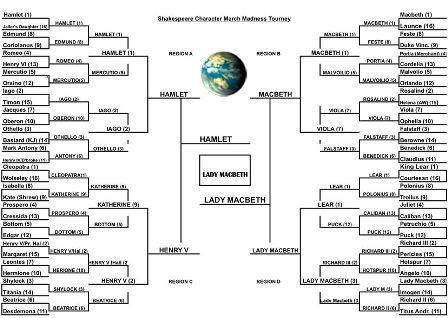 Yes, ladies and gentlemen, 'tis the season of March Madness and there are brackets, brackets wherever we turn--online, on refrigerators, on bulletin boards, on everything. It's been a long time since bracket fever afflicted only obsessed NCAA college basketball tournament fans.

"Bracketology--the practice of parsing people, places, and things into discrete one-on-one matchups to determine which of the two is superior or preferable--works because it is simple. What could be simpler then breaking down a choice into either/or, black or white, this one or that one?" wrote Mark Reiter, co-editor (with Richard Sandomir) of the 2007 book The Enlightened Bracketologist: The Final Four of Everything.

Ben Yagoda, who contributed a "sins against the language" bracket to the book ("I put the phrase in quotation marks to indicate it should be taken with a measure of irony."), observed more recently: "I think we can all agree that March Madness has jumped the shark."

"When did filling out a March Madness bracket become popular?" asked Smithsonian magazine recently, noting that "NCAA bracket madness has also spawned a social phenomenon: The Wire, proclaiming March the 'bracket-iest month of the year,' is rolling out competing brackets each week in a 'tournament of everything.' Even the federal government is getting in on the madness, betting that a bracket will make the Affordable Care Act relevant to millennials. It's hard to turn anywhere on the Internet without running into a bracket of some kind."

The book world is not exempt, of course. Inkwood Books, Tampa, Fla., has its own Staff Pick Madness. Early in the month, Weller Book Works, Salt Lake City, Utah, advised: "Looking for your own March Madness? Check out Tournament of Books sponsored by The Morning News. Bracketed book bouts."

Launched in 2005, the ToB has inspired many variations on a theme, including the Tournament of Sidekicks from Half Price Books, Out of Print's Book Madness, the Piglet Tournament of Cookbooks, Game of Thrones March Madness Bracket, io9's SciFi Versus Fantasy Madness, Picture Book Bracketology, Bracketology for Female Book Characters, and even a Quidditch World Cup bracket challenge contest. The Medina County District Library featured Book Madness, challenging readers "to pick the top winners as the Best Books of 2013 go head-to-head with the Books That Stand the Test of Time."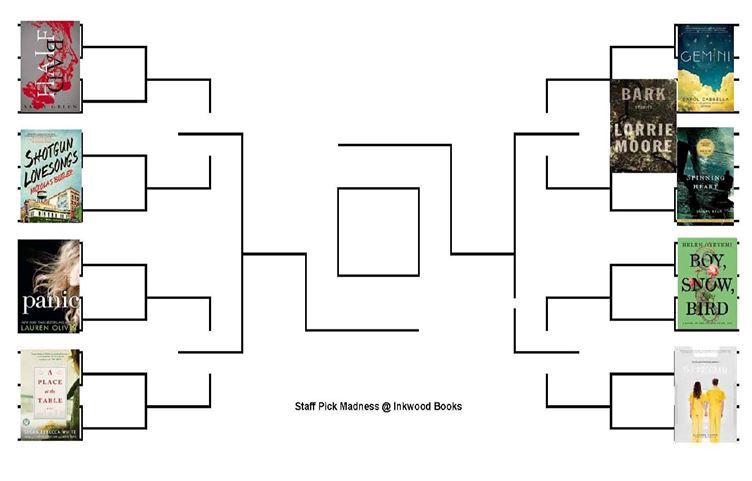 March Madness also erupts annually in the sidelines department for the lucky few college bookstores whose teams win and progress through each round. Right after the University of Dayton was awarded an NCAA tournament berth last week, the bookstore "reported having between two and three hundred online orders for 2014 March Madness t-shirts." (Sideline sales for the sidelines?) And with the Flyers still in the mix, staff member Taylor Seidl said the retail outlook remained upbeat: "As long as we keep winning we have orders coming in for Sweet 16... Elite Eight." Same story at the University of Virginia bookstore, where executive director John Kates said, "In the thirty years I've been here... I've never seen anything like it."

Speaking of the Elite Eight, there was an unfortunate digital retail slipup on Wednesday when the University of Arizona's bookstore had to issue a public apology for accidentally displaying a page featuring T-shirts that heralded the team's advancement to the next round before they had even played their Sweet Sixteen game against San Diego State last night. They won anyway.

And just so you know, in Las Vegas March Madness means "busy hotels, Bud Lite and bustling books," but not our kind of books.

The endgame of NCAA tournament bracketology is almost always defeat and befuddlement. What began March 16 on Selection Sunday with unsullied brackets and 68 optimistic college basketball teams simply cannot resist the tidal pull of a cresting Shakespearean wave ("The ides of March Madness have come."/ "Yes, Caesar--but not gone."). Maybe it has something to do with March itself, that most confusing of months.

Or, as Polonius sort of put it (anticipating, perhaps, Orchestral March Madness, Tuition Madne$$, Public Media Madness, Mensa Bracket Challenge Champion and even March Madness Meta-Bracket: Which Tournament Is the Best?): "A happiness that often March Madness hits on, which reason and sanity could not so prosperously be delivered of." --Published by Shelf Awareness, issue #2217.
Robert Gray
|
Comments Off
|