Sunday, April 20, 2014
Pick a poem, any poem. Well, not just any poem; pick one you have lived with a while. Now, read the poem aloud. How does it sound? Record your voice reading that poem. Add complementary video. Imagine dozens of people doing the same thing.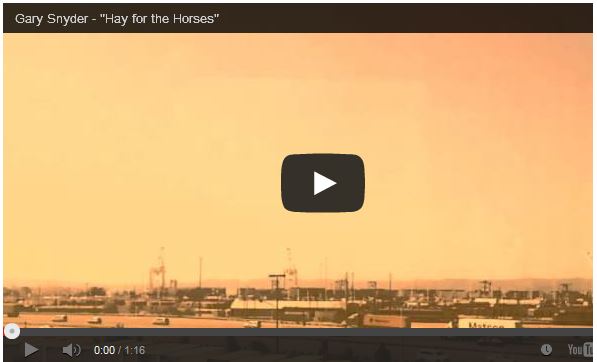 As it happens, you don't have to imagine this because for the past five years, California's DIESEL, A Bookstore has been releasing a new videopoem daily during Poetry Month. While booksellers are usually the featured readers, DIESEL occasionally invites a guest. Last year, even I got in on the videopoem action with my signature monotone rendition of Gary Snyder's "Hay for the Horses."

DIESEL's co-owner John Evans told me the bookstore has "always had an extra special emphasis on poetry and art. We believe they are essential parts of great local independent neighborhood bookstores like ours. I am a poet and have an M.A. in Poetics (of all things) and so want poetry to be widely, easily available and visible at our stores. We have cultivated poetry reading, and writing, at our stores from the beginning."

That said, technology is no stranger to DIESEL's mission either. "We've embraced technologies, but insisted that they further good aesthetics," Evans observed. "We created a website in 1991 and, I must say, it was beautiful. It's a challenge, as platforms change--sales gets integrated into what was originally a communications tool--to keep the aesthetics going. It's a welcome challenge. My partner, Alison Reid, has said that a good slogan for DIESEL is 'if you bought an ugly book, you didn't buy it at DIESEL.' "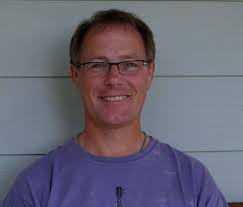 Evans
When they decided to produce more book-related videos about five years ago, "we just started naturally also reading from them and then thought, What about a whole month of reading poems for National Poetry Month?" Evans recalled. "Most of us were absolutely excited by it, and some were a little more tentative. After all, hard as it may be to believe, not all booksellers regularly read poetry. But all booksellers have read, and loved, some poetry. Since we try to open things wide, we encouraged people to just read whatever poems they wanted. We were startled by the results the very first year. Several of us--me, Jon Stich and Grant Outerbridge (both very artistic booksellers)--decided to shoot some video to match with the read poems for those who didn't want to be filmed reading and out of a curiosity as to what we could come up with."

During the first year, DIESEL mixed videos of booksellers reading with some videopoems before deciding the video versions were generally more interesting. "Since then, Jon has shot most of the video and added the audio clips," Evans noted. "Pretty much all of our booksellers have contributed readings each year."

Positive feedback has come from customers, friends, publishers, other booksellers and authors, "all praising us for our commitment, for specific poem choices and for particularly effective readings," he said. "Some people look forward to the one-per-day reveal, while others listen to them in groups and a few wait until the month is over and then binge on them. It's a great annual ritual: for each of us; for all of us at the store; and for all of the other readers, of poetry or not, who enjoy getting words in their purest forms."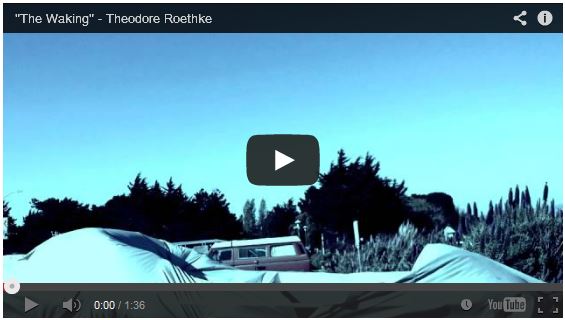 Evans cited two of his all-time favorite videopoems, which "come to mind every year, largely because of their combination of great reading and eerily perfect video." One is William Butler Yeats's "Lake of Innisfree," read by Nell Arnold, and the other Kay Ryan's "The Material," read by Colin Waters. He also praised Brad Johnson, "who does our blog and is a poet himself and a great reader of poetry. He floored me with his reading voice--like a young Orson Welles! I love to hear him read, but particularly love the first videopoem of his that I saw/heard: 'Sentences' by Lyn Hejinian. My favorite so far this year? Herb Bivins, who works in the Larkspur store, "beautifully reads one of my favorite poems--'The Waking,' by Theodore Roethke--and Jon intuitively marries it to an amazingly appropriate scene. The wind and Herb's breathing, and wonderfully timbred voice, bring forth so much of the incantatory magic of this poem, it just leaves me smiling." The Roethke videopoem is my favorite thus far this year as well.

"One further thing which I've really only full appreciated this fifth year: I really enjoy the sounds of my co-workers voices transposed into this intimate register of reading poems which they care about and so, care for," Evans observed. "This is not the voice of the bookseller with our enthusiasm for books and expert helpfulness, but the voice of close readers of beautiful writing and the imaginations conjoined there. It's such a pleasure to know and hear my fellow booksellers in this way."
--Published by Shelf Awareness, issue #2232.
Robert Gray
|
Comments Off
|