Friday, July 29, 2016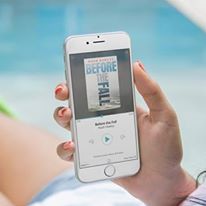 I've been worried about audiobooks for many years, though I'm starting to worry less, thanks to the option of purchasing digital versions through my local independent bookstore and Libro.fm. Many booksellers nationwide are on board with the service, including Blue Willow Bookshop in Houston, San Francisco's Green Apple Books, Boston's Papercuts J.P and Village Books in Bellingham, Wash. It may not be a game-changing sales tool, but it's still an opportunity to show customers you're a full-service bookshop.
And that makes me happy. At the retail level, I've observed firsthand the curious evolutionary path of audiobooks, from those bulky boxes of expensive unabridged cassettes in the mid-1990s to more affordable cassettes, then CDs and digital, followed by the inevitable gobbling up of the market by Amazon's purchase of Audible.com in 2008.
Maybe I started worrying most then, though audiobooks themselves have been doing just fine. This week's AAP February sales report showed sales of $21.5 million (a 44.4% increase over 2015) for downloaded audio, compared to 2.1 million (a 36.3% decrease) for physical audiobooks. Earlier this year, the Audio Publishers Association's annual sales survey results estimated that audiobook sales in 2015 totaled more than $1.77 billion, up 20.7% over 2014. Unit sales were also up 24.1%.
As I mentioned earlier, my worries have diminished a bit with the Libro.fm option. I've always loved the sound of books. When people read aloud, I instinctively close my eyes and listen (unless I'm driving). Close listening is akin to close reading for me. One human being shares a story with another. The allure might have something to do with childhood memories of my mother reading the Oz books to us. Perhaps it is a far more ancient rite, since we were telling each other stories thousands of years before Gutenberg.
Now I can go back to worrying about the classic dilemma all audiobook listeners face: Who is reading to me? I'm very particular about the person whispering in my ear. A brilliant reader can sometimes redeem a mediocre book, but the wrong reader always breaks the spell of a good book.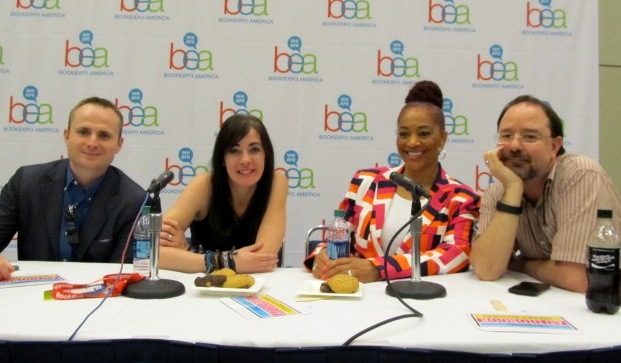 Michael Kortya, Maggie Stiefvater, Terry McMillan & John Scalzi at the APA Author Tea during BookExpo America
At Book Expo America in Chicago this year, there was a great discussion about the voices behind the books during the APA Author Tea featuring Michael Kortya, Maggie Stiefvater, Terry McMillan and John Scalzi.
"You won't have to listen to my voice very long to understand just how deep my appreciation for a good audiobook reader is," Kortya said, praising the work of Robert Petkoff. "When I go on tour for readings, I have an idea of how a book sounds in my head.... I'll listen to Robert and just steal the way he approaches it as his sense of rhythm is just spectacular, and I can say in all honesty he has propped up some really wooden sentences for me.... If there's one thing that's not talked about enough, it's the idea of voice and rhythm and pacing. We read with our eyes, yes, but it's an auditory experience. And I would venture to guess that the actual sound on the page is immensely important."
"I love listening to other people's audiobooks," said McMillan. "I have a lot of respect for audiobooks because it's a very intimate experience that you have as a listener with the characters in a book.... There's a warmth that happens. It's almost as if that person is talking to you directly. You get to see it, feel it and hear it all at the same time. When you read a book, you have to imagine it and both are powerful.... Over the years, I have really come to appreciate the beauty of sound. "
Stiefvater praised actor Will Paton, who agreed to work on her audiobook because he loved The Raven Boys. "And so I like to think that when you listen to the Raven Cycle, you hear Will Patton having a great time reading it," she said. "And that's what really makes a good audiobook is when the reader is fully engaged."
Scalzi noted that "as the writer, you have to get used to the idea that your baby, the book that you created, that you hear inside your head--you hear the rhythms, you hear where you put the stops, and where you put the emphasis, and where you put the meaning--is read by somebody else.... When they read your book, it becomes a singular experience inside their own head, so with the narrator, particularly a good narrator, they take a book that you thought you knew better than anyone else because you wrote it and then they find things in it that you didn't know were there."
But Terri McMillan said it best: "I love the idea that somebody is telling me a story."
--Published by Shelf Awareness, issue #2806
Robert Gray
|
Comments Off
|