Sunday, October 21, 2012
There is a marked trail of books that you can see clearly when you look over your shoulder, and a pair of recent deaths has reminded me once again how important that well-read path can be.

A college friend, with whom I'd had only minimal contact through letters and then e-mails over the past 40 years, died suddenly October 2 of natural causes in Ottawa. He was 64. I didn't know about it until a couple of days ago, when his daughter found me in the traditional 21st-century manner--scanning Facebook for matching names until the right one appeared.

When we were in college, my friend and I used to have long conversations about the ideal bookshop we wanted to run someday. That our store was conjured from dreams became clear many years later when I started working full-time as a frontline bookseller.

Several days before I learned of his passing, I happened to recall those conversations in a quiet moment as I was working at my desk. I don't believe in ghosts, but the timing of that recollection was, in its way, almost empirical evidence. Our Borgesian bookshop is apparently still open.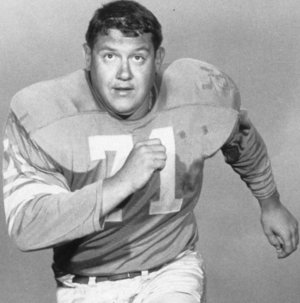 Then there's Alex Karras, a former All-Pro defensive tackle for the Detroit Lions who died October 10 at the age of 77. His death touched a different nerve and an earlier book memory. I was in high school when I read George Plimpton's Paper Lion, a humorous account of his brief research stint in 1963 as "last-string quarterback" for the Lions during their summer training camp.

Paper Lion was one of my earliest "bridge books." Although I was a good student in high school and college, I was also an athlete and bridging the gap between those disparate worlds became increasingly complicated in the late '60s and early '70s. Reading helped.

In my memory, Karras was the real star of Plimpton's narrative, not just for his athletic ability, but also for his intelligence, sense of humor and, well, presence. He was a wise-ass and a storyteller (two of my favorite attributes), specializing in tales of his own reincarnations: "General Washington was beautiful. I was at Valley Forge, you know, real cold...."

Rereading Paper Lion (a 45th-anniversary edition from Lyons Press) this week for the first time in nearly half a century, I was surprised to discover--or be reminded--that Karras hadn't even been in training camp that year. He was under indefinite suspension by the NFL for "placing a series of small bets during the season," as Plimpton delicately put it.

Yet Karras still manages to be the centerpiece of the book. Plimpton never misses a chance to sneak in anecdotes about him, and the final third of Paper Lion is practically handed over to flash-forward accounts of time spent with Karras later. Absence somehow becomes a kind of presence.

As Plimpton observed, "His presence had not only been missed on the field but also in the social life of the training camp--particularly in the dining room, where he put on his skits and monologues.... He had an absolute flow of free association, and his fantasies seemed to spring forth, never set pieces, but spontaneous and extemporized."

So Paper Lion became a trail marker on my book path, though I'm not the only one. In an introduction to the 1993 edition, Plimpton wrote: "The most heart-warming reaction to Paper Lion over the years has been the reaction of high school and grade school teachers who have spoken to me to say that they often assigned the book to students with little interest in literature who were subsequently turned on to reading."

When it went out of print for a time, Plimpton received letters from many teachers who mourned the absence of a book that offered certain students "the affirmation that there could be a strong aesthetic link between what they loved foremost, far more than classroom work--football, say--and reading about it in something other than the sports magazines and the newspapers."

These are not Shelf Awareness obituary notes in the usual sense of the term. They're just memories of a bookstore and a book, and the power of absence.--Published by Shelf Awareness, issue #1852.
Robert Gray
|
Comments Off
|