Friday, November 13, 2015
As the holiday season approaches, I thought it might be an appropriate moment to showcase the Book Industry Charitable Foundation, which has been providing financial assistance to booksellers in need since 1996. During the New England Independent Booksellers Association Fall Conference, I discussed Binc's ongoing role with executive director Pam French, and checked in with her again this week because the organization's major fundraising campaign kicks off December 1.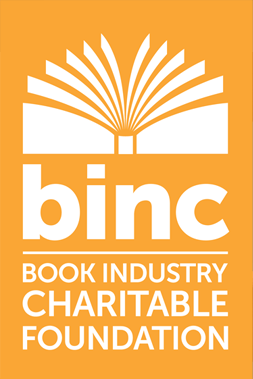 "We are encouraging booksellers and others in the industry to see the foundation as their foundation, an example of book people helping each other," French said. "A donation to Binc will allow booksellers to take part in writing the next chapter on bookseller assistance (which also happens to be the theme of the annual campaign) and to continue providing bookseller assistance for years to come."

As of November 9, Binc had distributed $50,331 to 26 booksellers and their families this year. It had received 35 requests overall year-to-date and is actively managing several of those not yet resolved. In 2014, Binc fielded on average one request per week.

"We are still learning the cadence of requests," French noted. "There is typically an increase in requests after the fall trade shows, and after Winter Institute. It reinforces the importance of being present at those events and continually spreading awareness. We plan for grant requests to increase each year, but this year the number has not increased. In my ideal world that's because everyone who has a need has contacted us, but there remains an awareness gap.

"One trend that does appear is that requests for major medical are consistent, but now are more complex and take longer to complete. For example, we have had several grant requests related to cancer treatment care. The requests can take months to manage since the treatments are longer and the bills higher."

In 2015, Binc has also distributed $200,000 in higher education scholarships, a $2,000 matching grant to an indie bookstore and about $13,000 for the professional development scholarship initiative that provides booksellers financial assistance to attend industry events.


Pam French (l.) at the NEIBA show with Binc fundraising committee member Susan Schlesinger of Books on the Square in Providence, R.I.
Since she became executive director of what was then the Borders Group Foundation in 2009, French has witnessed Binc's core mission evolve significantly "from an organization focused solely on one employee population, with direct communication channels, to a nationwide organization and a variety of ways to connect with booksellers. We initially focused on letting the trade associations and bookstore owners know about Binc and earning credibility.

"Our original outreach was to the CEOs of the national trade associations. Oren Teicher and the ABA board have become some of our strongest allies/supporters. And once we learned about the regional trade associations, we contacted each executive director and introduced ourselves. The regional e.d.'s have helped us spread the word; they are truly great partners and have been invaluable in getting Binc off the ground. We cannot thank Oren, the ABA and each of the regional IBA e.d.'s enough."

What does the future hold for Binc? "In 2011 we gave ourselves three years to determine if the foundation was useful and effective given the expanded mission of serving all bookstore employees," French recalled. "After a survey in 2013, increased grant requests in 2014 and input from key partners the board of directors determined that the foundation had met our original goals of earning credibility, creating awareness and meeting the needs of booksellers, and that we should work towards becoming sustainable."

She noted that the foundation "is extremely fortunate to have had existing funds to use while we launched Binc nationwide, established industry partners and determined if a charity focused on helping booksellers was viable. Up until 2015, we had done some fundraising but it was not with the goal of becoming sustainable or on a broad scale. Once we determined that the foundation served a need within the industry, we also determined that we needed to raise funds to continue to help booksellers."

Binc has made progress toward its fundraising goals in 2015, but still has a way to go to become sustainable. "Our learning curve has been steep since nationwide fundraising is new to Binc," French observed. "We are working to connect with publishers, bookstores and individuals throughout the industry as financial supporters."

Since we are in the storytelling business, I asked her to share one recent experience that stood out as an example of the importance of Binc's mission. She recalled a grant recipient who'd been uncertain about qualifying for assistance. "I always encourage booksellers to contact us with questions," French noted. "Often their situation does qualify for a grant, or we can point them to other resources for assistance."

Later, the bookseller shared this reaction: "At our regional trade show I attended the general membership meeting and heard from a rep of Binc. I hadn't suffered any of the major catastrophes that I thought were a necessary qualification for a Binc grant, but the presentation at the membership meeting made me realize that maybe I didn't need a major catastrophe, just a series of small ones. Within a week of initially contacting Binc I was informed that I would be receiving a grant sufficient to get me caught up on rent, which would allow me to also get caught up on utilities (and some of my lost sleep). They saved my life and my sanity at a time when I was feeling nothing but frustration bordering on despair."

Something for all of us to consider during the holiday season. --Published by Shelf Awareness, issue #2634
Robert Gray
|
Comments Off
|