Tuesday, November 4, 2014
When Simon and Garfunkel were considering old friends sitting on their park bench like bookends in 1968, I was 18 and devouring Graham Greene's The Quiet American for the first of many times.

We return to certain authors as to a familiar hearth (and like fire, the best can sear as well as warm us). Greene is one of those writers for me, as are Walker Percy, Ralph Waldo Emerson, Joan Didion, Thomas Merton, Aleksandr Solzhenitsyn.

And May Sarton. I first read The House by the Sea when I was in my early 30s. She seemed to be speaking to me directly. Now the voice living in those pages and I are about the same age ("I can't stop doing what I have always done, trying to sort out and shape experience."). Her power is undiminished.

New editions by kindred reading spirits are like renewed conversations with old friends: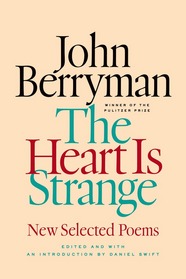 I met John Berryman's poetry in a college class, where His Toy, His Dream, His Rest was a required text ("I always wanted to be old. I wanted to say/ 'O I haven't read that for fifteen years' "). To mark the centenary of his birth, Farrar, Straus & Giroux has just published The Heart Is Strange: New Selected Poems, and is reissuing 77 Dream Songs, Berryman's Sonnets, and The Dream Songs.

Distant Neighbors: The Selected Letters of Wendell Berry & Gary Snyder (Counterpoint) welcomes me back to Snyder's world, which I entered in 1971 when I bought Riprap, & Cold Mountain Poems for $1.50.

Donald Hall's Essays After Eighty (Houghton Mifflin Harcourt, Dec. 2) is an eloquent and bracing reminder of just how essential this man's voice and hard-won perspective have been in my life.

I was Romeo's age when I first encountered Shakespeare; now I'm closer to Lear's. If I'm any wiser (the jury is still out), it's only because of a select group of age-appropriate writers who continue to guide me on this journey. --Published in Shelf Awareness for Readers.