Friday, January 8, 2016
As we all know, resolutions and predictions are New Year's traditions with a dubious track record. Remember when you resolved that 2015 would be the year you finally read Ulysses or War & Peace or Moby Dick? How'd that work out? Remember the guy who predicted in 2002 that vinyl albums and turntables would one day make a comeback as profitable sidelines for indie bookstores? No, I don't either.

And yet, we're always ready to give hope and forecasting another shot. Can't help ourselves, really. I've been collecting some great recent examples:

Resolutions
Village Books, Bellingham, Wash., hosted "our always popular Resolutions Mini Workshops... with inspirational options good for everyone."

Noting that "now is the time to make a commitment to your 2016 reading life," Sarah Bagby of Watermark Books & Cafe, Wichita, Kans., wrote she had "asked a sampling of the bookstore and cafe staff for their goals for reading in 2016. Everyone had one and no two were the same. Mine is to read a set number of pages per day, and have reading glasses in my reach at all times.... Happy New Reading Year!"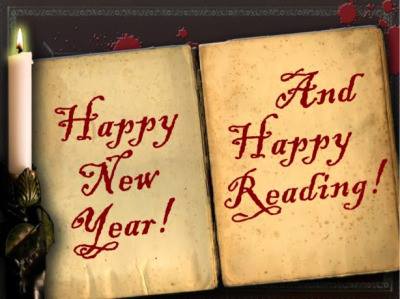 Catherine Weller of Weller Book Works, Salt Lake City, Utah, shared the bookstore's goals for the new year: "We'll continue to work on finding wonderful books--be they new, used, or rare--to share with our customers. All of us booksellers will strive to read even more.... For your new year we hope you'll consider reading more, loving more, and laughing more. We also hope you'll continue to support locally-owned businesses like ours, so Salt Lake City will continue to be populated by unique, vibrant shops run by your friends and neighbors."

"I have never been good at achieving my New Year's resolutions," observed Gwenyfar Rohler of Old Books on Front St., Wilmington, N.C. "I work at them, and chip away, but usually I make longer-term commitments than one year can contain.... Somehow it took until now to understand the heart of what this has been about all along. I thought it was about jobs; turns out it was about connections, and putting people, family and community first--ahead of expectations, ahead of big business, ahead of preconceptions."

In the Spectator, Laura Freeman recalled that "last year, I made a New Year's resolution to give up my appalling Amazon habit. What with one-click ordering it had become fantasy shopping, clicking on Penguins as if they were penny sweets. I was spending hundreds of unthinking pounds--and never visiting the bookshops I claimed to cherish. And I have stuck to it. With only one shameful lapse, I have bought my books in bookshops. What a joy it has been."

Several authors shared their reading resolutions with the Guardian, including Ted Dawe: "There is one thing I plan to do differently this year. I am sending galley proofs of my new novel to teen readers (15 of them) to get feed back and critique. I want to get a sense of what they like or don't get before I complete my final publication copy."

The Huffington Post's Jillian Capewell advised how to make non-intimidating reading resolutions, including: "If you live near even a mid-sized city with a library or bookstore, chances are there's an author visiting you soon. While visits from huge names even your mom will recognize (David Sedaris, Elizabeth Gilbert, etc.) are few and far between, there are plenty of authors with more modest followings that hold readings for recently released books. Research one who sounds intriguing and make yourself go--at worst, you got out of the house, and at best, you've found a new book to take home (and an author you can say you saw way back when)."

Predictions
Digital Book World featured "10 predictions for 2016":
Continued regrowth of print sales.
Increased focus on export sales.
Amazon spending some time under the radar.
The middle to continue to diminish with more consolidation.
Picking up a Penguin; keep an eye on Pearson.
Increasing Chinese influence.
Publishers taking advantage of licensing opportunities.
New English language partnerships.
Book fair evolution and the emergence of the micro-fair.
Struggle for subscription but steady digital sales.
Carolyn Kellogg considered "6 book trends for 2016" in the Los Angeles Times:
Books are back. Print books, that is.
The Star Wars effect
If you can't read George R.R. Martin, join him.
Long-form nonfiction is in peril.
Independent presses bring the vanguard.
It's a big, diverse world.
We'll be keeping score because predictions sometimes fade to obscurity in retrospect: "It wasn't too long ago that pundits were saying that printed books and bookshops were on the way out," Tim Godfray, CEO of the U.K.'s Booksellers Association, told the Bookseller recently. "This is now absolutely not the case. It has been really heartening to see booksellers showing such entrepreneurship and creativity in extremely challenging trading conditions."

For New Year's perspective, however, Emöke B'Racz of Malaprop's Bookstore, Asheville, N.C., summed it up best: "I may seem like I've already plunged headfirst into next year, but I have not even faced the fact that 2015 will be passing into 2016 imminently. I wish that we all may keep our hearts open, joyful and peaceful to meet the challenges of everyday life as it unfolds for every one of us. As we say in Budapest: B.U.É.K !!!!" --Published by Shelf Awareness, issue #2665
Robert Gray
|
Comments Off
|