Sunday, January 26, 2014
Sometimes the stars just mysteriously align in our book universe. There's no "mind the gap" caution for readers venturing between past and present; or the diverse worlds in books we read and the "real" world. One of these intriguing alignments occurred recently in my little corner of the universe with art and literature. Here are a few of the signs I noticed:

Excellent books (read or reading now) on my desk: Within reach, and all connected in some way to art, are The Eleven by Pierre Michon (translated by Jody Gladding & Elizabeth Deshays), The Fountain of St. James Court or, Portrait of the Artist as an Old Woman by Sena Jeter Naslund, Secrecy by Rupert Thomson (ARC, April release), The Artist's Library by Laura Damon-Moore & Erinn Batykefer (ARC, May) and The Goldfinch by Donna Tartt.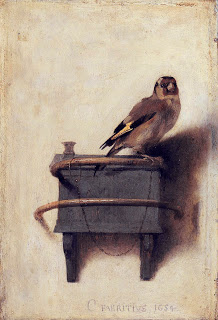 Cool bookstore road trip: Roxanne Coady, owner of R.J. Julia Booksellers, Madison, Conn., just hosted what looked like a great bus trip to the Frick Collection in New York City for the exhibition "Vermeer, Rembrandt, and Hals: Masterpieces of Dutch Painting from the Mauritshuis," featuring Goldfinch, a 17th-century painting by Carel Fabritius that plays a key role in Donna Tartt's novel.

Art, literature & commerce: The influence of books on attendance at the Frick exhibition was phenomenal, driven initially by the presumed star of the show, Vermeer's Girl With a Pearl Earring, which had been expected to draw art lovers as well as fans of Tracy Chevalier's bestselling 2000 novel. Goldfinch, however, soon began "hogging the spotlight," Frick director Ian Wardropper told the New York Times. "Halfway through the exhibition, we noticed a shift.... That's when we started to see book clubs coming in." As of last week, Goldfinch tote bags had outsold their Pearl competition 842 to 582.

The power of fiction: I saw the Frick exhibition in December and was also pleasantly surprised by the crowds huddled around the small work by Fabritius compared to the clear sight lines available for the Vermeer. I was not prepared for a second surprise in store for me when I entered the Living Hall to pay my respects to a pair old friends: Hans Holbein's portraits of Thomas More and Thomas Cromwell, staring one another down grimly as they did centuries ago.

It had been a few years since my last Frick pilgrimage. On previous visits, I was always drawn to the More portrait, perhaps because Utopia is one of my favorite books and I love Peter Ackroyd's biography. Cromwell, by contrast, looked like that grouchy uncle at a family reunion. But last month, for the first time, Cromwell seemed to have altered dramatically; his expression was keen, his eyes radiating intelligence. I glanced over at More. He looked a bit... dyspeptic. There was no mystery; I knew immediately who was to blame for my confusion as well as the apparent touching up of these paintings after nearly 500 years. Hilary Mantel's Wolf Hall and Bring Up the Bodies had clearly disarmed my longstanding prejudice against Cromwell through the irresistible necromancy of fiction.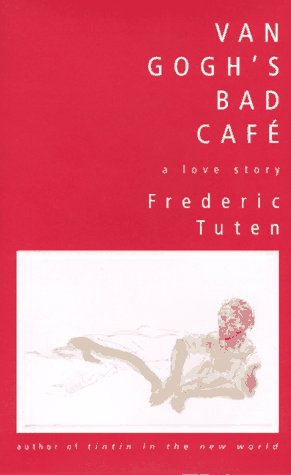 What remains of art & of books: In 1999, BookExpo was held in Los Angeles and we arrived a day early so we could see "Van Gogh's Van Goghs" at the L.A. County Museum of Art. I was the remainder buyer for the Northshire Bookstore then, and perhaps can lay blame on that extraordinary--once in a (my, at least) lifetime--exhibition for "inspiring" me to purchase, a few years later at CIROBE in Chicago, nearly 1,000 remaindered hardcover copies of Frederic Tuten's Van Gogh's Bad Café at a cool 25 cents each.

The good news is that we eventually sold more than 600 of them for a tidy profit before I left the Manchester, Vt., bookstore in 2006. The bad news is the remaining copies may still be buried in deep storage there, sealed away like a plot twist in an Edgar Allan Poe story. That novel is part of my bookseller's legacy, as Northshire general manager Chris Morrow jokingly (I hope) reminded me not long ago.

Centuries from now, when android archaeologists are combing through the ruins of an ancient indie bookshop, will they unearth those cartons and wonder what the hell their human forebears were thinking? One can only hope my single contribution to the art world--an installation I call "Van Gogh's Bad Café: The Boxed Remains"--will fascinate lovers of art and literature in the distant future.--Published by Shelf Awareness, issue #2172.
Robert Gray
|
Comments Off
|