Sunday, December 7, 2014
"I don't think writers are sacred, but words are. They deserve respect. If you get the right ones in the right order, you can nudge the world a little or make a poem which children will speak for you when you're dead." --from The Real Thing by Tom Stoppard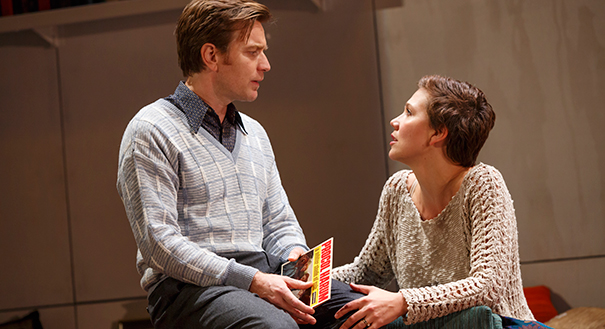 When I heard Henry (Ewan McGregor) speak those lines Tuesday night during a performance of the Broadway revival of Stoppard's play, it occurred to me that the challenge of getting the right words in the right order while adapting a book for the stage must present an intriguing challenge all its own.

Exhibit A in that regard might be the new film Birdman, in which Michael Keaton's character struggles to wrench a stage production from Raymond Carver's short stories.

As the unofficial resident show biz correspondent at Shelf Awareness, I spend a lot of time poring over articles about movie and TV projects based on books, but theatrical adaptations tend to get less attention. This despite the fact that, as the Guardian recently observed, "a new trend is threatening the long dominance of the staged film--the acted book."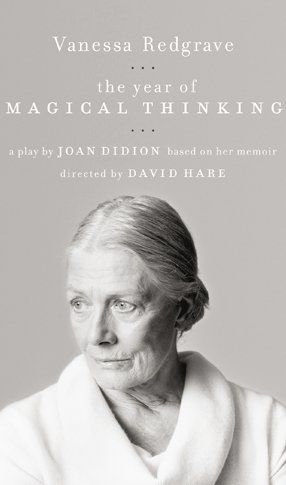 I've seen and loved several book-to-stage adaptations in recent years, including Fiona Shaw in Colm Tóibín's The Testament of Mary and Vanessa Redgrave in Joan Didion's The Year of Magical Thinking. High on my must-see list for the spring is the Royal Shakespeare Company's six-hour, two-play production of Wolf Hall Parts One & Two, based on Hilary Mantel's award-winning novels.

Staging acted books is a complex process. The Guardian noted that "the mistake--on either side of the footlights--is to think that the show is a walking-and-talking book. The premier modern theatrical translator-adapter Mike Poulton, whose work included Morte D'Arthur and The Canterbury Tales before taking on the Mantels for the RSC, warns in the preface to the published texts of the Cromwell plays: 'It might be thought that the sheer length of the two books [1,007 pages] might present problems. I never thought so. The way a novel is structured cannot be reproduced on the stage... they had to be completely reimagined as plays.' "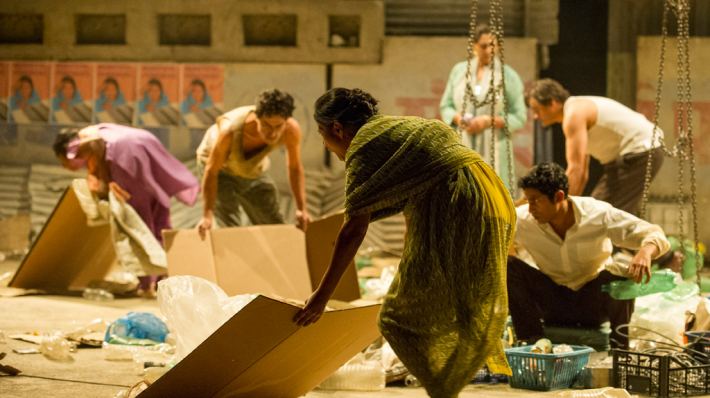 A stage version of Katherine Boo's National Book Award-winning Behind the Beautiful Forevers was written by playwright David Hare and is being produced by London's National Theatre. Boo told the Telegraph that during the adaptation process, Hare wasn't always open to her interventions, though she understood his reasoning: "On the first draft I made all sorts of suggestions. He took some of them, he didn't take the others. It's his work of art; it's not my medium. I don't have any intuitive grasp of theatre-making."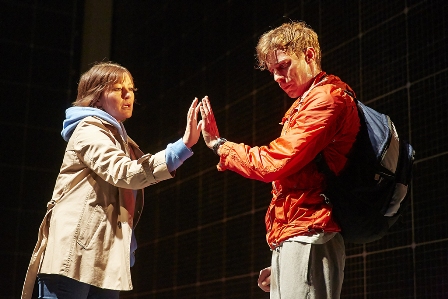 Simon Stephens adapted Mark Haddon's novel The Curious Incident of the Dog in the Night-Time, which is now on Broadway. "The first thing he did was detach himself from Christopher's 'seductive voice' and make a list of the actual events in the story," the Wall Street Journal reported. "Then he rearranged them so they occurred chronologically, instead of through flashbacks. Then he transcribed all the moments of direct speech in the book, which were few, because so much of the book is Christopher's interior monologue." Stephens observed: "Everyone who read the book falls in love with Christopher's brain. Our job was to take the audience inside Christopher's head."

A hit musical based on Alison Bechdel's Fun Home opened Off-Broadway in 2013 and will transfer to Broadway next spring. In an interview with the Cut, Bechdel was asked whether she had had any anxieties about how Fun Home would be adapted for the stage.

"I had no idea how anyone would turn this comic book into a musical. And that's partly why I agreed to it, honestly," she replied. "There had been a movie option that I said no to, because I couldn't bear the idea of a bad movie being made about my life. But, I figured if it were a bad musical, it would just disappear. It wouldn't stick around the way a movie would.

"I'm a very casual consumer of musicals. It's not like I'm passionate about the form or even know very much about the form, so I felt like it was very much alien territory. And that's partly, again, why I felt okay about doing it--because it was such a different form, it was easier for me to let go of it."

Speaking about the musical version of his novel The Fortress of Solitude, Jonathan Lethem said he had been "led to this conclusion that I never would have imagined without this experience: That theater of a certain kind is closer to the art that I practice than film, for instance, which is so literal and demanding. If you have a scene in a jail, you have to do it, you have to show the jail, a convincing set, whereas, here, we don't have to. We can let people imagine."

All it takes is getting the right words in the right order. --Published by Shelf Awareness, issue #2400.
Robert Gray
|
Comments Off
|