Saturday, February 12, 2011
Valentine's Day may seem to be about love, but it is also about words. Well, three words in particular; three words that have been used--and misused--on this particular holiday since most of us were children. Remember the cryptic messages on candy hearts; the anticipatory terror and joy of grammar school Valentine cards for everybody in the class?

"I love you." It's a fine sentence, infinitely complex, filled with emotion and history and danger, yet also quite simple and declarative.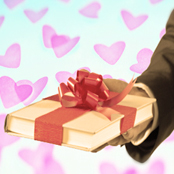 If you're reading this, you are a member of the word tribe and readers, in addition to the traditional person-to-person exclamations, love reading, love books (some much more than others, of course), love particular authors and bookshops and publishers. Some readers have even been heard to proclaim love for their Kindles or iPads or Kobos or Nooks.

Love, for us, is a many-splendored read.

This weekend, indie bookstores nationwide will celebrate Valentine's Day with a variety of events, promotions and sometimes even direct expressions of love--chaste (usually), intelligent and enthusiastic--for their patrons.

For a reader's Valentine's Day, what better gift than a book? They're sugar-free (take that, box 'o chocolates) and they last much longer than roses. Auntie's Bookstore, Spokane, Wash., suggests "an old fashioned love story--what could be sweeter? Pick up a few for someone you cherish and one more to carry you away in a warm glow."

Here's a sampling of how some other indies are celebrating the momentary warmth of a Valentine's Day weekend in the depths of a cold, cold winter:

In an e-newsletter from Fountain Bookstore, Richmond, Va., Kelly Justice wrote, "We have chocolate for you &/or the object of your affections. Lots of sweet books and a few snarky ones if you're just not feelin' it this year. We also have a very large selection of Valentine's cards this year!!! Don't forget to pick up a sparkly libation to celebrate from River City Cellars! We love them and we love you... and I'm not just saying that. Wait... don't run away! Happy Valentine's Day!"

For the next two weeks, Bank of Books, Ventura, Calif., is giving away bags full of romance novels. Owner Clarey Rudd said, "We have the joy once again to give back to the community, by giving away 5,000 romance books. The bags will be filled with 20 to 40 assorted titles. This brings the total of books given away free to the public to over 115,000 books." Added Carmen Silva: "This is our way of celebrating Valentine's Day with the community. We're helping spread a spirit of giving, of love and romance."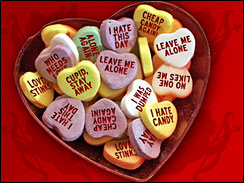 On its store blog, RiverRun Bookstore, Portsmouth, N.H., took a slightly different tack, observing that "it's almost time for that stupid holiday again--Valentine's Day. In the past, I have always thought it was silly that a specific day was designated to show someone that you love them. Love is mushy--I think all the best books are the ones where people get their hearts stomped on, not where they happily ride off into the sunset. This year, well, all I can say is 'le sigh.' Yep, how the mighty have fallen. HOWEVER, even with my new conversion to the Cult of Cupid, I am still going to come to RiverRun on Valentine's Day, to learn about really smart people who did poorly in the romance department. Our good friend Andrew Shaffer will be here to talk about his new book, Great Philosophers Who Failed at Love."

And, finally, as happens in any long-term relationship, sometimes Valentine's Day is a time to reflect. Mysterious Galaxy Books, San Diego, Calif., extended its holiday celebration throughout February with a "We Love Our Customers Month" promotion that was prompted by some soul-searching introspection that co-owner Terry Gilman shared with patrons in the shop's e-newsletter:

"Are we on the cusp of losing your business because of some need we didn't meet or a concern that we didn't address? Will there be a last straw that breaks our book bond with you? I hope not. The staff hopes not. It is always our goal to help you find the book you are looking for, in whatever format you are looking, and within any of the genres we love and stock at the store... or a wide selection of books in print (or electronic editions) from our website. I hope you will tell us if we ever miss the mark so that we can provide you with the best customer service of which we are capable. We look forward to seeing you soon and helping you find the next great book! This is all in line with our 'We Love Our Customers Month,' which we offer to you as thanks for the gifts you have given us as our customers."

Love, as I mentioned before, is complex. Happy Valentine's Day, word people.--Published in Shelf Awareness, issue #1389.
Robert Gray
|
Comments Off
|