Saturday, December 18, 2010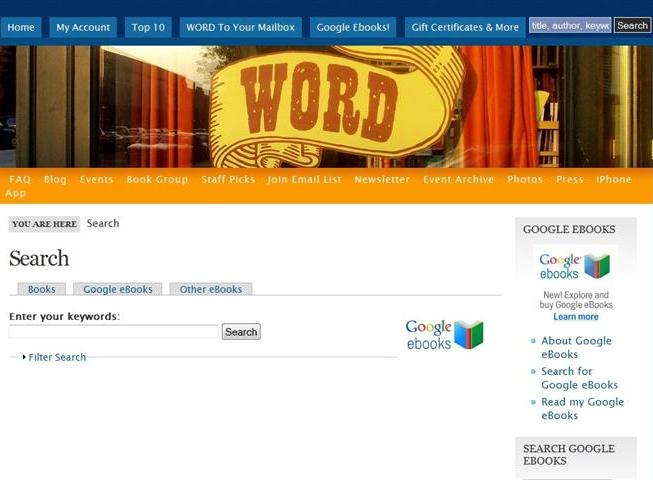 "If being able to sell e-books allows us to serve our community in one more way, then it's a no-brainer for me. People already look to us to help curate the vast world of books for them, so we'll have to start doing that for e-books as well. People will want to support us if we make it easy enough, I think, and this has made it pretty easy."--Christine Onorati, owner of WORD.

Anticipation of Google eBookstore's debut has given way to implementation for indie booksellers who are now in the game. So my next question has to be: What are your expectations (and/or hopes) in terms of "gain"--financial (e-book sales, sidelines), customer perception, marketing opportunities, etc.?

Customer perception ranks high for Susan Fox of Red Fox Books, Glens Falls, N.Y. "We're now seen as current; we're a 'real' store that can serve them completely. We're already seeing lots of marketing opportunities with the partnership with Google. Even if no one buys an e-book, our name is out there in the local press and indie bookstores are in the national press. Maybe we'll sell a few e-books, although we're not assuming that will be a large percentage of our sales any time soon."

Noting that it's much too early to gauge what her e-book sales will be, Valerie Koehler of Blue Willow Bookshop, Houston, Texas, likes the fact that "now the staff can start talking about the e-books to our customers. I don't think it will affect holiday sales, as now people tend to be buying for others. It will definitely go into my bookclub/group talks that I do all the time."

Anne Holman of the King's English Bookshop, Salt Lake City, Utah, does "hope to see financial gain from selling e-books. More importantly, we want our customers to continue to see us as their resource for all things literary (both serious novels and lighter fare). Our first e-book event will be launching a local author's novel that is e-published by Rosa Mira Publishers in New Zealand. How are we going to do that? Not sure yet, but half the fun will be figuring it out."

One of the greatest advantages "will be in not sending our regular customers to another source for e-books," observes Chuck Robinson of Village Books, Bellingham, Wash. "We believe we sell information and entertainment, not paper and cardboard. Sending folks elsewhere just because they don't want the paper and cardboard makes no sense. We do expect some revenue as this builds and folks become aware that they can buy books from us--many at the exact same price as from any other source. We don't expect to be selling e-readers, though a few years ago we didn't expect to be selling e-books or to have a print-on-demand machine in the building."

The chance to offer books in any format is also key for Lanora Hurley of the Next Chapter Bookshop, Mequon, Wis.: "I am pleased to be able to tell our customers that they can support their local independent bookstore, regardless of the format they choose. The ability to give my customers the same products and services as my competitors is crucial. However, I don't foresee that e-book sales will be a major part of my business anytime soon, at least any more of a percentage than audiobooks or remainders. We will continue emphasize and sell bound printed books for a long time."

Although WORD's manager Stephanie Anderson hopes there is money to be made through e-book sales, she also believes that, since the bookstore's "customer base tends to be younger and more tech-savvy, to have this capability and this relationship with Google is a good thing for how we're perceived. My hope is that we can sell our customers the books that they want to read, in the format that they want to read them, as often as possible. I want that for sales, perception, marketing, and general succeeding-as-a-bookseller reasons, and I think Google eBooks will help with that."

For Bookshop Santa Cruz, Santa Cruz, Calif., Casey Coonerty Protti's expectations are quite specific: "I think we will keep 1% to 4% of e-book purchases that we would have lost elsewhere (just an estimate). I think it is a really good development for people using Apple products or computers, but it is not as easy with Nook, Sony E-Reader, etc. There is also a large group of customers that have already gone with the Kindle, which we can do nothing about. It is not going to save the business, but saving any sales that we would have lost is a step in the right direction."

The real gain for Books & Company, Oconomowoc, Wis., comes from "no longer losing," according to Lisa Baudoin. "The conversation is not about either/or but about both. Customers can come into Books & Company through our front door or through their laptop, smart phone, or e-reader and know they will receive the same great service and expertise. Our customers are incredibly loyal and this only helps to continue the growth and development of that relationship."

Looking to the future, she sees "some wonderful opportunities for publishers to create promotional content in an e-book format that can be interactive for kids or maybe teaser chapters for adults. Wouldn't it be swell if some of that were exclusive to indie bookstores? I love the idea of kids interacting with books on their Nintendo DSI. Imagine a Wimpy Kid promo where a kid could finish a story on their DSI or computer using the characters from the novel. I just think this opens up some interesting ways to promote and strengthen readers. I do not see this as a threat as long as indie bookstores are able to be in the game."

Tattered Cover's Neil Strandberg has conservative expectations for the impact Google eBooks will have on the store's bottom line. "In fact, it will surprise me if customers previously lost from indies to the chains and to the Internet will return to us now that we have a credible ability to sell e-books, often--but not always--competitively.

"Instead I hope and expect that relationships with some of our customers, those that value independent bookselling and also covet new technologies (and their convenience), can now be kept under our roof as opposed to being driven away. In fact, we [recently] received an e-mail from a customer thanking us for participating in the Google eBook agreement so that they can continue to support their favorite brick-and-mortar stores and their digital desires. This, I think, is the double-reverse benefit of participating in Google eBooks: It helps leverage our value as neighborhood brick-and-mortar stores, as opposed to matriculating us into the glorious world of a more mature digital download function."

Coming soon: e-handselling.--Published in Shelf Awareness, issue #1354.
Robert Gray
|
Comments Off
|