Sunday, March 6, 2011
Publishers love movies. Readers love movies, though often not quite as much as they love the books from which those films were adapted. There's even a mantra: "The book was better."

Oscar really loves books, too, as last Sunday's Academy Awards proved once again (Shelf Awareness, February 28, 2011). Book-to-film adaptations have long found favor with Academy voters. Decade after decade, any sampling of Best Picture winners turns up books like All Quiet on the Western Front (1930), All the King's Men (1949), From Here to Eternity (1953), Tom Jones (1964), One Flew Over the Cuckoo's Nest (1975), Ordinary People (1980), The English Patient (1996), No Country for Old Men (2007) and many, many more.

In bookshops you'll often find movie tie-in book displays. Long before those special editions are published, books being cloned for screen life feature caveat emptor stickers or embossed gold medallions proclaiming: "Soon to be a major motion picture." I'm not sure the phrase "motion picture" is used much now except on these books. It has the musty feel of "silver screen." It sounds like something Louis B. Mayer or Darryl F. Zanuck would say 75 years ago.

Since "Soon to be a major motion picture" on a book jacket is essentially rendered meaningless by nature of its ubiquity and creakiness, I wonder what might happen if, as a bookstore customer, I ever saw a variation on that theme, like "Soon to be a minor motion picture" or "Soon to be a movie worth seeing... we hope." Even a minimalist approach would be an improvement: "Soon to be a movie." A couple years later, perhaps old movie tie-in editions could have new stickers confessing: "Seemed like it would be a major motion picture."

I love books and I love movies. Sometimes I even love films based on books. I accept that adaptation is an inexact art; that the movie is not the book and vice versa. "I'm always trying to make something that is impossible to film," said Kazuo Ishiguro. "Why would somebody just read a novel when they can see it on TV or in the cinema? I really have to think of the things fiction can do that film can't and play to the strengths of the novel. With a novel you can get right inside somebody's head."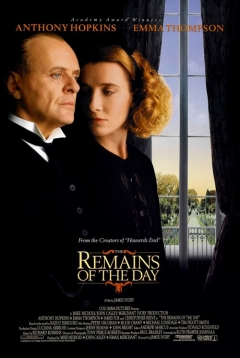 And yet, I think Remains of the Day is an excellent book and movie. I am also fond of some adaptations of novels I've never read--Enchanted April, The Shining, Blade Runner (Do Androids Dream of Electric Sheep). I even have a few favorite adaptation actors, including Anthony Hopkins (Remains of the Day, Howards End, The Silence of the Lambs) and Emma Thompson (too many to mention, and not all of them with Hopkins). Looking to a new generation, I have high lit/film expectations for Mia Wasikowska (Defiance, Alice in Wonderland and the upcoming version of Jane Eyre).

There are a handful of movies that have come acceptably--if not perfectly--close to the imagined film in my mind as I read each book. I've seen them dozens of times, and own the DVDs (or, in one case, the VHS tape because the world has apparently abandoned Denisovich altogether). These are among the choices that would be on my iPad Movie Mixtape:

One Day in the Life of Ivan Denisovich
A Month in the Country
Being There
Brideshead Revisited (1981 mini-series)
True Confessions

But if there is a book-to-film category that does not get enough credit or attention, it's one I now think should have its own Oscar category: Worst Adaption of an Original Literary Work but I Love It Anyway.

And the winner is... The Comedians.

Starring Richard Burton and Elizabeth Taylor and based (I use the term loosely) on Graham Greene's novel set in François "Papa Doc" Duvalier's Haiti, this is one of the lamest literary adaptations in film history. That's an exaggeration, I know, but we're talking Hollywood after all. So here's my confession: I love this film almost as much as I do the novel. May Graham Greene's ghost forgive me.

Your own confessions and nominations for this award are welcome. While everyone else is focusing on "Soon to be a major motion picture" displays, let's gather nominations for the Worst Adaption of an Original Literary Work but I Love It Anyway award.--Published in Shelf Awareness, issue #1407.
Robert Gray
|
Comments Off
|