Sunday, April 17, 2011
Sometimes I have an experience that gives me hope for the future of the book world. Last weekend, as I drove home from the Books on the Nightstand Retreat in Manchester, Vt., I felt... optimistic (not my natural state, as friends, colleagues and even enemies will attest). What happened to melt my cold professional heart? It will take at least two columns to explain, but I'll try.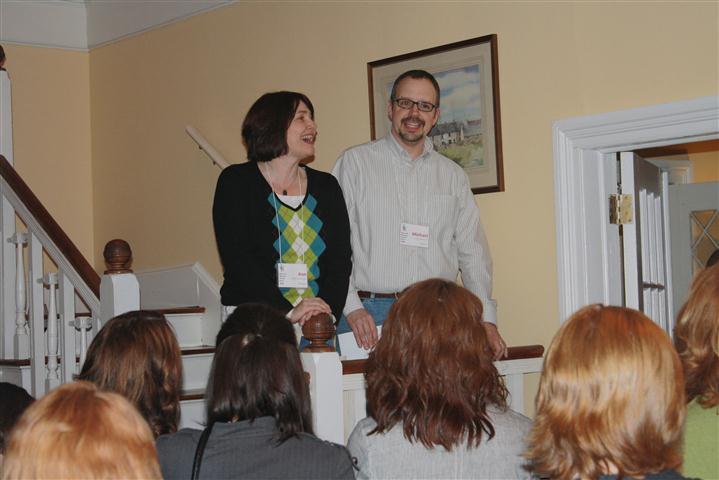 The BOTNS retreat was conceived and brilliantly executed by Michael Kindness and Ann Kingman. In addition to being first rate sales reps, they have built a loyal following among readers in--and more importantly outside--the publishing industry with their Books on the Nightstand podcasts. They are also generous, informative and entertaining participants in the social networking world.

In addition to their hard work as organizers, a key reason the retreat turned out so well was its focus on Readers, with a capital R. More than 75 guests, representing 15 states (including California, Oregon, Washington and New Mexico) and three countries (U.S., Australia and Canada), made the trip to Manchester to talk books. They were allowed the time and the space--two inns and the Northshire Bookstore--to engage in casual but focused conversations about their reading lives with other readers, as well as with several authors and an editor.

"We started with the reader," said Ann. "Every plan we made, every idea we had, started with the reader in mind. We did this for them, not for the authors and not for the bookstore. I didn't realize this really until one of our guests said, 'It was a reader's retreat, not an author's retreat.' "

Attendees weren't charged a ticket price. They made their own travel and lodging arrangements, and all events were free. They came because they wanted to be there. Hope, who made the trip from Australia, told me over lunch Saturday that an online friendship she'd established with Ann made the decision to attend an easy one, despite the distance.

"Hope and I were both part of a knitting message board," Ann recalled, "and when I announced there that Michael and I had a new podcast, Hope downloaded our first episode and listened. She was also the first caller to our voicemail line. So when we decided to go forward with the retreat, I sent her a message with a special invitation. I never dreamed that she would actually be able to come, but everything worked out well, and I'm so glad. Many of us from this weekend will now count Hope as a friend."

The atmosphere was social, conversational, fun and yet primarily--as would happen among a crowd of readers--about books. High on the list of impressions that stayed with Ann after the retreat concluded Sunday were "watching readers make new friends with other readers; seeing them make breakfast plans, and knowing that they will continue their friendship electronically after the weekend; watching readers find a connection with an author as a result of an offhand conversation; hearing people talk about how they understand an author's book so much more now that they have shared a few moments with the author."

Michael observed that "part of the reason the whole weekend went so smoothly is that everyone was so nice. When you bring together a group of this size, there are likely to be a few folks who are just naturally cranky. Every single last one of the attendees was amazing and I count them all as friends now. At the end of the day on Saturday, I realized that my face hurt from smiling all day. I wasn't smiling because I had to be 'on,' I was smiling because I was having the time of my life."

Chris Morrow, general manager of the Northshire Bookstore, was pleased to see "the passion about books so vibrantly alive. It really showed the power of individuals talking to other people about books. It was proof, if any were needed, that people sell books. There are lessons to be learned about the links between online communities and real communities--about the strengths of each medium. It is clearly not an either/or scenario. Ann and Michael did a fabulous job organizing the weekend. Publishers would be wise to cultivate online communities and work with bookstores to transfer that energy into real life community and book sales."

And, he noted, "We did sell some books!"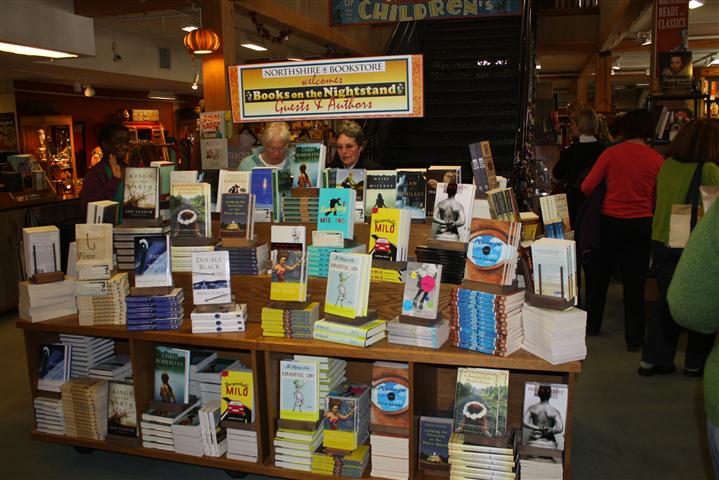 In addition to sales from a full display of titles by guest authors in the bookshop, about 90 copies of Two Books I Can't Wait for You to Read sold. Before the retreat, each author and guest had been asked to recommend two favorite books. Michael created an electronic file, which was printed on the Northshire's Espresso Book Machine. Ann said that proceeds from sales would help offset other expenses they incurred. She also expressed gratitude to Other Press, which sent author John Milliken Thompson and editor Katie Henderson to the retreat, and Permanance Matters by Glatfelter, sponsor of Saturday night's cocktail party.

"All of our other authors paid their own travel expenses and gave of their own time--nobody came as part of a publisher's author tour," said Ann. "Our authors were already part of our BOTNS community and many asked to be included, for which we are honored."

Participating writers included Chris Bohjalian, Jon Clinch, Wendy Clinch, Matthew Dicks, Susan Gregg Gilmore, Steve Himmer, Ellen Meeropol and Elizabeth Stuckey-French.

"The authors were incredible," Michael said, "so engaging in the smaller sessions, entertaining at the big event and gracious with their time at the signing after. The audience at the Sunday morning session on the future of books and publishing was so interested in what goes on behind the scenes. Many were very knowledgeable about the difficulties facing the industry."

This week I've heard from several of those authors, who were just as enthusiastic about their experiences at the BOTNS retreat. I'll be sharing their thoughts with you soon.

I attend a lot of events; I was a bookseller for many years; I worry, occasionally, about becoming a little jaded. But, as I said at the beginning of this column, last weekend made me optimistic.

Ann believes "it's impossible for anyone who was part of this weekend to not be excited about the future of books and reading. It's becoming easier and easier to connect readers and authors, and to connect readers with readers, and when it happens, it can be magic. The retreat exceeded my wildest expectations."

I agree, which may be why I can't stop writing about it. Much more on the BOTNS retreat next time.--Published in Shelf Awareness, issue #1441.

Photos by Patty Berg
Robert Gray
|
Comments Off
|