Sunday, June 28, 2015
I like revelations. As I read Scott Sherman's Patience and Fortitude: Power, Real Estate and the Fight to Save a Public Library, it occurred to me that I had sincerely believed I was paying attention to an important controversy as it played out over the past several years. What I'd actually done was read occasional media coverage of the New York Public Library's proposed Central Library Plan, which the author describes as a "wide-ranging reconfiguration of services" that "had been born in June 2007 and was announced to the public nine months later at a little noticed press conference."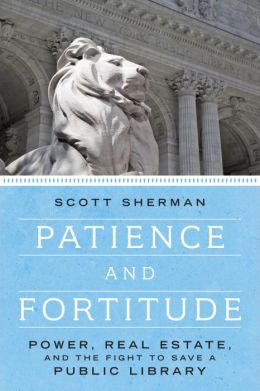 Because some of the most critical decisions regarding the CLP were reached behind closed doors, the issue tended to drift in and out of my field of news-vision. Fortunately, some people cared deeply and for the long haul. Sherman's book eloquently chronicles the back-room scheming and eventual blowback protests.

The CLP's goal was to consolidate three midtown libraries "into one colossal circulating library inside the 42nd Street building, which would undergo a $300 million renovation by Norman Foster, the British architect," Sherman writes. In addition to selling off two valuable properties (the Mid-Manhattan branch library on 40th Street and the Science, Industry and Business Library on 34th), NYPL would remove "the entire collection of [three million] books from the iron and steel stacks inside the 42nd Street building and send them to an offsite storage facility in Princeton, New Jersey."

Sherman first brought the issue to the public's attention in 2011, when he was asked by the Nation magazine to write a profile of incoming NYPL president Anthony Marx. "Today, top NYPL officials talk about the CLP--announced in late 2008 but delayed by the economic downturn--as a done deal," Sherman noted in the piece. "But Marx says the NYPL's powerful board of trustees has not yet given its final stamp of approval; he adds that he is still analyzing the plan."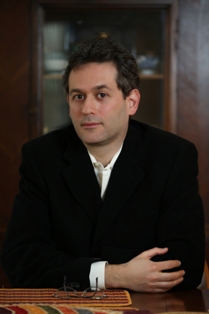 Scott Sherman
(photo: Emrah Gurel)
In a recent e-mail exchange, Sherman told me: "Indeed, the recession of 2008 was crucial in derailing the plan for about 3-4 years. If not for the Great Recession, it is very possible that the Foster renovation might have been completed by the time Bloomberg left office."

Patience and Fortitude reads at times like a suspense novel for bibliophiles, with power and big money acting unilaterally until being challenged by citizen's groups, prominent architects (and, notably, architecture critic Ada Louise Huxtable) and researchers; as well as an all-star cast of writers and celebrities including Salman Rushdie, Donna Tartt, Gloria Steinem, Mario Vargas Llosa, Tom Stoppard, Garrison Keillor, Malcolm Gladwell, Ann Patchett and Susan Sarandon.

Did the CLP backers assume the deal could be railroaded through as long as the public--and NYPL's staff--was kept in the dark as much as possible while decisions were made? "Yes," Sherman replied. "This is not in the book, but an NYPL staff member told me in 2012: 'We were made to feel old and against change.' A few trustees did call for open discussion at the start, but they were greatly outnumbered. The mission was to stifle discussion and get this thing done before anyone could stop them."

He added: "The takeaway for those who didn't follow the debate too much is that the public should be consulted before libraries and museums launch $500 million construction projects."

What I love about Patience and Fortitude is the way it coalesces all of the disparate bits of information I'd gathered over the years, adds pertinent facts I knew nothing about, and then offers readers the whole story. Sometimes narrative arcs are clearly visible only in retrospect.

And while there are plenty of villains in this tale, heroes abound as well. "Katz had an emotional attachment, colored by romanticism, to the library at 42nd Street," Sherman writes, describing legal historian (and much more) Stanley Katz, who co-authored a key protest letter shortly after Sherman's 2011 Nation article appeared.

How rare, I asked, is it for "emotional attachment, colored by romanticism" to win a battle over power and money? "Activism is about deep passion," Sherman said, "and the critics were deeply, deeply passionate about the fate of NYPL in general and the 42nd Street building in particular."

Patience and Fortitude is, in its way, a complex love story about "an institution that mattered to me personally," as Sherman notes in his preface. It is also, as he observes in the final chapter, the tale of "a brawl about democracy, architecture, and, crucially, the role of books in the digital age." The ending is a little bittersweet, but so is the world, even on its best days. The book itself is revelatory. And I like revelations. --Published by Shelf Awareness, issue #2537
Robert Gray
|
Comments Off
|