Sunday, June 29, 2014
Outside perspective can be intriguing, if only to spark further conversation. In his 1888 novel Looking Backward, this is what Edward Bellamy imagined retail stores would look like in the year 2000: "All our stores are sample stores, except as to a few classes of articles. The goods, with these exceptions, are all at the great central warehouse of the city, to which they are shipped directly from the producers. We order from the sample and the printed statement of texture, make, and qualities. The orders are sent to the warehouse, and the goods distributed from there."

Last December, in a piece headlined "Are You Ready for the Store of the Future?" Mark Startup of the Retail Council of Canada's MyStore division told Profit magazine: "It's taking large retailers a long time to figure out all this technology. Independents can change the store environment almost on a dime."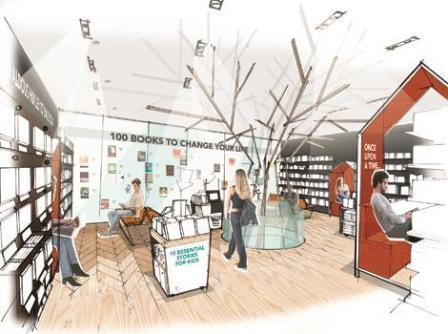 Have you ever wondered how someone completely outside the book trade might envision the shape of bookstores to come? The recent media blitz regarding Foyles' shiny new flagship "Bookshop of the Future" in London inspired Intelligent Life, the Economist's culture magazine, to challenge four leading architecture and design practices to "Reinvent the Bookshop."

Gensler, 20.20, Burdifilek and Coffey Architects were each given the same brief: working with a £100,000 (US$169,836) budget, design "a general-interest bookshop, selling fiction, nonfiction and e-books, in store and online, on a typical European high-street site, with two floors of 1,000 square feet each." Check out the full article for complete details, but here's just a sampling from their designs:

tl;dr (short for "too long; didn't read"): At Gensler's bookshop, "you don't have to enter the store to shop from it: the glass facade is a touchscreen that can be tapped on to download e-books from QR codes," Intelligent Life reported. A vending wall swings onto the pavement, offering a changing selection of paperbacks. To save floorspace, there is no checkout counter; payments can be taken instantly by booksellers with a card reader. Gensler's Owain Roberts said they did not focus on fixtures and fittings, which he called "incidental to the activities taking place," because the retail model is changing so fast that "the days when a fit-out would last five years are long gone."

The Art of Storytelling: Jon Lee, 20.20's creative director, agreed: "People won't go into a shop because the ceiling's beautiful. They'll go in because the experience is relevant to their lifestyle. It's what you do in a space that's really important." This "reinvented bookshop" has a café "with a twist: a Yo! Sushi-style conveyor belt delivering short reads and reviews to consume with your coffee" to act as a draw to the back of the shop, Intelligent Life wrote. Mobile "mid-floor units" carry screens to advertise events, as well as books that fit a frequently changed theme. A staircase and tree lure patrons upstairs. All books are displayed face-out, with just one title on the front of a drawer and the rest of the author's work inside.

ILB (Intelligent Life Books): "If you just concentrate on books, you're rolling the dice," said Burdifilek's creative director Diego Burdi. ILB "is more of a gallery, showcasing particular books alongside related merchandise.... It's like a concierge service: everything in one place. My frustration [at the moment] is that I buy the book, then I have to go to another store to buy the product. It's a luxury to see and touch the product. That's what the Internet doesn't give you." ILB incorporates a glass roof to highlight the selling space upstairs as well as entice customers to the downstairs. A digital kinetic screen on the back wall spans both levels, lighting up at night like a movie screen.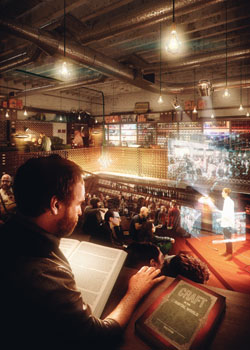 Craftword: "Can you save the bookshop? Is there any point?" asked Phil Coffey of Coffey Architects "cheerfully" (as Intelligent Life described his tone). Believing that digitization will make print books redundant, Coffey said that what can be saved is the cult of the book as a beautiful object. Intelligent Life noted that Craftword "celebrates the arcane arts of printing and bookbinding" and is the "antithesis of an e-book emporium: niche, retro, social, inky, bibulous, but with only a few books to buy off the shelf. The idea is that you make your own, with the help of floating robots--choosing the paper, ink, font, leather, even gold leaf--on antique presses and binders."

"Design on its own will not save the bookshop," Gensler's Owain Roberts observed. "If you leave the model as it is and redecorate, nothing's going to change. The solution needs to be much more fundamental: informed, strategic and daring."

Agree? Disagree? How would you "reinvent the bookshop"? Maybe you already are. --Published by Shelf Awarenesss, Issue #2285.
Robert Gray
|
Comments Off
|