Sunday, August 30, 2015
"The humble and ubiquitous chalkboard placed outside coffee shops, cafes, bars, restaurants or boutiques has slowly grown from a mere way to advertise that night's specials or happy hours to a kind of showcase of wit," the New York Times noted yesterday in a piece headlined "Sidewalk Blackboards Offer Some Chalk 'n' Chew."

They forgot to mention bookstores, but we know better. This summer, Shelf Awareness has occasionally featured a "Bookstore Chalkboard of the Day," highlighting booksellers who creatively occupy the sidewalks outside their stores with humor, puns, quotations, advice and bits of "shop local" wisdom. This strategy isn't new, however. Here are a few highlights from recent history:

2011: A power outage at Book Passage, Corte Madera, Calif., compelled the booksellers to "put a chalkboard out front proclaiming, 'Open Until Sundown!' "

2013: With power long restored, Book Passage created a "striking sign" promoting an appearance by legendary tattoo artist Ed Hardy.

At the Lopez Bookshop, Lopez Island, Wash., "the biggest attention-getter was a chalkboard beside the shop's front door that listed a literary question each day." Co-owner Karen Barringer told us: "It's a great conversation starter, and it's fun to see customers' excitement when they get a candy treat for answering the question correctly."

2014: The Owl & Turtle Bookshop, Camden, Maine, issued a retail storm warning July 4 via the store's sidewalk chalkboard, which noted: "Working hypothesis: Putting this chalkboard out on the sidewalk causes rain (We're 50% sure)."

"A simple message on our sidewalk chalkboard is shared (and re-shared, and shared some more) by bookstores and libraries across the country on Facebook last summer, one very warm day," Harvard Bookstore, Cambridge, Mass., recalled in its year-end highlights.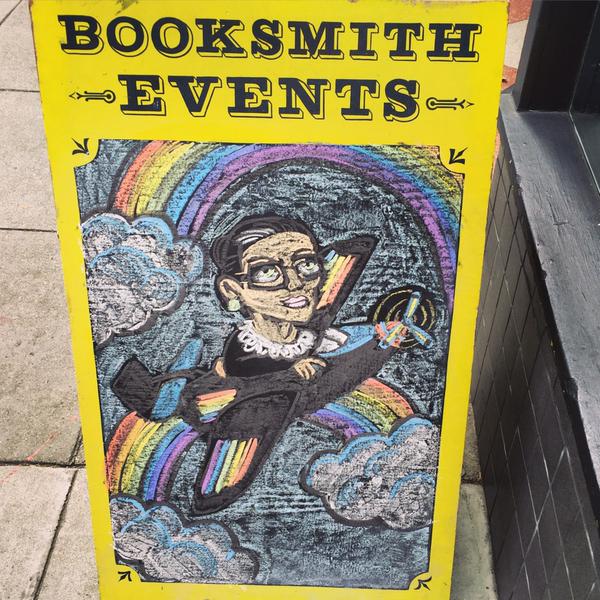 2015: Many bookstores have an artist in residence. In June, we featured the work of Madeline Gobbo of the Booksmith, San Francisco, Calif., who "illustrated the shop's sidewalk chalk board Friday to celebrate and thank the five Supreme Court justices who voted in favor of marriage equality."

These are just the tip of the chalky iceberg, of course. Buzzfeed has showcased "15 hilarious bookstore chalkboards" while asking the eternal question: "Who knew the sidewalk could be such a weird and witty place?"

There are, inevitably, dissenters. Last May, Slate's Heather Schwedel took on the chalkboard musings of bars, coffee shops, and boutiques: "Long after the printing press rendered town criers obsolete, that other ancient form of information dissemination, the sidewalk sandwich board, quietly persists.... But perhaps you too have lately noticed a certain creep away from the practical toward a softer sell: jokes, puns, quotations, drawings, and other creative expressions of branding. Too often, the results are cringeworthy."

And in June, Boston City Councilor Michael Flaherty pushed for a review of city regulations: "I think sandwich-board signs are an effective tool to encourage new business and attract pedestrians and highlight specials. But if I go out with an 8-by-10 board on my sidewalk, and then you have a little rinky-dink board next to mine, we need absolute rules for that."

The sidewalk chalkboard cannot be stopped by a little negativity, however. Chalk and slate are ancient tools; sidewalk sandwich boards date back at least to the 19th century.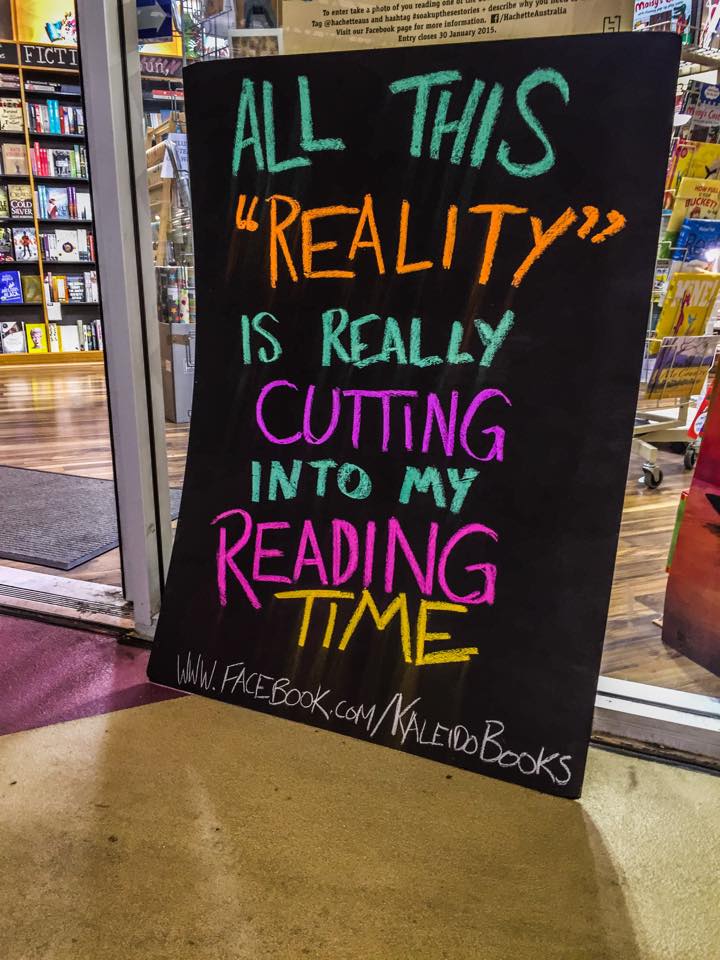 In the Atlantic three years ago, Charles R. Wolfe noted that the "sandwich board" was making a comeback. "As a lawyer interested in the 'on the ground impact' of policy and regulation, I find implementation more interesting and dynamic than the actual permit criteria," he wrote. "With a return to a neighborhood base built around multi-modal street life, the images here show sandwich boards as both fascinating symptoms and emblems of the changing city.... Perhaps because of business necessity and the simple, homespun nature of sandwich boards, users assume flexible placement of such signage is appropriate."

Wolfe proposed five criteria for the viability of sandwich boards:
Homespun simplicity sells.
Artisans need work and small businesses need affordable ways to shine.
Well done signs bring character to neighborhood.
Sandwich boards can supplement permitted facade signage and increase the prominence of a small business.
Perhaps most important, like other forms of pop-up urbanism, removal is an option.
In yesterday's New York Times piece, artist Tyler Patty considered the "learning curve" involved with working in chalk on a blackboard: "It's inverted, so you have to think about light in a different way--you're putting on light instead of shadow. I'm drawn to it because of that."

Art meets commerce... at downtown independent businesses. What's not to like? --Published by Shelf Awareness, issue #2581
Robert Gray
|
Comments Off
|