Sunday, July 6, 2014
'Having a great time! Wish you were here!" That's the summer postcard I would have sent out last week from the "All About the Books" event held in the Henry A. Wallace Center at the FDR Library and Home, Hyde Park, N.Y. The New England Independent Booksellers Association and New Atlantic Independent Booksellers Association teamed up to host the gathering, with Bookazine underwriting, as it has since All About the Books launched in 2009.

"Hyde Park was an experiment in including NAIBA members and more New York-based authors and I'm glad we did it," said NEIBA executive director Steve Fischer. "As we have done all along, we try to create a balance of fiction and nonfiction, male, female, large publishers and smaller, indie publishers, two children's book authors--one picture book and one YA. Somehow it all works. It isn't anything you can make happen, but when it does it's an amazing two hours."

Mary Beth Thomas, v-p of sales at HarperCollins, agreed: "This is the second event I've gone to and I just see them as a great opportunity to hear from a variety of authors, most of whom I'm not that familiar with, and to learn about their upcoming books. They each have their own way of handling a 5-10 minute presentation, but all the ones I've heard have been funny, or inspiring or scary, or in some cases all three! It's a great way to generate enthusiasm among the booksellers in a more intimate setting than the regional and national shows. Also a great opportunity to connect with booksellers. The venue was lovely as well."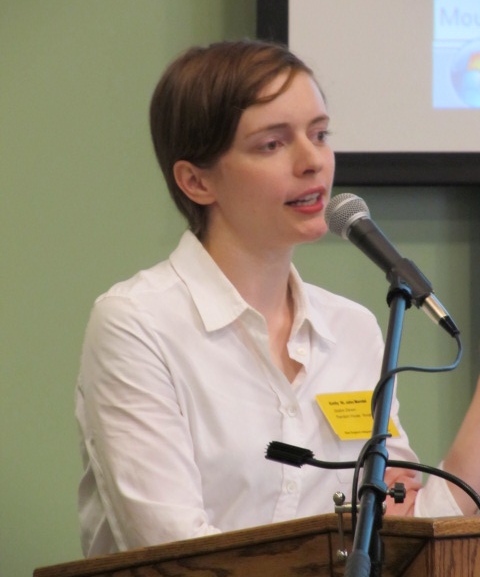 Mandel
The morning program featured authors Peter Ackerman (The Lonely Typewriter, David R. Godine), Emily St. John Mandel (Station Eleven, Knopf), Justin Martin (Rebel Souls, Da Capo), Cammie McGovern (Say What You Will, HarperCollins Children's), Brian Morton (Florence Gordon, Houghton Mifflin Harcourt), Brent Ridge & Josh Kilmer-Purcell (The Beekman 1802 Heirloom Vegetable Cookbook, Rodale), Bill Roorbach (The Remedy for Love, Algonquin), Joanna Scott (De Potter's Grand Tour, FSG), Gail Sheehy (Daring: My Passages, Morrow) and Annie Weatherwax (All We Had, Scribner).

The time limit sparked entertaining, concentrated storytelling, with the writers talking about their new books and expressing a little indie bookseller love. For example: "First, I want to thank all of you," said Mandel, noting that her first three novels had been Indie Next picks. Morton observed: "I want to take a moment to talk about what you do.... It's been so inspiring over the years to see indie bookstores not only survive but thrive." Citing the critical importance of locavore and shop local movements to their world, cookbook authors Ridge and Kilmer-Purcell said they are "always so encouraged when we go to your bookstores because we see that that's what is making you successful also." And Scott noted: "You keep the blood flowing in our literary culture."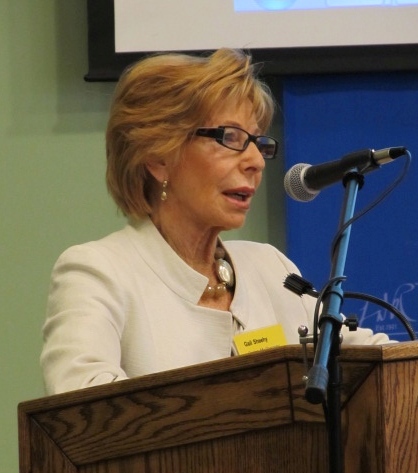 Sheehy
Perhaps the loudest applause was for Sheehy, who said she was "thrilled to be here today as a foot soldier in the war of independence against Amazon."


The afternoon education session, "Increasing Sales on Your Website," featured NEIBA president Suzanna Hermans, co-owner Oblong Books & Music stores in Millerton and Rhinebeck, N.Y.; Andrew Getman of Politics & Prose Bookstore, Washington, D.C.; and Neil Strandberg of the American Booksellers Association.

With the surge of social media options, store websites have sometimes taken a back seat, but, Strandberg said, "You need an online presence and I think a homepage is still a useful thing to have. That you cannot be found digitally just does not make sense anymore."

"You have some concept of who you are as a personality, so your website has to represent the story you're telling," Getman observed. Displaying a bookshop site that was highlight its Amazon/Hachette-themed display, he said: "She has this fabulous display, but what's wrong with this picture is you can't click it. You can't buy locally.... Make it a destination people don't get flustered by."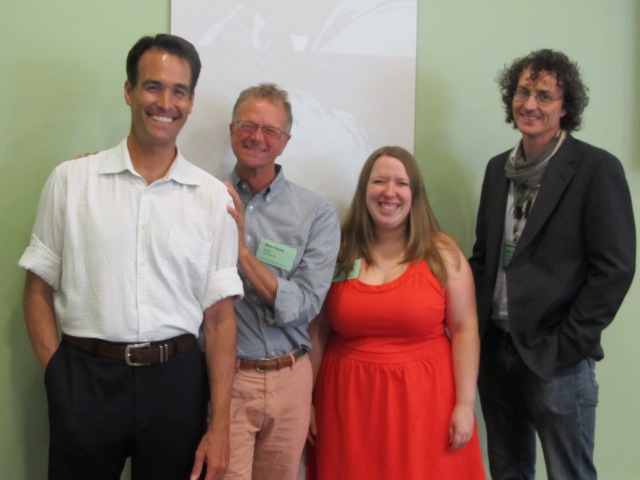 Neil Strandberg, Steve Fischer, Suzanna Hermans & Andrew Getman

Hermans discussed Oblong's "custom content" on its website, including autographed books and the Oblong Insider subscription service for YA titles: "We make sure we have a pre-order link on our website a month before an event," which also allows visiting authors to link to it in advance. "Custom content is really important to me," she added. "That's where the money is.... It's a little bit of a time suck, but it's worth it."

"Are there genres or types of books you are less competitive with?" asked Strandberg, suggesting bookstore websites "present things you won't find on the Amazon homepage. If you've got something that's unique to you, you're more likely to generate sales that a large retailer wouldn't."

Some of the advice was basic, yet often overlooked: Place all social media links at the top of the homepage and use "buy buttons" rather than click-throughs for featured titles. "You don't have to put everything on the website," Getman cautioned, adding that social media platforms are ideal places to showcase event photos and other "ephemerals" that might draw visitors back to the online store.

And then it was over, this very good day for books.

"It was wonderful to host both NEIBA and NAIBA groups in the Hudson Valley," said Hermans. "As a store that spans both territories, it was great to get everyone together in the same room to share ideas. I hope we can collaborate again in the future." --Published by Shelf Awareness, issue #2289.
Robert Gray
|
Comments Off
|