Friday, November 20, 2015
I feel most at peace in a bookstore, or in between the pages of a book. Somewhere where I am surrounded by ink on a page, the quiet whisperings of printed words.
--Note left by a customer on the public typewriter at
Literati Bookstore
, Ann Arbor, Mich.

Note to booksellers: By this time next week, you'll begin feeling the first breezes of a retail storm that will, ideally, engulf you in the annual Black Friday, Indies First/Small Business Saturday and Cyber Monday retail maelstrom.

Just for a moment, however, while you still can, consider the blessed silence of a bookstore before it opens. Not silence, really, but rather a particularly delicious flavor of quiet. Inside the shop, you may still hear muted sounds: the distant murmur of traffic, the furnace kicking on, indecipherable snatches of conversation as people walk by on the sidewalk. But the books, even the audiobooks, keep their words to themselves for now. There is a peace here. You know all about what Literati's customer called the "quiet whisperings of printed words."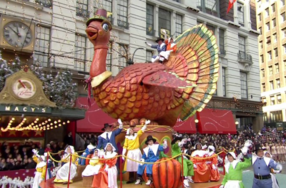 Feel better? Now you can think about Thanksgiving weekend. The crowds will most assuredly descend upon you. It is what crowds do. Something compels people to wake up on the day after Thanksgiving and say to each other: "It's the busiest shopping weekend of the year. The stores will be mobbed; people will be rude and annoying; and traffic will be absolutely unbearable. We sure don't want to miss that!" And on Small Business Saturday, you'll be one among hundreds of booksellers who hope to feel that stiff retail wind in their sails as well.

Thanksgiving Day, however, is the calm before the storm. Most independent bookstores are closed... and quiet... and the booksellers are, well, thankful.

Village Books & Paper Dreams, Bellingham, Wash., noted it "is closed for Thanksgiving so all of our employees can enjoy the holiday with family and friends. Have a wonderful day!"

In a recent e-newsletter, the Galaxy Bookshop, Hardwick, Vt., wrote: "As we go into November, a month associated with bounty and gratitude, we want to take a moment let you know how thankful we are for having you as a customer. We will be celebrating a Week of Gratitude, leading up to Thanksgiving, as our way of showing our appreciation of all of the people who make our job one that is fun to go in to every day."

For Brookline Booksmith, Brookline, Mass., "Thanksgiving is about family, and our global family is being tested in the fire right now. In a metaphorical sense, I hope that in the coming months we open up the kitchen and let the children do some of the cooking; that we can forgive the teenagers for their surly, self-destructive behavior and invite them to the table; and that we will really listen when our elders say grace. And that we will look at ourselves in the mirror and decide that the buck stops here. Peace in this world always begins with you."

Greenlight Bookstore, Brooklyn, N.Y., is partnering with Workman and Food Bank for NYC: "For every copy of Good and Cheap: Eat Well on $4/Day purchased from Greenlight, one copy will be donated to Food Bank for NYC for use in their nutrition education programs.... As we're looking forward to Thanksgiving feasting, it's a great time to give the gift of cooking good food to those in our city who need it most. Thanks for your support on this project, and happy cooking and giving!"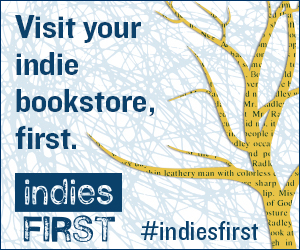 Inspired by REI's #optoutside campaign, Bank Square Books in Mystic, Conn., will open its doors late on Black Friday: "We are encouraging our staff to enjoy some family time, finish a few more pages and get outside! We'll be ready with our recommendations at noon on Friday and on Small Business Saturday, when we will have some of our favorite local authors on hand to talk books and help you shop."

Thanksgiving Day can be complicated for booksellers. The family gathers, with so many relatives and friends enjoying a long weekend off while you worry if you've ordered enough copies of this year's National Book Award winners; or chart storm patterns online at NOAA (weather being a critical ingredient in your weekend's success); or rework the staff schedule in your mind, hoping you've got enough sales floor coverage so customers are as overwhelmed with good service as you will be with the crowds. While those around you wrap up leftovers or sleep through bad football games, you'll be thinking about last minute tasks and everything that might go wrong. The stakes are high. Really high.

Here's a little holiday tip: exhale. On Thanksgiving Day, just take a few moments to think about your bookstore. It is quiet. It is waiting for you. It is ready. --Published by Shelf Awareness, issue #2639
Robert Gray
|
Comments Off
|