Sunday, September 29, 2013
The topic came up last Friday, during an education session, "Be Prepared: What Booksellers Can Do to Defend Kids Books and the Freedom to Read," at the Southern Independent Booksellers Alliance trade show in New Orleans.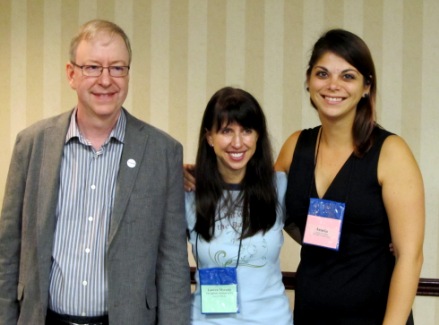 Chris Finan, Lauren Myracle, Acacia O'Connor
Chris Finan, president of the American Booksellers Foundation for Free Expression, moderated a panel featuring Lauren Myracle, author most recently of Infinite Moment of Us and Shine, and Acacia O'Connor, coordinator of the Kids' Right to Read Project, co-sponsored by the National Coalition Against Censorship and ABFFE.

Early in the discussion, Finan announced that in Asheboro, N.C., the Randolph County Board of Education had voted 5-2 to remove Ralph Ellison's Invisible Man from high school libraries. Their ill-timed decision, just days before the launch of Banned Books Week, quickly gained international media attention. Two days ago, at a hastily called special meeting, the board voted 6-1 to rescind the ban.

Both Finan and O'Connor were actively involved in challenging the original decision. "I hope our letter to the board made a difference," Finan said Wednesday. "I'm sure the international media attention didn't hurt."

Last week, there was something of a reality check in hearing about the Asheboro ban during the SIBA panel, which explored censorship directed at YA books focusing on real world problems teens face. "There are a lot of people who are on our backs about YA books," Finan noted, citing as an example Meghan Cox Gurdon, whose 2011 Wall Street Journal piece, headlined "Darkness Too Visible," had targeted Myracle's work and who claimed "literary culture is not sympathetic to adults who object either to the words or storylines in young-adult books." Cox Gurdon "really ultimately blames us--authors, publishers, booksellers," Finan said.

Myracle recalled that she had "read about a third of it and then I yawned and put it down.... Did you really read the book as a reader or did you read it as a grownup who is worried about these things coming apart?" She also suggested the increasingly popular YA label itself may have prompted some adults in recent years to begin questioning whether certain books are "appropriate."

"Should a bookseller ever refuse to sell a kid a book?" Finan asked. Myracle did not hesitate in her response: "I do think there's a lot of guidance going on that is moving kids from YA to middle grade. What that does to me is beg the question 'What is obscene?' "

Booksellers should never be forced into the role of morality police, deciding which child is ready for which book, Myracle contended: "I think about the broad range of what kids are like at that age. I don't think we can make that guess. The only person who can make that guess is that kid's parent. You can't ever not sell a book to a kid."

She also offered some advice to booksellers about dealing with angry adults: "I would say 'step up.' They're angry because they're scared. They want their kids to be safe, to live in a bubble. I want that for my kids, too.... Remember that they're scared. Remember they want to be heard."

Finan introduced O'Connor as a person who "has to deal with the consequences" of attempts to ban books. She said that on the following Monday, "I'm going to be back at my desk," where she would be working on Asheboro's Invisible Man issue. "I refer to these challenges as a case. I'm a banned books caseworker.... If it gets to a school board level, that's where we can help.... It is much more likely for us to have success when I find out early on that this is happening. Once a book is removed, it is more challenging."

O'Connor noted that in many of cases, even when "the result is your child doesn't have to read [the book] it is never enough.... For whatever reason, there are more people who are vocal about their disagreement than are willing to stand up for those works."

She has also observed that supporters of controversial books are often vocal online, but do not necessarily show up at school board meetings or other public venues where potential bans are being debated. "And we all ignore school board elections," she added, noting that it is important to get involved early, taking action rather than relying on reaction.

Booksellers, O'Connor noted, can serve as a public "locus of the resistance. Stand as a light--this is where you can go to read freely," O'Connor advised.

Myracle closed the SIBA session by sharing examples of some of the brutal online criticism she has received, as well as a more positive reddit AMA exchange between herself and the "scared dad" of a young daughter, who wrote: "I fear that I won't be able to connect with her in any way, shape or form while she's connecting with people all over the world with the click of a button, much like I am right now, but in ways I can't fathom."

Describing him as "cool for not freaking out after reading some of the 'scarier' content on this post," she replied: "You know what you could do if you wanted? And what lots of dads (and moms) have told me they've done? They read my books themselves to get a glimpse into what their kids might be dealing with. Or they read the books with their kids and use them as convo starters.... How do I connect? I just... try. I love kids. Love teens. Find them so smart and interesting. I talk to them and respect them and don't let myself be afraid of them!"

The father's response: "This was exactly what I needed to hear. Thanks for replying. You just sold some books, madam!"
--Published by Shelf Awareness, issue #2094.
Robert Gray
|
Comments Off
|