Friday, February 12, 2016
He did not read much poetry until she started working at the bookshop, but he soon caught the fever from her. She was evangelical, and somehow presumed he might be a convert. He wasn't certain how or why their ceremony started, but occasionally she would approach him with a slender volume, her finger marking a page. Read this, she would say, then disappear.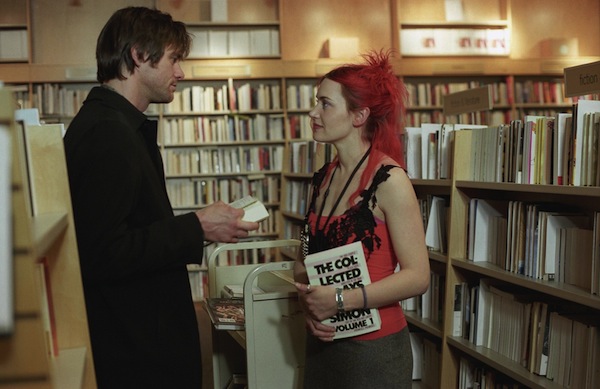 "Random thoughts for Valentine's Day... Today is a holiday invented by greeting card companies to make people feel like crap," Joel (Jim Carrey) observes early in the film Eternal Sunshine of the Spotless Mind. Then he meets Clementine (Kate Winslet) and the day turns... complicated yet amazing. Oh, and Clementine is a bookseller at Barnes & Noble.

Valentine's Day is complicated, but here's a little bouquet of bookseller love for the long weekend:

Astoria Bookshop in Queens, N.Y.: Co-owners Lexi Beach and Connie Rourke were highlighted in a QNS feature headlined "Fall in love with these Queens power couples." Their Valentine's Day plans: "We're planning to have a romantic dinner at home and to make bananas Foster. Any dessert we can set on fire with a kitchen torch is OK by us."

Bookshop Santa Cruz, Santa Cruz, Calif.: "In honor of Valentine's Day--and Bookshop's 50th year--we are celebrating our role playing Cupid! Romance has blossomed for a number of co-workers over the decades. Here are some of the folks who found love working in the aisles of Bookshop Santa Cruz."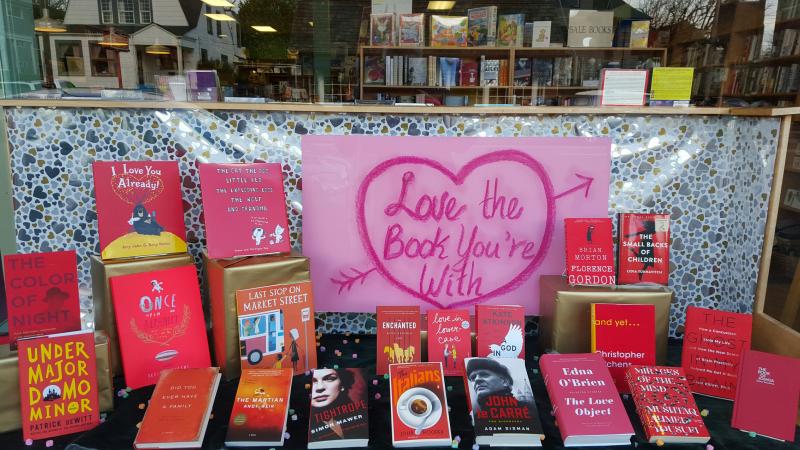 Broadway Books, Portland, Ore.: "It's February, and Cupid's aim is true--directly to our hearts. Yes, it's true, we're in love. And every day we fall in love again, with yet another newly published bright and shiny book: novels, nonfiction, poetry, kids' books--a little bit of everything. You may think us tarts for our wide-ranging amorous attachments, but we hope you'll fall in love with a few of these new goodies too!"

The Twig Bookshop, San Antonio, Tex. (from e-newsletter): "Dear Reader: Do you feel the love? Once again, it is the Month of Love and we have just the book for you! Books for children, books for teens, books for adults in all seasons! Books about friendship, platonic love, teen love, mature love, illicit love and books on how to preserve and leave love!"

Parnassus Books, Nashville, Tenn.: "Color Your Own Shop Dog Valentines!"

Book Passage, Corte Madera, Calif. (from e-newsletter): "Who doesn't love a book swap? Books and love have long gone hand in hand, from the world of Jane Austen's Pride and Prejudice, to the contemporary prose of Fates and Furies by Lauren Groff. Join Book Passage for a Valentine's book swap... Bring a favorite book that features a love story to swap and be ready to mingle and meet other book lovers."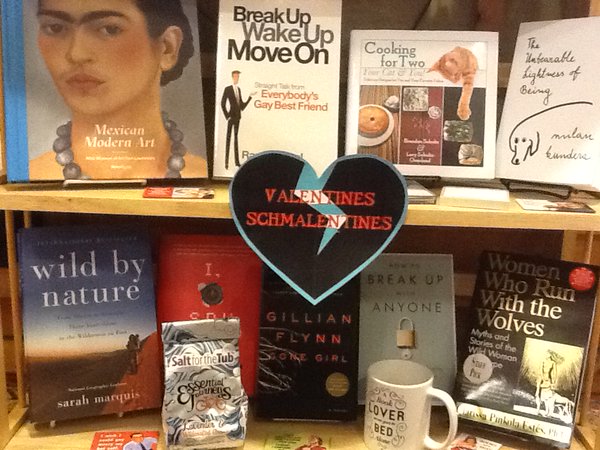 Malaprop's Bookstore, Asheville, N.C.: "Climb between the sheets with a Valentine's Day Blind Date Book." And: "Feb. 14th... over it yet? We have your Schmalentine's Day alternatives right here. You're welcome :)"
Hickory Stick Bookshop, Washington, Conn.: "Why yes, that is a Valentine's Day gingerbread house!"

Greenlight Bookstore, Brooklyn, N.Y.: "Valentine's Day is Sunday, February 14--and nothing says 'I love you' like a book! Books are a great way to show love to the children in your life, or to romance that special someone. (And as all book lovers know: reading makes you look attractive.)"

The Book Bin, Northbrook, Ill.: "You are special to us. As February arrives, along with it come displays of chocolates and flowers, everything adorned with sappy red hearts. Don't misread us--we do love these Valentine gifts--but sometimes we wish for more. We wish for someone to know us better, to think about us more deeply. Buying a book for someone implies this extra thought. It takes time (and brain cells) to choose a book for your mate, friend or family member. It implies more learning about a subject they like; more quiet time together without the television blaring; more conversation about what made you gasp aloud on page 158. Anything can happen in a book, just like anything can happen on Valentine's day. You may be surprised by a bouquet of flowers or you may indulge in that box of chocolates; but shop at a bookstore this year and you may find a book that could change your life or someone else's."

Since he didn't want to be part of a one-sided conversation, he began opening poetry collections at random while shelving books. Occasionally he would find something special and share it with her. Read this, he'd say. One day, she asked about his favorite poem. They were good friends by then. He found the book. Read this. It's beautiful, she said, and read it again. He left, afraid she would be tempted to read it aloud.

Happy Bookish Valentine's Day. --Published by Shelf Awareness, issue #2689
Robert Gray
|
Comments Off
|