Sunday, November 9, 2014
"This is the one time we all get to legally plagiarize and steal from our colleagues," said moderator Andy Nettle of Back of Beyond Books, Moab, Utah, in 2011 at the Mountains & Plains Independent Booksellers Association trade show, during an education session titled "Best Thing I Did this Year." I've attended several variations on this theme of sharing great bookseller ideas, retail and otherwise, over the years, and always come away from them impressed by the braided spirits of creativity and partnership they represent.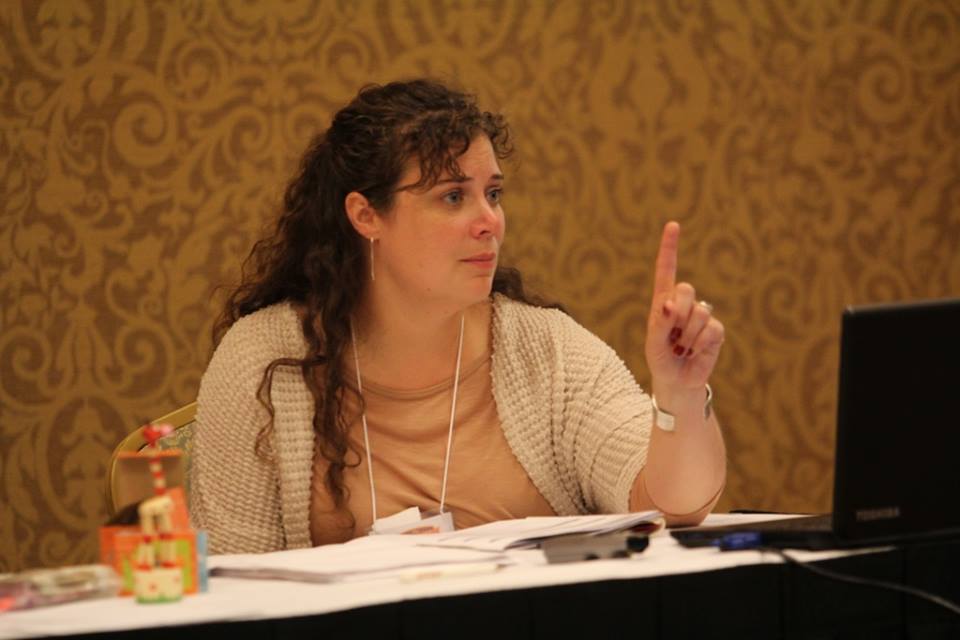 Jessilynn Norcross
"The object of this morning is to collectively share ideas. Some of the best ideas can come from the person sitting next to you," Jessilynn Norcross, co-owner of McLean & Eakin Booksellers, Petoskey, Mich., said last month to open the Heartland Fall Forum's education plenary session "Ideas That Work (and Those That Don't): "Bring one thing that worked for you as a bookseller over the past year and one thing that didn't and we'll share in our common missteps and success!"

She began the conversation by sharing her initial skepticism earlier this year when her husband and co-owner, Matt Norcross, was lobbying for the bookstore to sell vinyl records and turntables. "Finally, I said, 'How big was this investment going to be?' " she recalled. "It ended up completely taking off.... Our town currently doesn't have a music store. We identified a need." The bookstore is even getting into vinyl early Christmas spirit this week. She cited Baker & Taylor for vinyl and Deerpark Distributors for turntables as the bookstore's primary sources, adding that the margin is healthy in this category.

Many of the "ideas that worked" shared by booksellers involved online marketing. A quick poll of the audience found that more than half had an active Twitter account, a fact that would have seemed unlikely, if not downright startling, just a few years ago. Among the online ideas shared:
Text marketing for store event reminders.
Using a social media company (SnapRetail and Boutique Window were noted as options). One bookseller praised this alternative for "doing your social media for you because I don't have a social media person on staff."
Posting photos of booksellers with their staff picks and links to the authors' Facebook or Twitter pages (and don't forget to put those magic symbols # and @ to good use).
Promoting through photos of local "celebrities." A bookstore posted a pic of their UPS delivery guy posing for a bookish mugshot during Banned Books Week.
Strategies for dealing with the never-cresting wave of ARCs sent to bookstores generated many suggestions, including the seasonally appropriate idea that booksellers could wrap ARCs during the holiday season (even better, wrap them in Indiebound flyers) and offer them to customers as gifts. Other suggestions:
Always "brand" the ARCs you're giving out with a self-inking store stamp.
When someone buys a title from the staff picks display, give them a wrapped ARC.
Develop ARC reading groups in local schools, or solicit reviews from students to showcase on social media.
Use ARCs on Blind Date With a Book displays as giveaways.
Speaking of Blind Date with a Book, Norcross observed that the promotion, which "a lot of stores started doing for Valentine's Day, has really been a big, big hit," quickly evolving into a year-round promotional option for many bookstores.

Jill Miner of Saturn Booksellers, Gaylord, Mich., noted that she has an official store typeface for all signage, and uses inexpensive picture frames to showcase "the important things we want to communicate. If it's not frameworthy, scraps of paper won't do."

Reading groups came up several times during the session. I particularly liked the idea of short-run, pop-up book clubs such as the Summer Reading Rainbow, which Left Bank Books, St. Louis, Mo., created around Rainbow Rowell's works last summer ("It's going to have a beginning, middle and end," said Left Bank's Jarek Steele.). And Nicola's Books, Ann Arbor, Mich., has hosted "Book in a Bar" and "Noir at the Bar" events. "It's a great way to find a niche that you're into and get a book club going," said Lynn Riehl. "The publisher is your partner in this and they want you to be successful."

At the end of this session, one question remained unanswered: What were the ideas that didn't work? Maybe it's a positive sign that success, rather than failure, was on everyone's minds at HFF. And maybe the best takeaway from this fall's regional bookseller shows would be that so many great ideas are working and, as Andy Nettle advised, available to "legally plagiarize." --Published by Shelf Awareness, issue #2381.
Robert Gray
|
Comments Off
|