Sunday, March 2, 2014
Handselling is many, many things, and placing the right book in the hands of its ideal reader is just the proverbial iceberg tip. Below the surface lurk intangibles like magic and instinct, tempered by experience, success and rejection. Also luck. Also trust.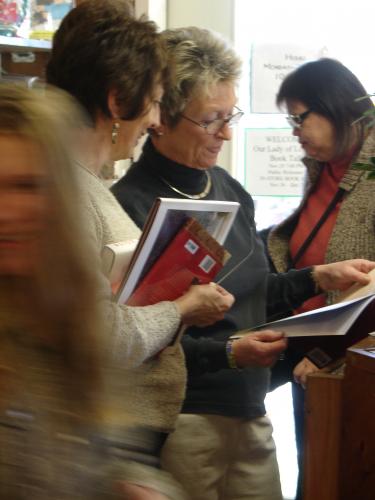 Handselling at the King's English, Salt Lake City, Utah
Most of the excellent handsellers I've known--and there are many--display a natural affinity for the classic "You've got to read this!" moment with a customer, which can be repeated over and over without sounding rote. All they need is the right environment in which to be turned loose. Until I became a handseller, I never would have imagined I had the gift; didn't even know it existed.

Jill Hendrix, owner of Fiction Addiction, Greenville, S.C., is one of those great handsellers I've encountered over the years. Last week we showcased her innovative "Trust Fall" promotion as a "Cool idea of the Day." And it is.

"How much do you trust Fiction Addiction? Will you take a trust fall with us?" she asked in a January e-mail to customers. Turns out, they trusted her a lot. To date, more than 60 copies of Andy Weir's The Martian have been sold and Hendrix may survey the participants to see whether "there would be any interest in this as an ongoing idea... perhaps the Trust Fall Bookclub."

Since first learning about the promotion, I've been toying with the idea that all handselling is a Trust Fall. Those Fiction Addiction customers who were willing to pre-order the novel sight unseen, based only on the confidence they had in their favorite local bookseller, certainly exhibited a profound counter-algorithmic faith. But Trust Fall handselling also goes well beyond that example to include variations like daily sales floor interactions, telephone/e-mail/social media conversations, shelf-talkers, "blind date with a book" displays, signed first edition clubs and much more.

"To me, handselling is when customers decide to buy a book they otherwise wouldn't have based on your recommendation, whether that recommendation comes through a face-to-face conversation, our e-mail newsletter, a shelf-talker, a post on Facebook, etc.," Hendrix said.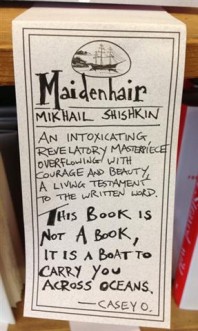 Shelf talker at Seattle's Elliott Bay Books (photo: Northwestbooklovers.net)
I agree, and wonder how many other frontline booksellers discovered the mystery of handselling only after getting into the business. I'll admit that when I was first interviewed for a bookstore job in 1992, I was a little flummoxed by the notion that customers would even consider my recommendations. I'd been shopping in bookstores for decades and rarely spoke with the staff (yes, I was one of those). As a bookseller, however, I was amazed and pleased by the curiosity people had about the books I read. And once I'd earned their trust, even when they didn't like a particular suggestion, they still came back for more.

Hendrix, as it happens, followed a similar path. "We were big library people growing up, so the first time I remember really shopping on my own for books was in college at Yale," she recalled. "If I'm remembering correctly, Atticus Books would have some shelf talkers with suggestions. After college I lived in New York and mostly shopped at chains and don't remember even seeing a Staff Picks section so, like you, I never asked for suggestions. I depended instead on a friend who read much more than me."

Maybe great handsellers are born and made. I don't recall precisely when I realized that so many readers were taking Trust Falls with me on new books because it all seems so natural and inevitable, in retrospect. Handselling, above all, is just a private conversation--whatever form that may take--between one bookseller and one reader. You don't just "sell"; you make certain books irresistible (or try to), and trust is a critical part of that exchange.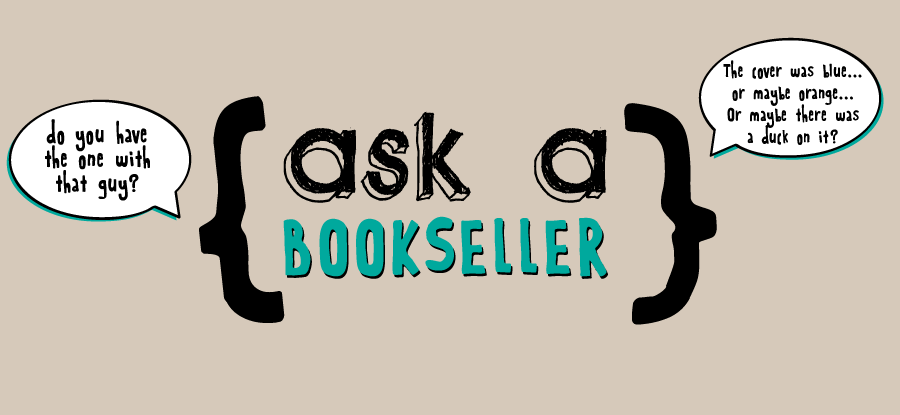 From HudsonBooksellers.com
If all this sounds like a romantic notion of what a bookseller should be, then I stand guilty as charged; a handseller to the end. At its best, handselling can be an intricate Trust Fall dance, with the steps changing, often imperceptibly, each time the music starts--or a fine new book is released.

What's the ultimate test? Handselling to another handseller, of course. Yes, I'm currently reading The Martian, thanks to Fiction Addiction and Jill Hendrix. Now that's a Trust Fall.
--Published by Shelf Awareness, issue #2197.
Robert Gray
|
Comments Off
|