Wednesday, March 16, 2016
"Death doesn't lend to easy commercialization. Which isn't to say that it can't, or isn't, harnessed in the commercial realm to great effect, but those who treat the dead without respect can do great harm to the living. How do we booksellers deal with the death of a prominent figure? There have been many conversations behind the counter (and everywhere else) with the deaths of David Bowie and Alan Rickman, which raised the specter of retail and death in my mind." --New Zealand bookseller Marcus Greville in a January post at the Booksellers NZ blog titled "I Sell Dead People"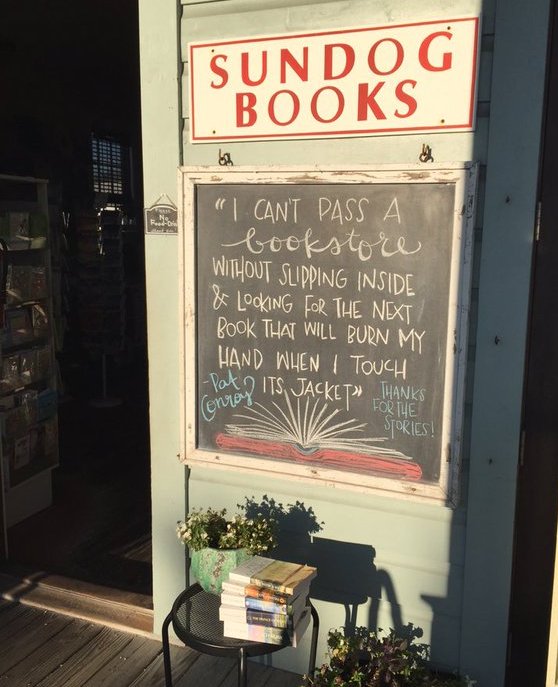 At Sundog Books, Seaside, Fla.
I've been thinking about Greville's column a lot since I first read it. Every week there seems to be another reason or two or three to stoke this contemplative fire: Michel Tournier, Margaret Forster, Nigel McDowell, Harper Lee, Umberto Eco, Rosario Ferré, Louise Rennison, Pat Conroy and more.

Perhaps it also has something to do with some of the books I've been reading in recent months, including Paul Kalanthi's When Breath Becomes Air, Diane Rehm's On My Own, Atul Gawande's Being Mortal, Clive James's Sentenced to Life, Katie Roiphe's The Violet Hour and several essays by Jenny Diski, whose new book, In Gratitude, will be released in May.

Most authors outlive their books and watch them vanish from print (even if digital ghosts remain to haunt) long before the writers themselves have been shipped back to that great remainder house in the sky. Sometimes, however, books outlive their authors. When that happens, a phenomenon known as retail mourning occurs. NPR, newspapers and other media (including Shelf Awareness) run high-profile obituaries and follow-up pieces.

I remember scowling many years ago the first time I noticed one of those headline links on the news section of a distributor's books-in-print site: "[Writer's name] has died. Here is a list of some of this author's books."

Cold, man.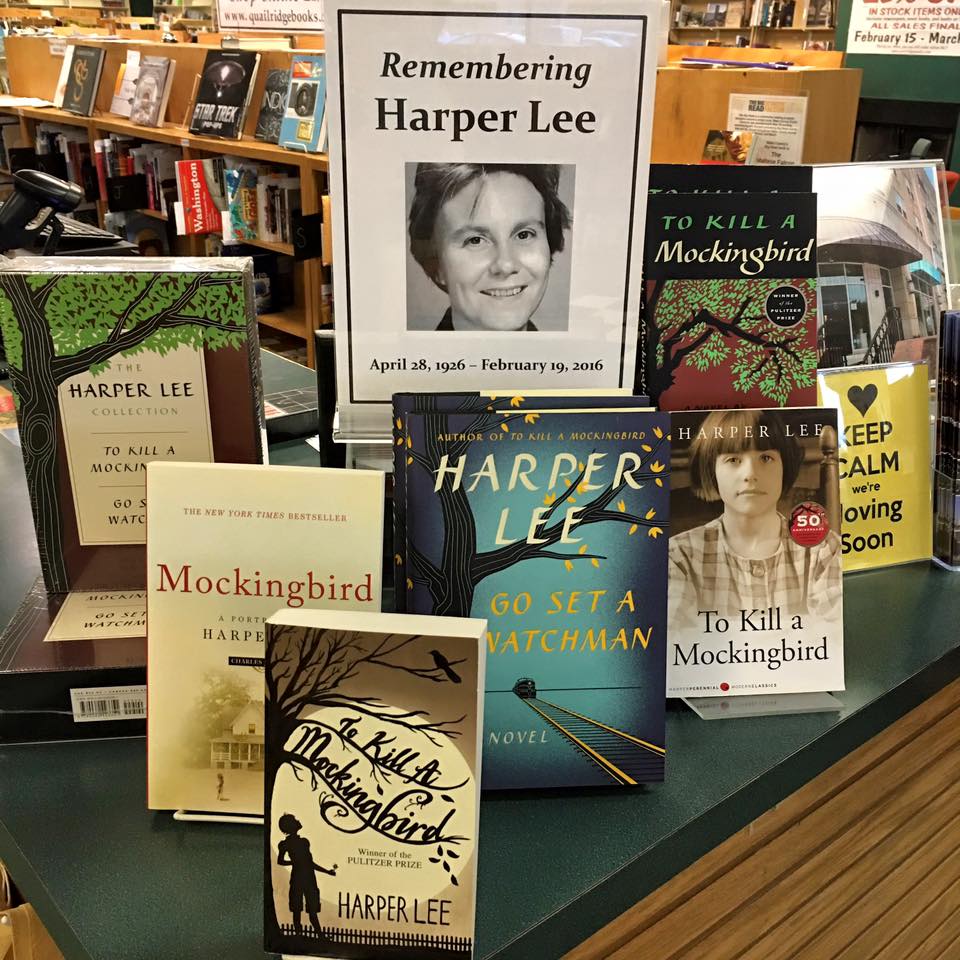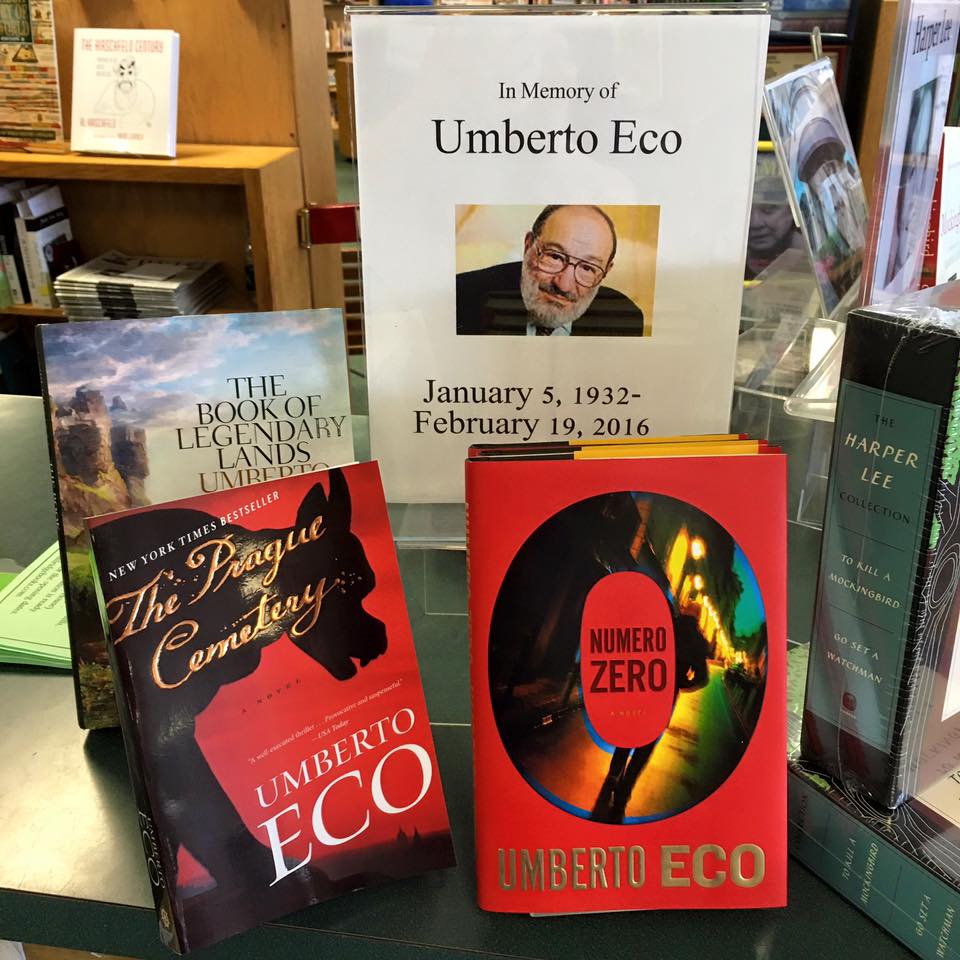 Memorial displays at Quail Ridge Books.
And yet, a sales floor wake is traditionally held. Bookstore buyers react to the news by immediately casting their lines into the murky waters of the biblio-Styx, ordering multiple copies of the author's backlist, including early titles from small and university presses that the shop might not have carried for years. Bookshop merchandisers build display memorials with whatever stock they have and appropriate signage. Everybody sells out, literally and figuratively, but in a nice way, I think.

"I have felt dirty displaying the books of a recently departed author; tainted by the commercial act," Greville wrote. "I was quite cynical when Terry Pratchett died, hoarding remaindered copies of his books in advance and waiting for his death. Yet in other instances I have reverently displayed the books of the dead, alongside photos and quotes. When Jose Saramago died in 2010, or Maurice Sendak in 2012, I went to great lengths to promote their books, because I loved them and wanted others to read them and love them too. I also loved Pratchett's work but felt guilty that I prepared for his death. Is it premise or practice that makes the act one of respect or disrespect?"

Upon learning that an author has passed, many readers head to bookstores because they feel compelled to seek out "books by that writer who just died. I never heard of him, but he sounds interesting." Or because they can't find the copies they bought years ago (which they know are hiding somewhere on their bookshelves or in boxes in that dry crawlspace in the cellar or were loaned to friends/relatives and never returned).

This blend of mortality and marketing may seem like a summer stock production of Death and a Salesman, but it does have a proper ceremonial air. Booksellers honor living writers by finding readers for their work. Wouldn't they honor recently deceased writers the same way?

Reading helps us deal with adversity, so it makes sense that when authors die, particularly those who once deeply touched our mind and soul, a need to seek out their books again is a natural reaction. And isn't reading a traditional and essential part of memorial services? I once saw a list of tips for friends and relatives who would be reading at a funeral service. It included these two recommendations: 1) Readings are proclaimed from a suitable book. 2) Remember to read more slowly and deliberately than you would in normal conversation. Sound advice.

"Drawing attention to the works of an author, or a biography of a recently deceased person, rarely has a profitable aspect to it," Greville wrote. "It could well be argued that by making space for such displays one is taking prime space away from other more commercial titles. So what is being accomplished? A store is simply telling the world what it cares about, what it respects and loves. It's not about premise and/or practice, as a bookseller your premise is your practice; just keep it in alignment."

Read in Peace. --Published by Shelf Awareness, issue #2708
Robert Gray
|
Comments Off
|