Sunday, April 27, 2014
"Well, God give them wisdom that have it; and those/ that are fools, let them use their talents," Feste says in Twelfth Night. He is, I confess, a role model, though I've generally found more practical applications in my life for foolery than wisdom. That said, a belated Happy Birthday wish goes out to William Shakespeare, who turned an ever-wise and ever-foolish 450 years old Wednesday.

Although World Book Night was originally scheduled on April 23 precisely because it is the Bard's birthday, so much WBN news is being made that Will sometimes gets lost in the wings. So it seems only fair to give him--yes, I'm going to say it--his hour upon the stage.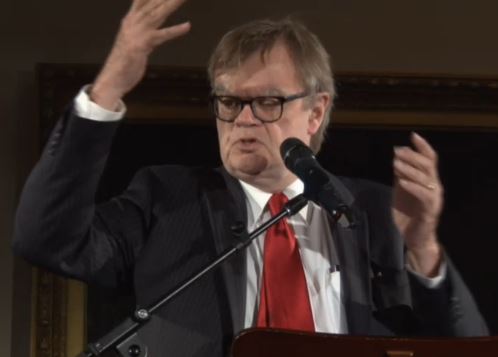 Garrison Keillor at the World Book Night kick-off at the New York Public Library.
As Garrison Keillor, author and proprietor of Common Good Books, St. Paul, Minn., observed on the Writer's Almanac this week, Shakespeare "created some of the most unforgettable characters ever written for the stage, and was a master of the language of various social classes. According to the Oxford English Dictionary, he coined 3,000 new words, and he has contributed more phrases and sayings to the English language than any other individual."

Or, as @MelvilleHouse nicely summed it up: "How to celebrate Shakespeare's birthday? Perhaps by living our entire lives within the language he more or less created. Thanks, buddy."

Shakespeare was, as might be expected for a birthday boy, more ubiquitous than usual during this year's World Book Night festivities. Those attending the WBN launch event at Skylight Books in Los Angeles Tuesday night were among the first to receive a free copy of Dover's Shakespeare's Complete Sonnets in a special WBN edition. On Wednesday, Weller Book Works, Salt Lake City, Utah, proclaimed: "Today's #WBN2014 (World Book Night), #Shakespeare450th, & the anniversary of Sam Weller's birth. There's no better day to read a book!" Books Inc. in Alameda, Calif., agreed: "World Book Night? Shakespeare's 450th bday? Booksellers at Books Inc. Alameda? Yes, yes, and yes. Come down and join the fun!"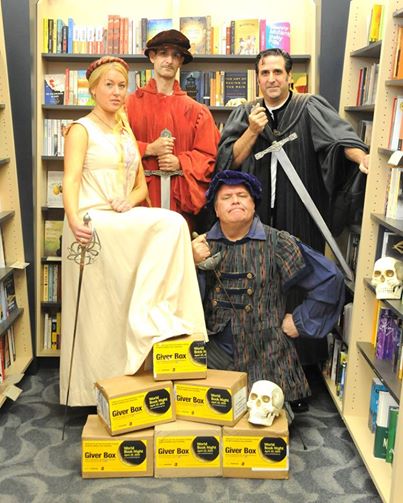 Books Inc. in Alameda, Calif., brought the Bard into Book Night. The players: (l.-r.) Adrienne Reiter, Tom Galleguillos, Nick Petrulakis; (kneeling) Gene Kahane.
In Louisville, Ky., Carmichael's Bookstore welcomed "our friends at Kentucky Shakespeare for an early celebration of World Book Night," with performers reading sonnets and "even grac[ing] us with a performance or two in honor of the Bard."

The California Shakespeare Ensemble in Pasadena, Calif., "which has been partnering with Pasadena LEARNS to 'facilitate' the John Muir High School after school Drama Club," worked on Shakespeare's Sonnets Wednesday with students as part of their WBN celebration, Hometown Pasadena reported.

Innisfree Poetry Bookstore Cafe, Boulder, Colo., featured members of the Shakespeare Oratorio Society presenting " 'Venus and Mars,' an exploration of the complicated and ever-changing relationships between women and men as seen in Shakepeare's plays."

I stopped by Northshire Bookstore, Saratoga Springs, N.Y., Wednesday night for their "William Shakespeare Birthday Celebration for World Book Night," featuring Skidmore College students and actors from Saratoga Shakespeare reading sonnets. The audience received copies the WBN Dover edition to keep and share. Even the Bard himself, looking surprisingly spry for a 450-year-old, was in attendance.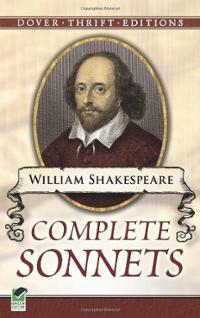 In New York City, copies of the Complete Sonnets were placed on theater seats during Wednesday's performances of Rodgers + Hammerstein's Cinderella, Matilda the Musical, Newsies and The Lion King. Broadway World noted that "curtain speeches and letters in the books will encourage audience members to give their book to someone who may not be a regular reader."

In addition, the Broadway League is teaming with WBN U.S. to distribute free copies of sonnets at national Family First Nights events for students and families, Kids' Night on Broadway programs throughout the country, and to students participating in the Broadway League's high school internship program.

"We are thrilled to be partnering with the Broadway League and all the great work they do," said WBN U.S. executive director Carl Lennertz. "Obviously, we share a love for the words and work of William Shakespeare, and the Broadway League is committed to increasing awareness of the arts as we are of reading, so this is a wonderfully natural fit. Theater and books bring joy and light into many lives."

I've had the good fortune to see a few magnificent productions in recent years, including Shakespeare's Globe and Mark Rylance's Measure for Measure at St. Ann's Warehouse in Brooklyn (2005), as well as Twelfth Night and Richard III last fall at the Belasco Theatre; and the Royal Shakespeare Company's As You Like It in a stunning replica of its Stratford-upon-Avon Theatre, constructed within the Park Avenue Armory (2011).

What I also love, however, is the way Shakespeare's words feel so at home wherever they are spoken, even when we don't know we're speaking them: "a fool's paradise," "dead as a doornail," "come what may," "forever and a day," "love is blind," "night owl," "wild goose chase," "into thin air."

Sustaining this tradition, World Book Night has become great international street theater for book and word people. Shakespeare would approve. In fact, at the WBN kickoff celebration in New York City Tuesday, he was even seen wearing a book giver badge. Happy birthday, Will, and many happy returns to the stage.
--Published by Shelf Awareness, issue #2237.
Robert Gray
|
Comments Off
|