Friday, August 9, 2013
"Those entrepreneurial bookstore owners who can see the opportunities inherent in bringing our communities together online and in real life, and innovating throughout a new age of digital publishing, they, the pioneers and trailblazers, will stay on trend and relevant, playing an important role in modern society and, with our support, continuing to flourish."

You'll probably still be sleeping tomorrow when members of the Australian Booksellers Association begin celebrating the third annual National Bookshop Day (@NatBookshopDay), with bookshops hosting events and promotions across the continent.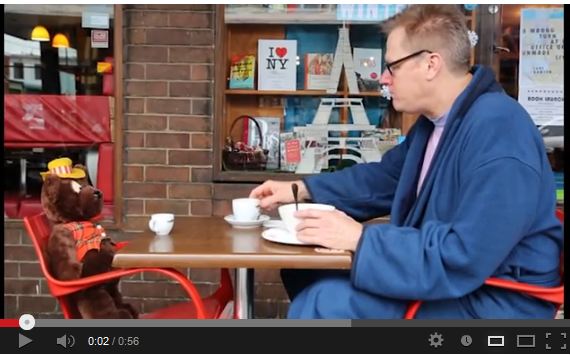 The official launch of the festivities is the announcement of this year's Favorite Bookshop by actor and author William McInnes during a ceremony at the Sun Bookshop, Yarraville. Check out this promo video featuring McInnes that was filmed at the bookstore. And, for good measure, here's another promo featuring NBD ambassador Markus Zusak.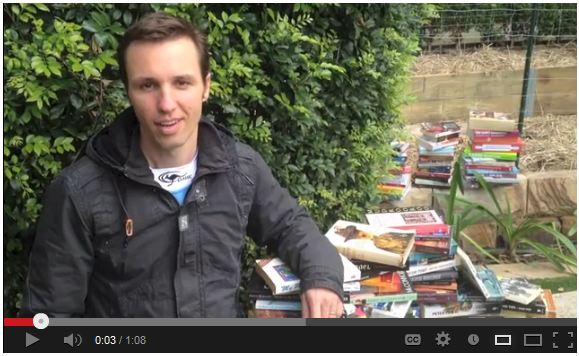 Four Aussie publishers produced free mini-editions for booksellers to distribute to their patrons: Amazing Experiences (Lonely Planet), Rain Queen by Katherine Scholes (Penguin), The Dig Tree by Sarah Murgatroyd (Text), Secret Kingdom Activity Book and Sea Question Activity Book (both from Hachette).

Bloomsbury Australia is running a #lovebookshops campaign across Facebook, Twitter and Instagram, asking booksellers to send photos of their stores.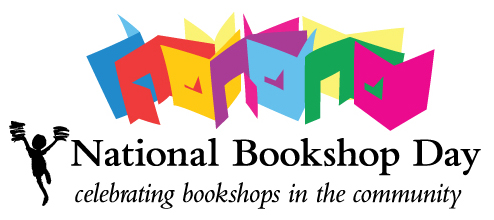 Australian indie booksellers are participating in numerous ways, some of which could easily be in the running as future Shelf Awareness "Cool Idea of the Day" features. Here's a sampling:

In addition to hosting the official NBD launch, the Sun Bookshop's Younger Sun store has invited children to dress up as their favorite Leigh Hobbs character, participate in a drawing workshop with the popular author/illustrator and "afterwards join us for fairybread and cordial."

Electric Shadows Bookshop, Canberra, hosts a fundraising event with author and local Labor MP Andrew Leigh to raise funds for the Indigenous Literacy Foundation.

Writers are being put to work behind the counters as celebrity booksellers at Pages & Pages Booksellers as well as at Avid Reader, Brisbane, where other planned events include free henna hand painting and "jazz on the footpath."

The National Bookshop Day theme this year at Potts Point Bookshop is "(Wo)Man's Best Friend and we are hoping you'll agree that there's no better company than a book, other than perhaps your furry companion." Featured events include Dr. Mim & Claire, "who will be opening PP Vet Hospital," a doggie photo booth and Fairy Poppilina, who "will have you barking in your seats with her special storytime session."

At Riverbend Books & Teahouse, Bulimba, the staff is wearing pajamas to work to celebrate local bookstores in the community. "If you are also feeling gluttonous, tired and literary, then come along and join us in the festivities, where we will be encouraging everyone to eat, sleep, and--most importantly--read local. The first 50 adults and 50 children to visit us wearing their pajamas, or even just a dressing gown, will receive a free book!"

"Read-ins" are being held at TLC Books, Manly, where customers are being encouraged to "come down and cop a squat in or around the bookstore and read"; as well as Mary Who? Bookshop, Townsville, where patrons are asked to "bring a chair (or lounge!) and a book and find a spot in the dappled sunlight directly out the front of MW?... to read... in the lovely company of other readers! Bring a crowd if you can!"

Robinsons Bookshops in Frankston, Chadstone and Greensborough are celebrating National Bookshop Day by launching Blind Date with a Book, "a fun way to try new authors and discover great reads ... [that] involves hand-picked quality fiction titles completely wrapped in brown paper. A few vague words are the only hint as to what lies within."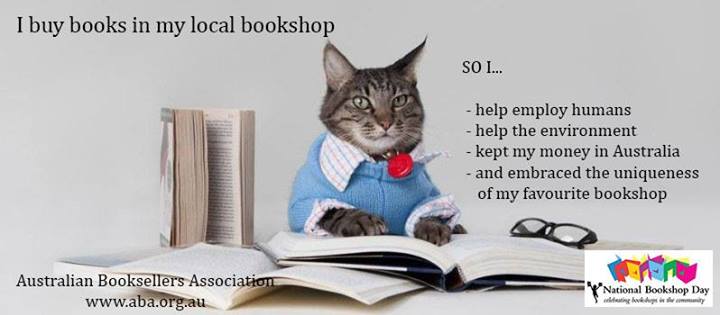 So, happy National Bookshop Day! The ABA's NBD cat probably sums up the festivities best:
I buy books in my local bookshop so I...
help employ humans
help the environment
kept my money in Australia
and embraced the uniqueness of my favorite bookshop.
--Published by Shelf Awareness, issue #2059.
Robert Gray
|
Comments Off
|