Sunday, May 11, 2014
Do you know what the first rule of Mother's Day is at Hallmark? "Don't make fun of your mom."

Dad? It's always open season on him. Even Mother's Day isn't a safe paternal harbor (please refer to Exhibit A--this great card featured by Chapter2Books, Hudson, Wis.). Tina Neidlein, a Hallmark greeting card writer, told Bloomberg Businessweek: "On Father's Day, you can say, 'Dad, all you want is a sandwich!' or 'Dad, you nap a lot.' But if you make fun of your mother, she's going to cry. And you can't even make fun of that."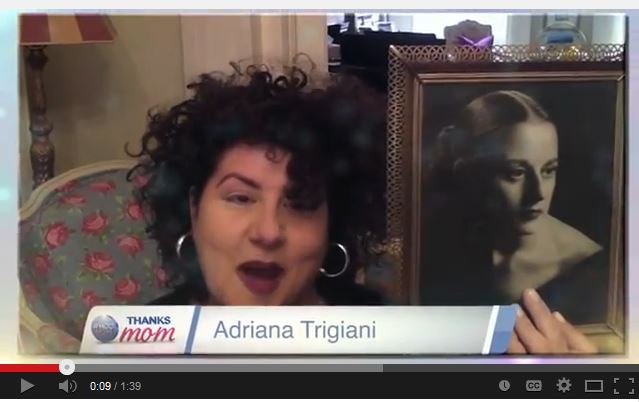 Just to be safe, we'll opt for the "be grateful" strategy, as in "Thanks Mom for Being My First Storyteller." The new video from HarperCollins features several authors--Veronica Roth, Soman Chainani, Lauren Oliver, Ann Patchett, Dan Gutman, Rita Williams-Garcia, Adriana Trigiani and more--expressing their bookish Mother's Day gratitude.

Books. That's the ticket. While the don't-make-fun-of-mom edict is probably based more on Hallmark's penchant for sentimental typecasting than scientific research, it did remind me that indie booksellers have long made a point of breaking away from traditional (i.e., cliché) merchandising options in their Mother's Day displays. For example, this year the Book Nook, Ludlow, Vt., showcases Sheryl Sandberg's Lean In: Women, Work, & the Will to Lead and Elizabeth Warren's A Fighting Chance on its Mother's Day table. And then there are the delightfully entomological sentiments expressed on the cover of a greeting card featured by Greenlight Bookstore, Brooklyn, N.Y. ("Eating her young meant fewer Mother's Day cards to open")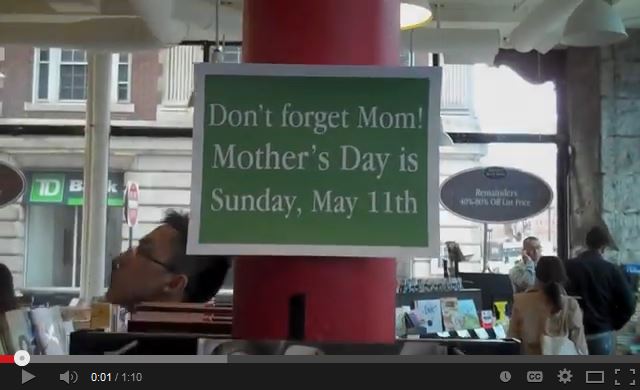 Harvard Book Store, Cambridge, Mass., created a video of personal staff picks for their mothers, with a nice range of choices: A Fighting Chance, Sibley Birds, A Platter of Figs, Journey, Ethics for the New Millennium, Beatrix Potter's Gardening Life, The Girl with a Clock for a Heart and Flour, Too: Indispensable Recipes for the Cafe's Most Loved Sweets & Savories.

"Mother's Day is a very booky holiday," the New York Times observed. "A book isn't too much, it doesn't have to be prominently displayed, it doesn't demand a conversation about how calories-don't-count-because-whatever and it doesn't wilt--or it goes nicely with more traditional gifts, which do do some of those things. Mother's Day is a fun time to give a book she will love to a friend, too: maybe a friend whose spouse and children don't 'get it' quite as well as you do."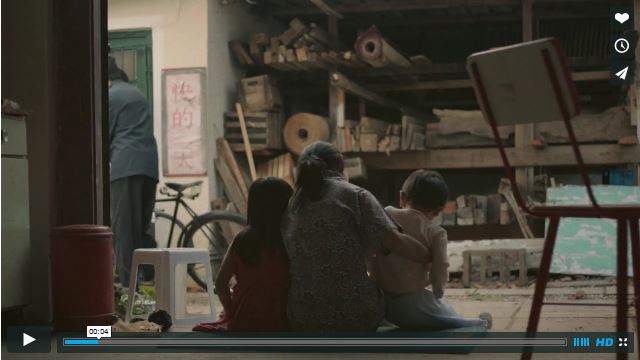 Last year, Kobo released a Mother's Day video featuring moms from many countries reading with their children, ending with: "She gave you the gift of reading. On Mother's Day, give it back."

Once upon a time (let's call it the early 1950s), when I was three or four years old, a fierce thunderstorm hit our town. Through the haze of memory, I can still feel the intensity of that storm, but I mostly remember the shelter my younger brother and I found on my mother's lap while she read us a story to take our minds off what she called "God bowling in the sky."

I was reminded of that moment when I recently encountered a lovely and very bookish e-newsletter column by Nancy Page, owner of Island Books, Mercer Island, Wash.: "With our youngest, Lewis, leaving home in the fall to attend college in the Midwest, this Mother's Day takes on a special meaning and gives me pause to reflect. The school-age years have been full, as I watched our children forge their own friendships and become the young adults that they are, but it was the early years when we hunkered down on the couch and read piles of books for hours at a time, completely absorbed in stories, that hold the fondest memories. I liked to read aloud and my kids loved to listen--a match made in heaven."

Page then chronicles a title-rich reading life with her children before concluding: "So maybe I could have done this mothering thing differently and my children would be practical scientists or mathematicians in the making, but instead they are exactly as they always have been and really in my opinion, should be, the sorts who love stories, bookseller's children. I am forever grateful for those years spent reading to them. So if you are at home with little ones, I suggest you make time to read. Read a lot to them. Punctuate your days with books, piles of books on the couch. You will never regret it. Happy Mother's Day." --Published by Shelf Awareness, issue #2248.
Robert Gray
|
Comments Off
|