Sunday, December 22, 2013
So... this happened, which led me to think about the delicate, and occasionally indelicate, art of "professional" holiday season gift wrapping. By professional, I mean the people doing the wrapping are being paid. By "people," I mean, of course, booksellers.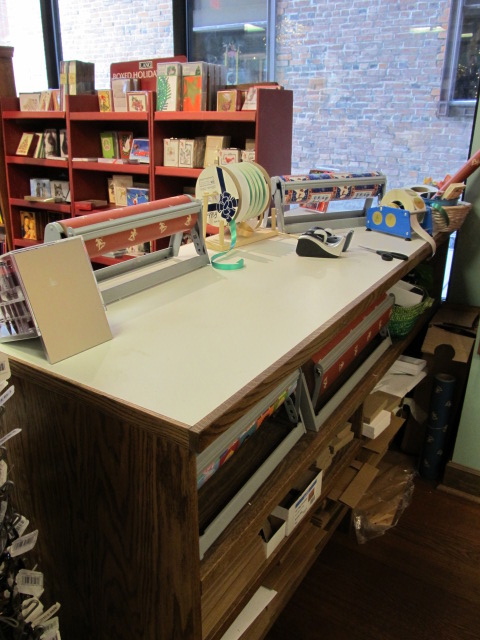 On Christmas Eve, sometime during the late afternoon in most indie bookstores, one final customer will arrive at the checkout counter with an armload of stuff, and a bookseller or two will accept the challenge of wrapping these almost ceremonial purchases. The gift paper choices at that point may be limited; of the three or four or six rolls on display, a couple will no doubt be simple cardboard memorials to Christmas wrap options past.

But that wrapping station scene represents the culmination of weeks of intense handiwork with paper, ribbons and bows. Some may think booksellers have it easy. I mean, how hard can it be to wrap a book? Those people, however, have never tried to make a presentable present out of a stuffed giraffe or a box-less set of Buddha bookends. There are any number of paper-resistant challenges in a bookstore. Wrapping a cat is mere child's play by comparison. And those doubters have clearly never dealt with a long line of customers armed with very specific requests ("When you wrap that third book, on the outside could you also add this candy cane and this bookmark wrapped separately... and this Virginia Woolf keychain and...?"), each of which is graciously fulfilled.

For booksellers who aspire to greatness this weekend, inspiration can be found among your contemporaries--Patricia Zapata won this year's Scotch Brand Most Gifted Wrapper Contest, which asked competitors to wrap items like a toy castle, a kids' go-kart or a giant two-person paddle boat--as well as your predecessors: Mrs. Juliet Koenig Smith's 1965 obituary in the New York Times called her "a specialist in gift wrapping" who "was often called upon by leading stores for difficult or important projects. She wrapped many gifts for presentation to Presidents and other officials. Once she wrapped an entire automobile for a television commercial."

Could a bookseller do that? Absolutely. Bring on the paddle boats and cars, though I guess we should concede that not all gift wrappers are created equal. Some booksellers were born to wrap; others have gift wrapping duty thrust upon them. You can train almost anyone to wrap a book, but only the truly gifted can draw gasps of appreciation for a well-wrapped stuffed giraffe.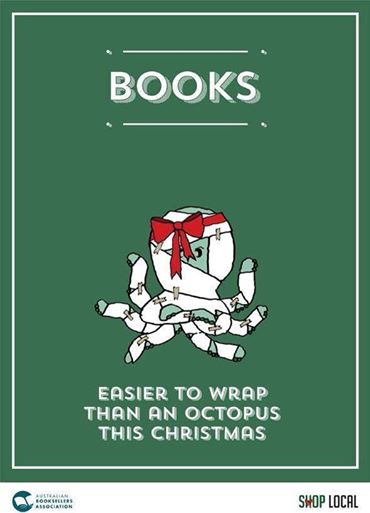 The Australian Booksellers Association has been using the peculiar trials inherent in gift wrapping as a book-selling promotion this year with a series of posters, including "A Christmas Guide: How to Wrap Awkwardly Shaped Presents... Or You Could Just Buy a Book."

Wrapping under pressure and public scrutiny is another issue altogether. During holiday crunch time, seasoned booksellers always raise their game while wrapping endless stacks of items, in full view and following detailed instructions ("Put Harry's name on the Grisham and Patterson; Sally on the John Green; Papa on the card game..."). By the way, this is the perfect time to recite a silent, seasonal prayer of thanks for Post-it Notes.

In any endeavor where intensity and volume meet flailing arms and liquid refreshments, disasters inevitably occur. A former colleague reminded me of the time one of our fellow booksellers "jostled a cup of hot chocolate she was drinking into a shopping bag with five really big expensive art books I had just gift-wrapped. They were totally ruined. I had to sneak out of the gift wrap room and surreptitiously find duplicates on the shelf. Luckily, we had every one of them but I was terror-stricken. The customer never knew anything other than her gift wrapping took an extraordinarily long time."

On Tuesday afternoon, after that last gift is wrapped (for customers, anyway) and the bookshop doors are locked, booksellers will be free to exhale and--if I may suggest--take some holiday post-wrapping refreshment advice from chef Mario Batali, who offered the following advice last Sunday in the New York Times: "A cold afternoon of present-wrapping can use a warm touch. Heat up a cup of skim milk with a teaspoon of vanilla and then make a double espresso. Mix the two in a large goblet, then add a shot each of peppermint schnapps and Jack Daniels. Stir gently, then get back to work."

But don't go back to work too soon. Try to get some rest before Thursday because, well, you know the drill. What do most booksellers have to look forward to on the day after Christmas? You'll arrive at work to see a line already forming outside your bookstore in hopes of snatching up discounted gift wrap for next year's holiday season. Next year?!!!--Published by Shelf Awareness, issue #2154.
Robert Gray
|
Comments Off
|