Friday, May 1, 2015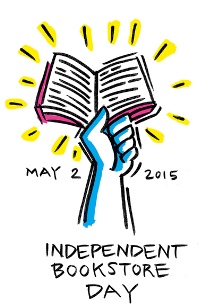 "We are proudly independent, but over these dozen-plus years, we've learned how much small businesses like ours also rely on connections," Steve Costa and Kate Levinson, co-owners of Point Reyes Books, observed this week in sharing their Independent Bookstore Day "Declaration of Interdependence."

The rapid evolution of California Bookstore Day into IBD (and, in Canada, Authors for Indies Day) is another indicator of the resilience and creativity indie booksellers continue to exhibit in their collaborative efforts on both a national and local scale. We've been highlighting some of the many IBD partnerships booksellers have forged with other local businesses--bakeries, cafes, craft stores, bike shops and more. I just wanted to offer a reminder that booksellers in several U.S. cities have also found imaginative ways to showcase their interdependence tomorrow:

In the Seattle area, 17 bookstores teamed up to create the Indie Bookstore Challenge, with the winning customers receiving year-long 25% discounts at all participating stores--plus the title of Indie Bookstore Champ. The Stranger noted "one of the benefits of the project is the sense of solidarity among the participants."

"We feel a bond with other indies," said Open Books co-owner John Marshall. "Heck, Amazon has even made Barnes & Noble seem like a relative--what dark magic does that? We are pleased to celebrate shared DNA with our sibling stores."

"I love what Seattle is doing," said Pete Mulvihill, co-owner of Green Apple Books in San Francisco and a driving force behind the first California Bookstore Day last year. "Stores that would normally be competing with each other are cooperating. I can't think of anything else like it. I don't think, for example, coffee shops get together and share their best techniques."

Many booksellers in the San Francisco region are honoring the Bay Area Bookstore Passport as a way to inspire informal bookshop crawls. Customers who make a purchase at three or more bookstores tomorrow can ask for a stamp in their passports. Each time they reach three new stamps, they qualify for a prize.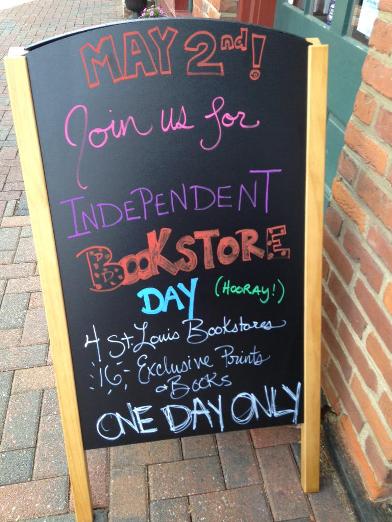 Sign at Main Street Books, St. Charles, Mo.
"We're looking at it as a customer appreciation day," Stephanie Hochschild, owner of the Book Stall at Chestnut Court, told the Tribune regarding Chicago Independent Bookstore Day, in which 12 indies are banding together to celebrate. "They're the reason we flourish and it's a way to thank them. We hope to remind people of the importance of shopping local, not just at the Book Stall, but for everyone."


For Independent Bookstore Day NYC, two dozen Big Apple indies teamed up to collectively publicize IBD's citywide events, which will culminate with a Bookstore Day NYC afterparty at powerHouse Arena in Brooklyn. "Show your local bookstores some love this weekend," DNAInfo New York advised.

"I think that in many neighborhoods a bookstore is an inherent part of the community," Lexi Beach, owner of Astoria Bookshop in Queens, noted. "Having that kind of space where people can come together and collectively form a community around their love of books--I think is something that is still really important."

"Of course, we have to do things differently in New Orleans," said Tom Lowenburg, co-owner of Octavia Books, which will team up with Garden District Book Shop and Tubby & Coo's Mid-City Book Shop to celebrate IBD next Saturday, May 9, in order to avoid conflicting with the legendary Jazz Fest, at which NOLA indies work together to operate the book tent. Among the special activities planned for their delayed version of IBD is the chance to win $75 in gift certificates for book lovers who visit all three participating bookstores as part of a scavenger hunt.

For some of us who've been observing the book business over the past couple of decades, the notion of such a large-scale Independent Bookstore Day is still a little, well, stunning.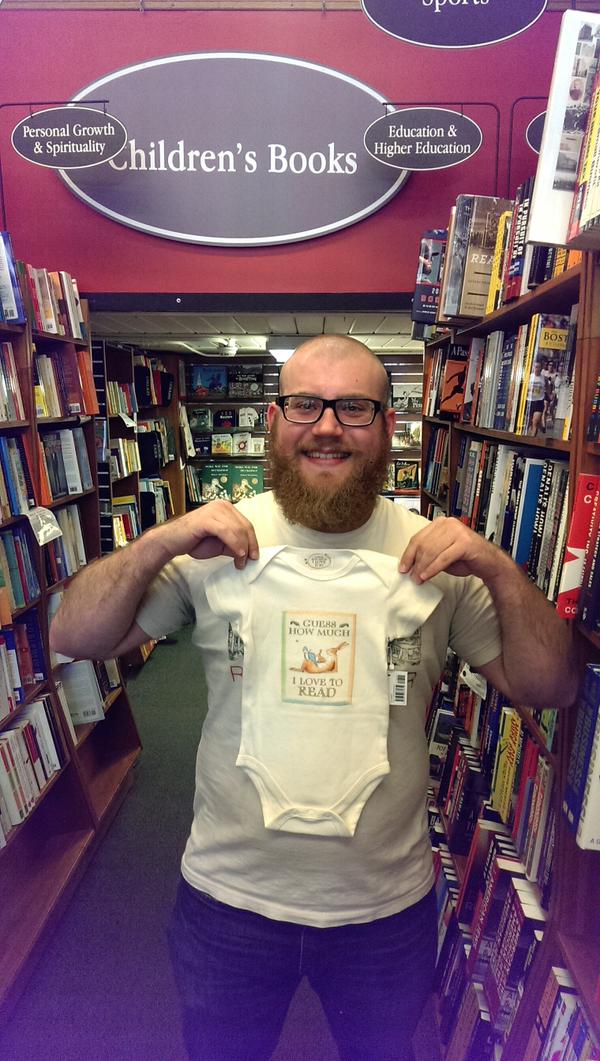 Trying on some of the exclusive IBD merchandise at Harvard Book Store.
Hut Landon, executive director of the Northern California Independent Booksellers Association, told Berkleyside: "Five years ago, we couldn't have done this event because the bookstores wouldn't have been involved. They would have said, 'There's too much going on and we're just trying to get by.' The idea of organizing this big thing would have sounded too overwhelming."

Landon's comment reminded me of a blog post I wrote in 2006, when the outlook for indies seemed much bleaker than it does today. "Independence and dependence are not unlike Yin and Yang, dual forces that make the world work only when they are in harmony," I noted then. "Indies are dependent. Indies depend upon their communities to value and sustain them. Their claims to independence are a meaningless whimper without the support of local residents and businesses.... Indies depend upon other bookstores, through personal friendships as well as regional and national organizations, to give them a sense that they are not fighting this battle alone and that the war is not lost."

Nine years later, I like the Point Reyes Books word much better. Here's to a brilliantly successful Interdependent Bookstore Day tomorrow for everyone. --Published by Shelf Awareness, issue #2498
Robert Gray
|
Comments Off
|