Sunday, October 26, 2014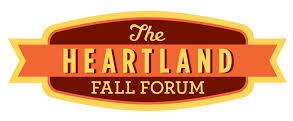 "The only thing you deserve is the chance to do the work," Kate DiCamillo said a few weeks ago at the Heartland Fall Forum, co-hosted by the Midwest Independent Booksellers Association and the Great Lakes Independent Booksellers Association. As I mentioned recently, I've been encouraged by the trend in bookseller educational programming to focus more on doing the work--on getting better rather than just getting by.

"That is exactly what we are trying to do," said GLIBA executive director Deb Leonard. "Both boards are creative and focused, and we want to continue to give our members the kind of education that helps our stores adapt to the evolving challenges of bookselling in the 21st century. We listen to the feedback we get from our booksellers, and try to incorporate their suggestions for the next year."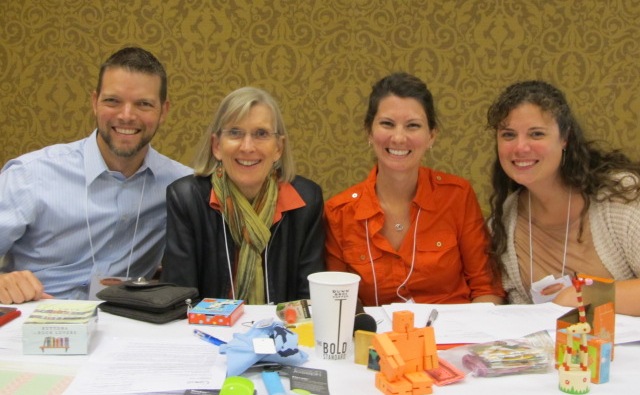 Eric Heidemann, Cecile Fehsenfeld, Kelly Estep & Jessilynn Norcross

In upcoming columns, I'll share a few things I heard and learned at education sessions this fall, beginning with a Sidelines Buzz Panel at HFF. Moderator Jessilynn Norcross of McLean & Eakin Booksellers, Petoskey, Mich., was joined by Eric Heidemann of Fujii & Associates, Cecile Fehsenfeld of Schuler Books (with stores in Grand Rapids, Lansing & Okemos, Mich.) and Kelly Estep of Carmichael's Bookstore, Louisville, Ken.

Norcross suggested there are three priorities to consider when dealing with sidelines in a bookshop: available space, the passion to sell certain items and whether you have particular customers in mind for them.

"Don't be afraid to try something new," advised Fehsenfeld, who admitted the decision to diversify had not been an easy one for her. "We'd always been purists. My staff had to argue with me to put greeting cards in 30 years ago." Ultimately, however, "It actually has been a positive and not a negative, which I was afraid of." She backed up her opinion by noting that she was wearing earrings, a necklace and scarf that are all fair trade products carried by her store: "Fair trade happens to be huge for us. It's most gratifying."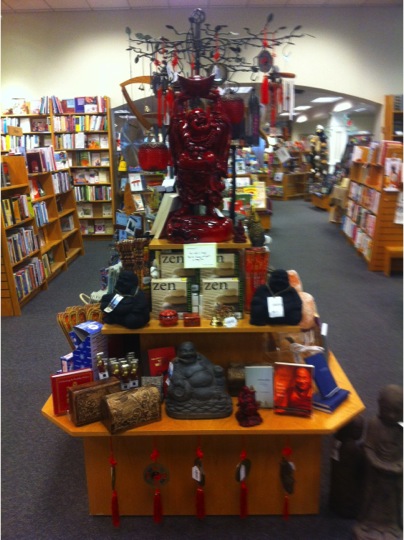 "Zen Display" at Schuler Books

To source useful information on sidelines, Norcross recommended Giftware News., adding: "It's also important to see what's happening on the West Coast. There are a lot of companies that are based out there." She noted that McLean & Eakin "tries not to carry things that are going to be carried downtown or near us." When ordering from sidelines vendors, she said "meeting minimum orders may be optional. All you have to do is ask.... Offer to pay up front to get lower minimums. And co-op is often available; they just don't call it that." Most of all, she counseled, "Ask your customers, 'Would you buy this?' "

"If you like something, try it. The bottom line is your staff has to be passionate about it," Heidemann said, adding that vendors "love doing sample request orders." He also noted that "pictures are worth dollars," encouraging booksellers to send display photos to their sales reps.

Regarding price points, Norcross suggested "looking at the product before you look at the pricing. How much would you pay for it if you were the customer?" Estep agreed: "I choose to price my sidelines when they come in and I look at them." Fehsenfeld noted that her standard markup is 120%, and Norcross added: "You can always lower your price. You can never raise your price."

When the conversation turned to displaying merchandise, Fehsenfeld cited the standard 80-20 rule, but added this reservation: "While 20% of your product is going to produce 80% of your sales, you still have to have enough items to make the display look good."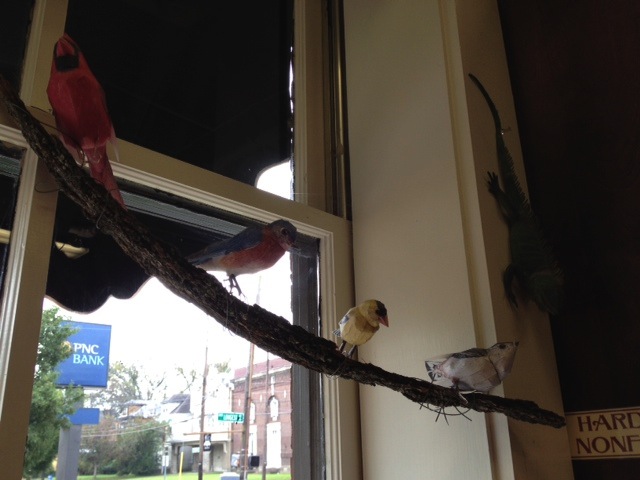 Bird display at Carmichael's

Be creative, Estep advised, noting that sales of Sterling bird kits at Carmichael's spiked only after she created a front window display featuring already-assembled birds perched on a limb: "I think we've sold 60 boxes now." Heidemann called this "the difference that four birds can make in sales," and reiterated: "Don't eat that cost. Ask for a sample."

Schuler's display of Crabtree & Evelyn products "sells really, really, well," as do $3 chocolates placed near the cash registers, Fehsenfeld said, offering high praise as well for the store's cross-promotional "Zen display," which "has been up for three years and we just keep changing products."

Discussing shelf life for sidelines, Fehsenfeld observed that "when something gets to be six months old and hasn't sold, it isn't going anywhere." While the store watches inventory turn carefully, "the more product we add, it seems like our turns slip a little." Norcross cautioned, however, that "the turn for a gift item is not the same as for a book. It will be high on Chapstick or glasses, but the higher-priced items, you want to give more of a grace period."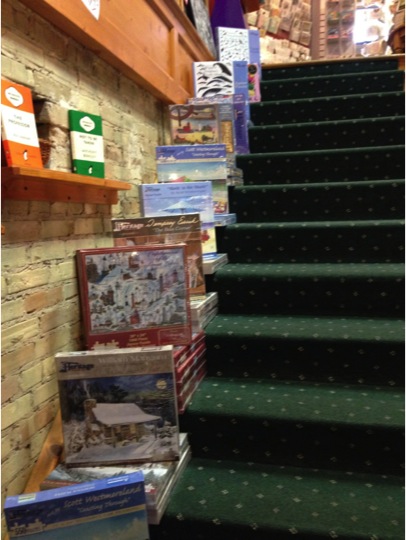 Staircase puzzle display at McLean & Eakin

And, in an election year, Heidemann noted that with more communities instituting plastic bag bans, sales of products like Envirosax and ChicoBags are increasing: "Sometimes politics provides opportunity."

Booksellers talking to each other. What a concept. Carrie Obry, MIBA's executive director, told me that total attendance (exhibitors, attendees, and authors) at HFF this year was 882, up from 748 in 2013 (Chicago) and 770 in 2012 (Minneapolis). Notably, attendees numbered 408, a substantial increase from last year's 304 and 373 in 2012. More is better, especially during the education sessions involving booksellers with a wide range of experience, challenges and solutions. I learn something every time. Class will be in session again next week. --Published by Shelf Awareness, issue #2371.
Robert Gray
|
Comments Off
|