Friday, April 15, 2016
April is the coolest month for poetry, as officially designated even for those of us who mark the spirit of NPM on other calendars: National Poetry Year, National Poetry Decade, National Poetry Lifetime, National Poetry Century, National Poetry Era. Whew! For the moment, I'll restrain myself to sharing a few random lines from #NPM2016: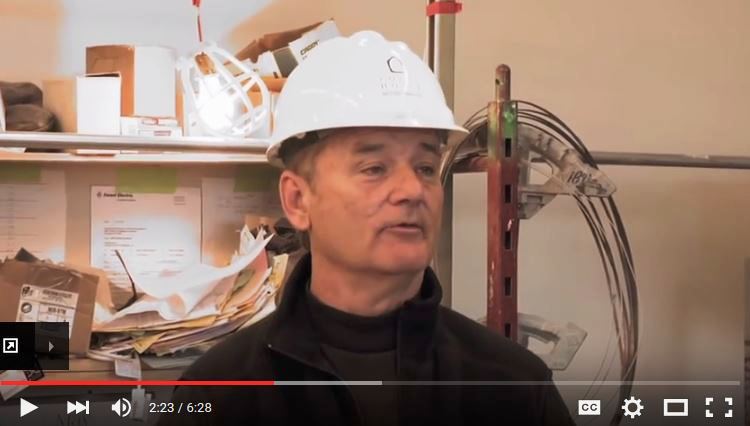 Bill Murray reads to construction workers at Poets House.
Bill Murray loves Lucille Clifton's poetry. Bill Murray also shared some of his favorite poems with Leigh Haber, O, the Oprah Magazine's books editor, in his room at Manhattan's Carlyle Hotel. "It was so funny," Haber said. "He had scraps of paper on which he'd scribbled notes and Xeroxes of poems. His love of poetry was obvious from how much pleasure he took in reading the poems aloud to us."

"And it is National Poetry Month!" the Twig Bookshop, San Antonio, Tex., noted in its e-newsletter last week. "As I gathered the poetry books for a display and decided to feature our local poets, I was surprised but proud that we have so many!" Also on display: City Lit Books, Chicago, Ill. ("National Poetry Month #truth #bookstore #bookstagram); Literati Bookstore, Ann Arbor, Mich. ("Happy National Poetry Month!"); and Diesel, A Bookstore, Oakland, Calif. ("#NationalPoetryMonth #ExclamationMark").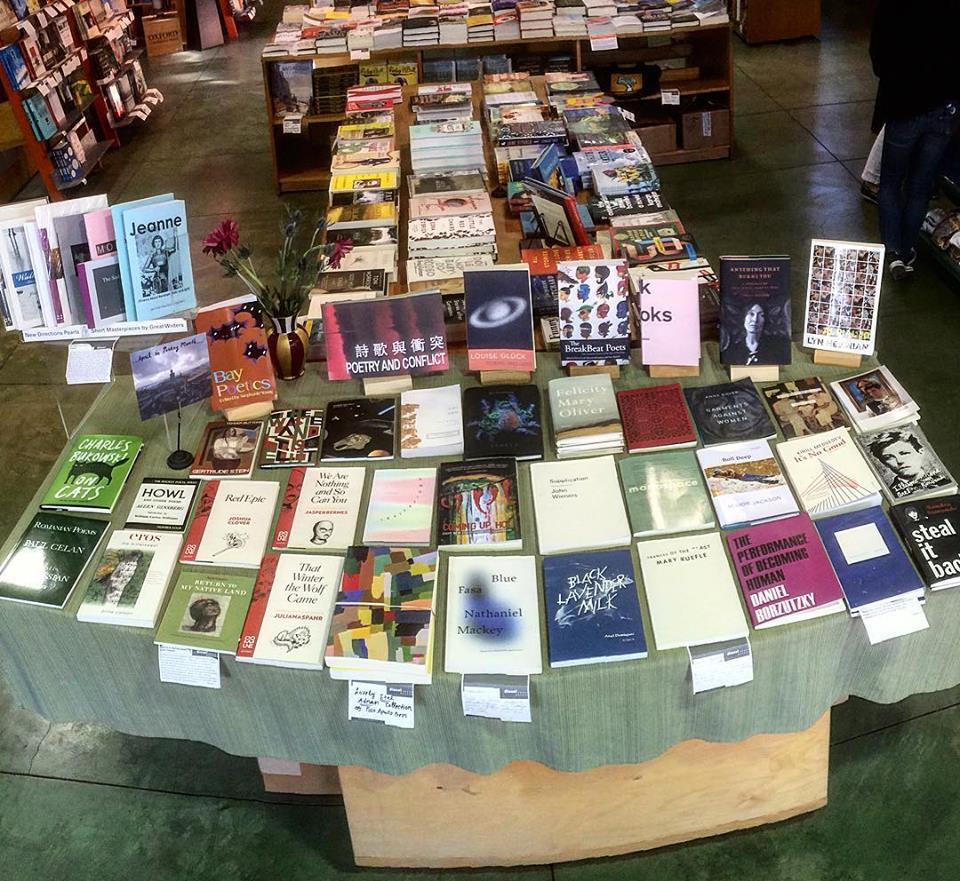 Diesel's Poetry Month display
Speaking of Diesel, co-manager Brad Johnson described NPM as "a sort of 'High Holy Month' " at the bookstore. "For the past several years now we've been doing our Video-Poem of the Day project during the month of April. We're always pretty proud to hear our friends and colleagues at Diesel reading. This year we've also solicited some original pieces from 5th graders at a local writing program in downtown Oakland, Chapter 510. Those have yet to debut, but they are so very good. Looking forward to their debut to the world."

Most Likely to Succeed... at Poetry: Powell's Books, Portland, Ore., is hosting its annual Poetry Madness celebration, and this year "we're asking you, fellow poetry scholars, to take part in Powell's own yearbook superlative-style competition."

"April is National Poetry Month. Why should you care?" asked McLean & Eakin Bookstore, Petoskey, Mich. "1. Poetry improves your vocabulary and communication skills. 2. Poetry gives you new ideas and expands your imagination. 3. It's a small time investment for a large payoff. 4. Jim Morrison loved poetry, and everybody loves Jim Morrison."

Celebrate #NPM April 25 with MashReads and NYC's the Strand bookstore, which will host "Writing and Resistance, a night of poetry readings and conversation featuring a bevy of talented New York poets.... Throughout the night, poets will read poems and discuss themes of resistance, struggle and the forces both internal and external that would prevent poetry," Mashable noted.

In Scientific American magazine, Evelyn Lamb wrote that as she celebrated Math Poetry Month, she "stumbled on an early example of mathematical poetry in the solution to the cubic equation." In terza rima, no less. A sample:
When the cube with the cose beside it
Equates itself to some other whole number,
Find two others, of which it is the difference.

For the first time, Canada will be part of Poem in Your Pocket Day April 21, Quillblog reported. Jennifer Benka, executive director of the Academy of American Poets, said, "We're thrilled to be working with the League of Canadian Poets this April to promote contemporary poets and poetry in both our countries and across borders. Seeing as we both introduced and organize National Poetry Month, collaboration makes sense."

Mrs. Dalloway's Literary & Garden Arts, Berkeley, Calif., is also sharing "pocket poems." Mary McCulloch Fox, the poetry buyer and poetry events coordinator, told Bookselling This Week she handles the formatting of each poem for printing, which is done by Minuteman Press in Berkeley. "The poems go out on April 1 and stay out on the floor for the whole month of April." she noted, adding that there were about 1,800 pocket poems placed around the store.

From the Red Balloon Bookshop, St. Paul, Minn.: "In honor of #NationalPoetryMonth we'll be tweeting haiku written by our staff for the month of April. Stay tuned!"

"I love National Poetry Month," wrote Sarah Bagby of Watermark Books, Wichita, Kans.: "This year marks the 20th anniversary of the initiative. Publishers and literary arts organizations are pulling out the stops this year in celebration. I love the Borzoi Reader newsletter. This one features Kevin Young, one of the best American poets at work today. Originally from Topeka, Kansas, educated at Stanford, He is heavily influenced by the poets Langston Hughes, John Berryman, and Emily Dickinson and by the artist Jean-Michel Basquiat. Here is the link to the Walt Whitman poem I tried to share last week. It's one of my favorites."

And, to close with perspective, here are a few not-so-random lines from "Plot Points" by Clive James as a little #NPM2016 reality check:

While you were reading this
Millions of stars moved closer
Towards their own extinction
So many years ago--
But let's believe our eyes:
They say it's all here now.

Happy National Poetry Eon!
Published by Shelf Awareness, issue #2733
Robert Gray
|
Comments Off
|