Friday, December 18, 2015
Only seven more shopping days till Christmas (#SMSDTX). There is no cause for alarm... at this time.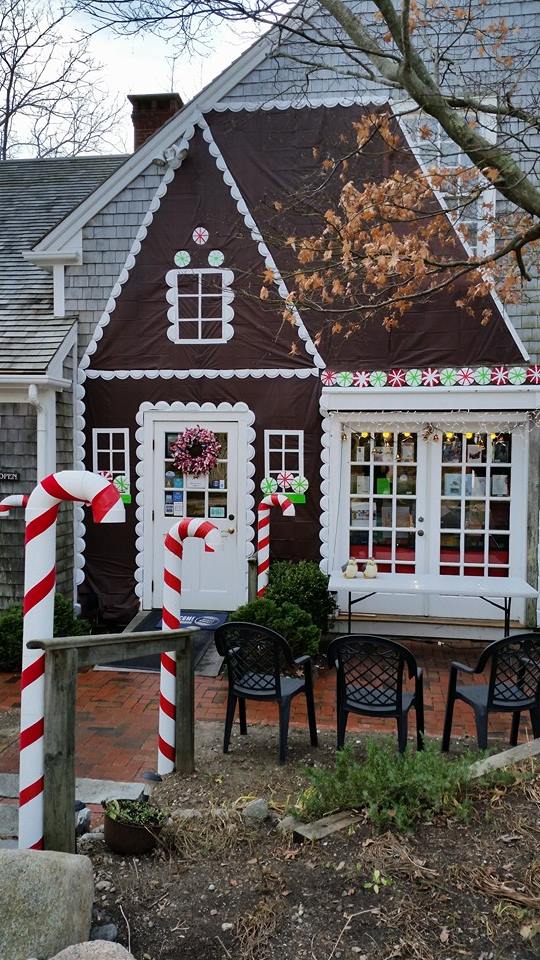 Titcomb's Books dressed up for the holidays
Sure, the holiday retail season tries the patience and feet of the best booksellers. You're facing the usual requests to recommend books for people "who don't read much," and once again you find it amazing, even a little unsettling, to discover how many titles actually fit that category. You've probably adjusted to the holiday music playing incessantly over your shop's speakers, punctuated at regular intervals by semi-desperate calls for retail rescue ("Oh, Holy night, the--'We need help at the front service desk, please!'--of our dear savior's birth."). You've even made your peace with the fact that at least half of the customers who take advantage of your gift-wrapping service can't resist this friendly reminder: "Don't forget to take the price tags off!"

Christmas week: Need I say more? You are about to enter the wackiest stretch of the year for any bookseller. Okay... deep breaths. Inhale. Exhale. You've been through this before. You can do it again.

One of the more intriguing aspects of this time of year is something I'll call "refueling in flight." Every day is a prime refueling day for bookstores during the holiday season, as customers take a hearty bite out of your stock (a good thing) and the staff scrambles to keep the sales floor looking fresh.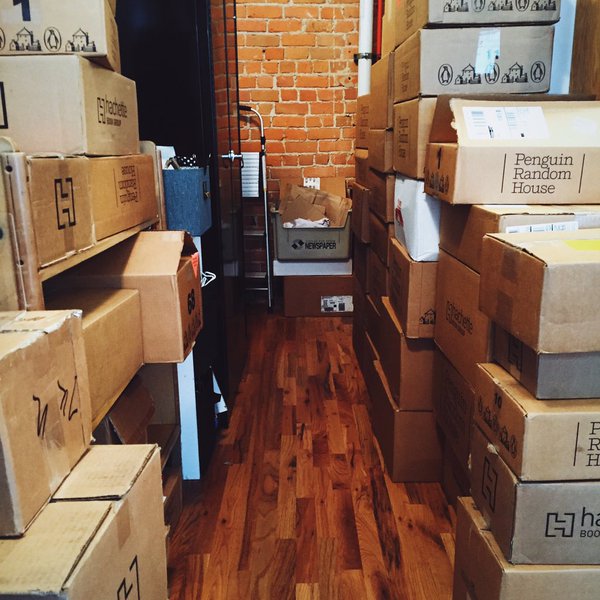 A book carton "fort" in the receiving area at Literati Bookstore on Wednesday
The beleaguered shipping and receiving department--which, in smaller bookshops, may well be you--is swamped with stacks and stacks of boxes, incoming as well as outgoing. Deliveries are sorted in a frenzied, triage-like prioritizing exercise. The pressure is intense to get those cartons opened, received and out to the sales floor for shelving immediately.

Imagine two jets connecting for a mid-air refueling. It usually works, but it can still be a little scary.

Given the size of orders this time of year, an outsider might think you're constantly facing empty shelves and displays, but somehow everything runs smoothly (on the good days), so customers generally encounter a well-stocked and organized bookstore when they come in. Most booksellers abhor empty space, a personality quirk that comes in handy right now.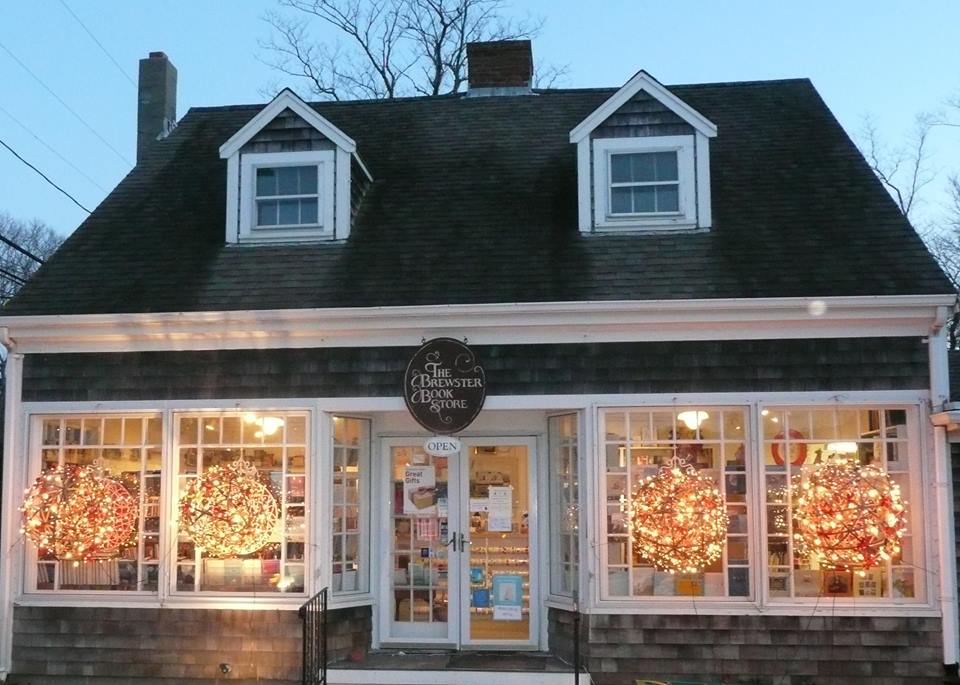 Brewster Book Store's festive decor.
When it all works, your staff moves in seamless choreography throughout the day. There's a lot at stake and refueling in flight is a tricky maneuver. Automatic pilot is not an option. You must rely on a lot of people--buyers, publishers, distributors, delivery companies, receivers and booksellers--doing their individual jobs with focus and coordination. It may seem chaotic at times to you, but damn it sure looks smooth and precise from a distance.

I suspect that most of your customers have only the slightest awareness of the team effort required to refuel in flight at full holiday speed. They see the loaded book carts and are aware of booksellers moving about quickly with armloads of stock. They know books don't shelve themselves. They also know, however, that you will immediately drop everything to help them find the right book, as if you had nothing else to do. They don't need to see the seams. That's part of the magic of bookselling.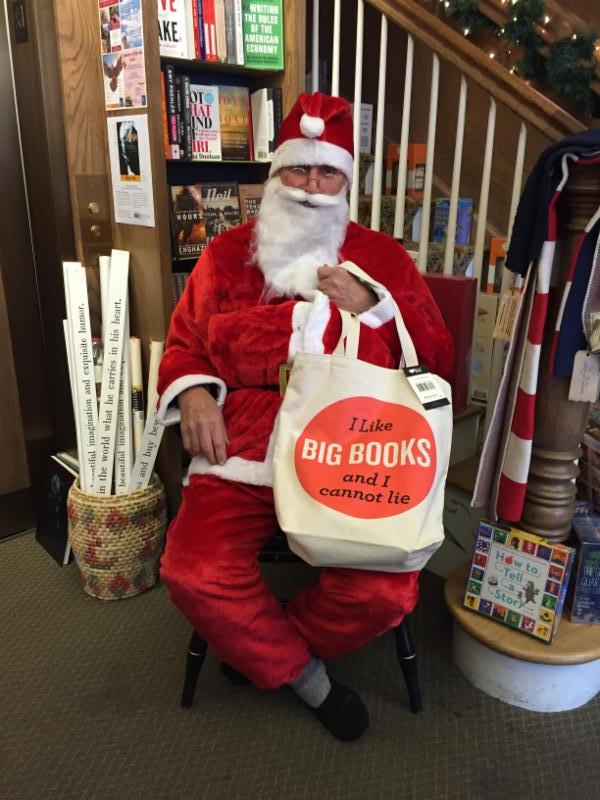 Taking a break at Mitchell's Book Corner.
Yesterday's e-newsletter from BookPeople, Austin, Tex., summed it up nicely: "It's the last weekend before the big holiday. Do we look stressed? No way! This is the most fun time of the year. It's like having a non-stop house party. You all come to visit, we give you our favorite books for your favorite people, when the line gets long we hand out candy---everything is merry and bright!... We have books. We have socks. We have more stocking stuffers than we can fit into a single Instagram feed. We're here. We're helpful. We're caffeinated and we're ready to recommend all of the best books we read this year."

Your goal--largely unspoken even if you are acutely aware of it--is to present the bookshop to every customer who comes through the door, regardless of the time of day, as if you'd just finished preparing it for that person alone. And before you leave each night--even after a long, long, long day--you still try with your last reserves of strength (or at least the illusion thereof) to get the sales floor back in shape for tomorrow's opening. It isn't easy, but you'll make the magic happen day after grueling day until Christmas Eve. Refueling in flight may be rife with disastrous possibilities, but it's the only way to fly this time of year. So fasten your holiday bookseller seatbelt and enjoy the bumpy ride. --Published by Shelf Awareness, issue #2657
Robert Gray
|
Comments Off
|