Friday, August 21, 2015
Now it can be told; the last documents have been declassified. A few years ago, I wrote a column about my life in the spy game, but I didn't reveal the whole story. Last week's release of the new Man from U.N.C.L.E. movie has prompted me to finish the tale with a pair of bookish memories:

One day in the late 1990s, a fellow bookseller asked whether I'd noticed a woman who'd been staking out the reference section window seat for most of the morning, taking copious notes from a number of books. While this kind of behavior wasn't strictly forbidden, it was a misdemeanor on a par with copying recipes out of cookbooks (as compared to asking a bookseller to photocopy a page, which must be a borderline felony). The strategy in these situations was to engage the customer in pleasant, professional conversation; just to let them know you were on the case.

I casually strolled over and asked if there was anything I could do to help, but our conversation took an unexpected turn. She was a crossword puzzle maker. We talked about the primal human need to accumulate trivia. At some point, I mentioned a gold nugget of my own: While many people still remembered that the "good" organization's acronym in the 1960s TV series The Man from U.N.C.L.E. stood for United Network Command for Law & Enforcement, I seemed to be the only one who recalled that their arch-enemy, T.H.R.U.S.H., was short for Technological Hierarchy for the Removal of Undesirables & Subjugation of Humanity. She laughed and admitted she didn't know that one either, but then she reached into her purse and trumped me by handing over a worn, three-decade old identification card for the Man from U.N.C.L.E. fan club.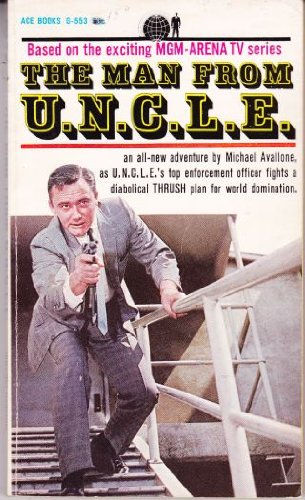 The other spy memory involves my first bookshelf. In addition to watching every episode of The Man from U.N.C.L.E., I read and re-read a tie-in novel series with subtitles like The Doomsday Affair, The Copenhagen Affair and The Dagger Affair. I bought new editions as soon as they were available and carefully shelved the numbered paperbacks (1-23) on top of my dresser, between wooden bookends my father had built. This was my first personal library. In more ways than I can count, those books were a bridge to the world I chose to live in as an adult--a world of books, where readers can be anyone they choose. First I was a spy, then I became a reader, a writer, a bookseller and an editor.

In an interview this week with Susan King of the Los Angeles Times, David McCallum, the 82-year-old actor (Illya Kuryakin in the original TV series; now Dr. Donald "Ducky" Mallard on NCIS) and upcoming debut novelist (Once a Crooked Man will be published in January by Minotaur), recalled his own mid-'60s life in the spy game.

"Chatting for an hour, McCallum embodied an old-school gentleman who seemed pleased and bemused that the person sitting across from him had been devoted to The Man From U.N.CL.E. all those years ago," King wrote. "In the series, Kuryakin remained a man of mystery. McCallum said the only thing he remembered from the pilot script was that Kuryakin was Russian and had a collection of jazz records under his bed."

"If you go through the entire series, there is nothing anywhere about Illya," he observed. "Everybody had their own idea of who he was and where he came from, which gave them these wonderful images." I can appreciate the notion that TV viewers had to "read" Illya.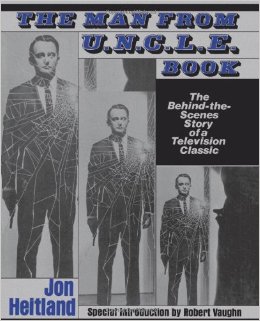 Like any good spy, I search for clues and connections. Here's another: Although legendary author Harlan Ellison was only credited as a writer on two episodes of the TV series, he actually rewrote many others. In The Man from U.N.C.L.E. Book: The Behind-the-Scenes Story of a Television Classic, Ellison recalls that he often employed a literary device called "Tuckerisms," named after Wilson "Bob" Tucker, who would use the names of friends as characters in his books.

"When I did 'The Pieces of Fate Affair,' since it was a literary background, I thought I'll have a little fun with it and drop a bunch of my friends in here," Ellison said, citing as examples Jack Vance's Bookstore, in honor of a fellow sci-fi author; and Judith Merle, a T.H.R.U.S.H. agent and book reviewer who was "named after a book reviewer and critic of my acquaintance named Judith Merril."

As they used to say, you've got to keep your eyes peeled. I haven't seen the new Man from U.N.C.L.E. movie yet. Maybe I'll go this week, under cover of darkness. My life in the bookish spy game continues. --Published by Shelf Awareness, issue #2576
Robert Gray
|
Comments Off
|