Sunday, June 19, 2016
Among the responses I received to last week's column about piped music in bookshops was this one from a bookseller who wished to remain anonymous: "ASCAP is chasing us for our open mic programs. We have one for poets and one for songwriters; it's hard to fathom their complaint. I'd love to hear from others on that issue."

ASCAP's beef concerns "live music": "They want a general contract for musical venue. Supposedly, this would mean the Beatles would get a couple pennies if someone covered 'Hey Jude,' but in reality they wouldn't even know whose songs might be covered, so I doubt anyone would be paid except ASCAP. Our open mic is a songwriter's forum however, so local no-names are trying out their new compositions. We announce at every monthly session that only original tunes can be played, but ASCAP still worries some songwriter might make an allusion to 'Jude.' We're still working it out, but if we can't, I'll just cancel all live music."

Any other booksellers running into that challenge?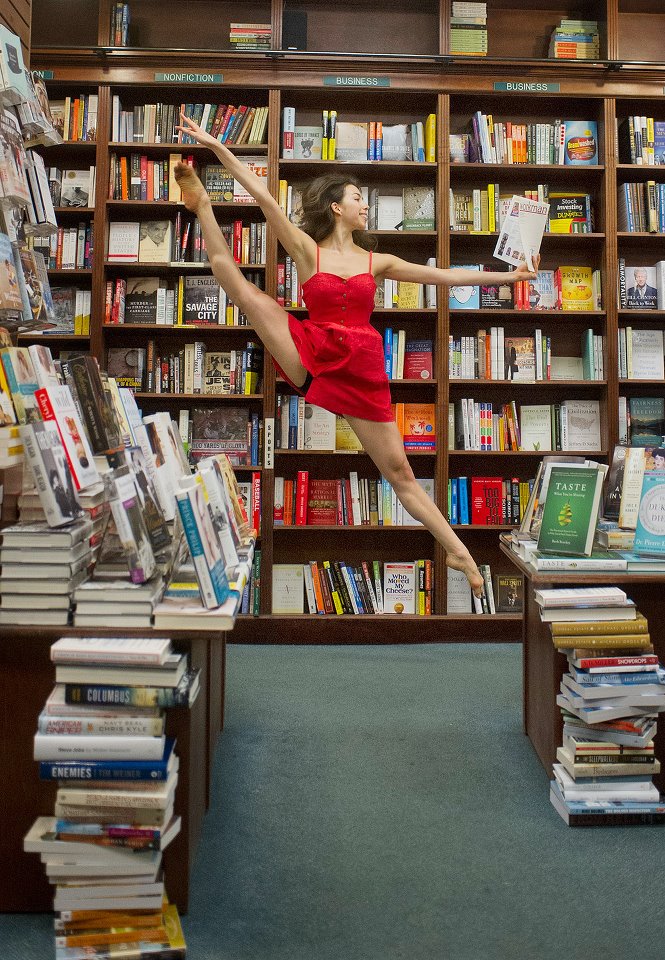 from Dancers Among Us (Workman) by Jordan Matter
On a lighter note, I also heard from legendary book-biz music guru (and PGW Party at BEA icon) Keith Arsenault, director of sales, Canada for Ingram Content Group. He recalled that the highlight of his early bookselling career was "the Christmas mix we played at College Hill Bookstore (RIP), which featured this classic track: Ren and Stimpy--'Fleck The Walls', courtesy of Mike Katz."

Renee Barker of The Bookstore in Glen Ellyn, Ill., told me: "We have music playing often, but certainly not always. Some of the employees try to keep music going, but some choose quiet. Years ago we had a cassette player, so we played and sold some cassettes of a particular pianist. Now we use an old donated iPod with a limited amount of music on it (that we are all getting tired of), mostly classical and mostly baroque, almost all instrumental only. For fun, we put on the waltzes or ragtime or klezmer playlists. We do play Christmas songs, usually without singers, and some Celtic music in March."

She added that the bookstore is considering changing to Spotify, and she would like to hear from other bookstores about that option. "There are two playlists that I like to use sparingly, but deliberately. One is The Killers Strings (for 25- to 30-year-olds; they nearly always perk up at one point and say out loud 'Wait, is that what I think it is?') and the other is orchestrated versions of the Disney movie theme songs, which the teenagers-to-20s in particular seem to love."

Karen Bakshoian of Letterpress Books, Portland, Maine, noted: "Well, after reading your article about Waterstones (an opinion leader if I ever knew one!), I feel guilty about playing our Celtic music however softly... and we don't even sell CDs. Several customers have remarked that they enjoy the music. When we play the Beatles on Tuesday, our Senior Discount Day, the customers whistle, dance and sing along."

Pageturners Bookstore in Indianola, Iowa, opts for Pandora radio. "I get to choose favorite artists (as many as I like) and Pandora Business plays those and similar artists and takes care of the pesky copyright fees too," said Kathy Magruder. "My store is too small to sell music, so this seemed the best option. Today we've had John Prine, the Oysterband, Yo-Yo Ma and the Nadas. Oh, and Great Big Sea singing 'Never trust a fella with a helmet on his head' (words to live by!)."

Charles Bottomley of the Northshire Bookstore, Manchester Center, Vt., recalled that a few years ago, they "switched from the floor manager's iPod to Pandora. We appear to have settled on a baroque playlist which is now played at an almost negligible volume--clarinets are burbling right now as I type this. This arrangement has brought a certain degree of peace to the bookstore. During the iPod years, there would be periodic revolts against the playlist, which usually involved a dose of Leo Kottke that was perhaps too robust for most people--some of the new age pudding that seeped out from the speakers on a daily basis may never leave my ears. The drawback of Pandora is that now when customers ask what CD is playing, we have to explain it's a streaming service--and often even when we identify a track and performer for them, we don't have the music in the store to handsell to them."

Noting that music "is a common subject of discussion for us, in part because my mother, who works occasionally in the store, has a limited tolerance of many genres," Harriett Logan of Loganberry Books, Shaker Heights, Ohio, observed: "In general, we have a wide collection to choose from, including classical, early music, jazz, world, folk, singer-songwriter, and a speck of pop. We give albums or songs a color code for emotional power (yellow is sunny, red is spirited or even angry, blue is, well, blue), a star-rating, and notes like Staff Picks or Mom-fail, so we can create closely curated playlists. Sometimes we'll spend a whole day on Celtic music, another day we might flit widely from Dvorak to didgeridoo to dulcimer. I like mixing it up (the color coding helps avoid really jarring transitions, but they still might be surprising). And it doesn't always work for my mother, who calls Mary Chapin Carpenter rap, and who can get angry at Mozart quartets if they play in the energy-lull of late afternoon. So it's a work in progress, and requires attention.

"I never tune out the background music, and I'm the first to complain if it stops. I don't like the empty silence, the way it makes people whisper like they're in a library, and the lack of energy pulse that good music provides. Of course people have different tastes, just like in books and bookstores. But we create an environment uniquely our own."

As I write this on Wednesday night in my office, I'm working without a soundtrack. No... wait, I do hear distant music after all. Not piped music. Live. Just over the hill from my house, Mumford & Sons are playing to a sold-out crowd at the Saratoga Performing Arts Center. I stare at my computer screen, wondering if that muted sound is "White Blank Page."
--Published by Shelf Awareness, issue #2777
Robert Gray
|
Comments Off
|