Sunday, March 9, 2014
We've all experienced serendipitous moments while traveling, when our plans suddenly evolve into something unexpected, profound and beautiful. Recently, Northshire Bookstore co-founders Ed and Barbara Morrow were in just such a situation during their two-month stay in Granada, Nicaragua.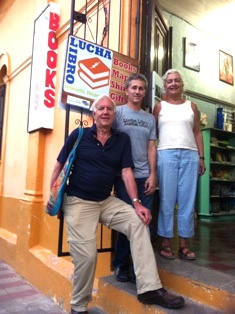 Ed and Barbara Morrow with indie bookseller Troy Fuss, owner of Lucha Libro Books in Granada, Nicaragua
In February, the Morrows discovered their visit happened to coincide with the city's 10th annual Festival Internacional de Poesía (International Poetry Festival), "a week of activities and festivities, all centered around poetry--punctuated by live music," Barbara recalled. "It is held mostly outdoors in the central square of Granada, surrounded by the beautiful San Francisco cathedral, local vendors selling artisanal wares and the lovely square itself consisting of cafés, shops and restaurants, catering to locals and tourists alike.

"The festival celebrates poets from around the world, many from Latin American countries, and this year's North American honoree was Rita Dove, Pulitzer Prize winner and former Poet Laureate. It was thrilling hearing her read her poems (in English, and then deftly translated into Spanish) at the beginning of the festival; she was regal, profound and accessible."

One night, during a celebration of women poets, Dove "spoke eloquently about the abuses faced by women around the globe, and said that in a perfect world there wouldn't be the need for women's poetry and men's poetry," Barbara added.

A bookseller at heart, she mentioned two books in particular that had helped prepare her for the trip. One was Gioconda Belli's memoir, The Country Under My Skin: A Memoir of Love and War, "and lo and behold, she was here for the festival, so Ed and I bravely sought her out to talk to her briefly and ask her to sign my book.... The other indispensable book I discovered was Blood of Brothers: Life and War in Nicaragua by Stephen Kinzer, who covered Nicaragua for the New York Times in the 80s. A friend of mine tracked him down at BU where he teaches, and we're going to all have dinner together when we get back at the end of March. Bookselling is good practice for chutzpah!"

The Morrows also connected with Troy Fuss, proprietor of Lucha Libro Books, "who basically just landed here and decided to open a bookstore that carried English and Spanish books," she said. "It's pretty tiny, no more than 600 sq. ft. There apparently is a B&N equivalent that just shut down their Granada store. Their main--and I think only--presence is now in Managua, the capital."

Serendipity.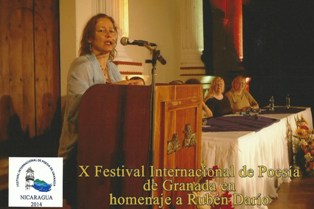 Shortly after Barbara contacted me, I started noticing Facebook posts about the festival by Naomi Ayala, who'd been one of the poets invited to read there. She is the author of three poetry collections, including, mostly recently, Calling Home: Praise Songs and Incantations (Bilingual Review Press), which I highly recommend. From "For Remembrance":

Ask me why I'm silent.
I speak the unwinding
through which the wind blows.
Listen and you will remember me.
There are echoes everywhere.
Laugh back.

I wondered what the Festival Internacional de Poesía had meant to her. So I asked.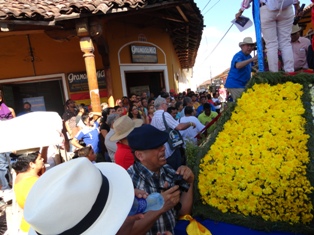 Street corner at burial of machismo and violence against women readings (photo by Naomi Ayala)
"Nicaragua is a country that respects and values culture highly--its own and that of other nations," Ayala observed, adding that nowhere is this more evident than at the festival. "Of all the seminal moments I have had the opportunity to experience as a poet, my participation in this year's 10th anniversary will forever rank among the highest. Here Spanish, not English, was the international language that brought together 141 poets from all corners of the world. So it was that I had the great honor to exchange, at minimum, a few words in the language in which I first began to write poetry with Palestinian, Egyptian, Israeli, Latvian, Korean, and Maltese poets, to name a few, who are beloved by their nations--and Nicaragua--in ways few American poets can imagine.

"It is dumbfounding to see how a small Third World country, with a tiny staff and a small troop of impassioned youth volunteers, can pull off an event of such magnitude--one that, besides the dozen or so nightly poetry readings, includes two art exhibits, more than half a dozen street concerts and dance performances, and concurrent book and crafts fairs."

Barbara Morrow's words echoed Ayala's: "What is so amazing to me is that in this Third World country, which has seen such violence and upheaval in its recent history, they have chosen poetry to bring people together. And that so many people turn out to celebrate poetry and what it represents: namely, the personal expression of longing, desire and gratitude."

Ayala eloquently captured the essence of her Festival Internacional de Poesía experience when she said that, in addition to "a dozen new poems, love in so many forms and friendships that will last a lifetime," she returned to the U.S. "with the unwavering knowledge that poetry is not only alive and well in places outside my purview, but that, every time I sit in a street corner, every time I hang over my desk, I am not among the world's few."
--Published by Shelf Awareness, issue #2202.
Robert Gray
|
Comments Off
|