Friday, April 17, 2015
I'm reading Poetry Notebook: Reflections on the Intensity of Language by the brilliant Clive James, who can enlighten, challenge and irritate me, sometimes within the same passage: "And anyway, like abstract painting, abstract poetry extended the range over which incompetence would fail to declare itself. That was the charm for its author."

In the book's introduction, James observes that Poetry magazine "has always been a force in the world of poetry, even for those of us who believe a poem should get beyond the world of poetry if it can, and get itself heard in a wider world." I'd like to borrow that idea for a moment and mash it up, in what probably amounts to poetic sacrilege, with a Liz Lemon (Tina Fey) catchphrase from the TV show 30 Rock:

A poem should get beyond the world of poetry if it can, and I want to go to there.

"There" for me this year would be the O, Miami Poetry Festival. The ambitious goal of its 30 events and 23 projects during National Poetry Month is to "attempt to deliver a poem to all 2.6 million-plus residents of Miami-Dade County."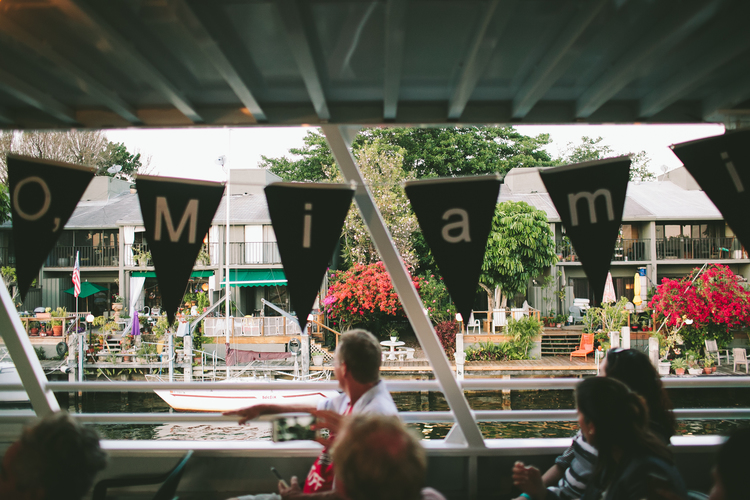 photo: ©gesischilling
I'm spending a very pleasant April vicariously attending the festival, mostly through entertaining blog and Facebook updates. The fun began with a poetic boat ride up the Miami River on April 1 and will end April 30 with a teen poetry and music competition.

Of course I love the fact that there is an indie bookseller connection. Books & Books has been a long-time supporter of the festival as one of its official sponsors. On April 12, the bookseller hosted "Poetry in the Park," which drew hundreds of people to "the world's biggest poetry reading," headlined by Kay Ryan and Jamaal May. O, Miami's blog noted: "As the poets read, strangers shared their food, wine and chocolates on the lawn. Listening to the poems of May and Ryan, one finds it easy to believe that, as Ryan writes, 'it would be/ a good trade: life/ for the thing made'--unless all days were like Poetry in the Park, which was both."

The bounty of alternatives O, Miami offers to help poems "get beyond the world of poetry" is amazing. Last week I wrote about poetry and fun, mentioning just one of the festival's events and projects--"Murinals." Here's a small sampling of what else is going on:

Ode to the Code: A ZipOde poetry contest that transforms ZIP codes into an occasion for poetry began in March, with WLRN and O, Miami accepting odes to South Florida ZIP codes in the form of the code itself: five lines, with each line containing the number of words designated by the ZIP numbers. (For example, 3 words, 3 words, 1 word, 3 words, 9 words.)

Cease & Exist: O, Miami teamed up with attorney and poet Quinn Smith to create a project that invites the public to send "cease and exist" letters from the law firm of William, Carlos & Williams to individuals living un-poetic lives.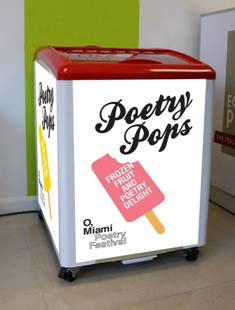 Wallace Freezins: Artist Randy Burman's project puts South Florida poets on ice cream wrappers. Throughout April, Wallace Freezins (played by local actor/comedian Randy Garcia) is appearing at Miami-Dade events selling his signature Poetry Pops.

The Mural as Ode: Artist Steve Powers painted a mural--"expansive and bold; a color palate of sea-green, orange and sharp black pops from the stark white wall"--in South Beach, a new commission from O, Miami.

The Outdoor MFA: A series of writing workshops that "refuse to accept that sitting around a table is the only way to learn how to write." Nonfiction writer Nathan Deuel is leading two "walking workshops" through Miami neighborhoods, while poet Michael Hettich takes his two classes onto the water for Kayak Poetry Workshops.

Manual Cinema: The world premiere of a new performance, based on poet Federico García Lorca's play El Divan de Tamarit, by Chicago-based shadow puppetry group Manual Cinema is set for April 23-25.

Favorite Poem Project: Since we began with a Poetry magazine reference, it seems only fair to end with the Poetry Foundation's invitation to Floridians to share their favorite classic or contemporary poem about the state. Up to six poems will be selected for a final video mini-documentary series to air later in the year.

"O, Miami tests the limits of what's possible when circulating poems among a community," said festival director P. Scott Cunningham. "Miamians should watch out for poetry on buildings, on the river, in the mail and even in the bathroom."

I don't know if Clive James would approve. Perhaps not, but that's okay. The poetry room is spacious enough to accommodate an infinite range of guests. And who wouldn't want to go to there? --Published by Shelf Awareness, issue #2488
Robert Gray
|
Comments Off
|