Sunday, December 8, 2013
I first heard about Andy Sturdevant's new collection of essays, Potluck Supper with Meeting to Follow (Coffee House Press), in connection with a series of author events he'd been doing in the Twin Cities area, beginning with a potluck launch at a Polish church hall in Northeast Minneapolis.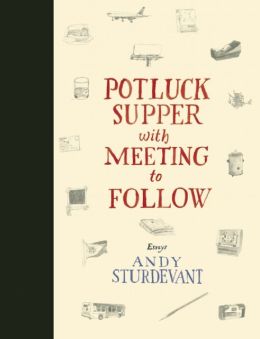 "I like to think of Andy as the hardest-working man in the art business in the Twin Cities," said Hans Weyandt, co-owner of Micawber's bookstore, St. Paul, Minn. "For years, he's been tireless in his support and work for artists of all stripes here. So it has been a joy to watch him do events and work for his own book."

Sturdevant, Coffee House and artist collaborative Works Progress have been partnering on "Potluck Supper with Projects to Follow," through which artists create works inspired by the essays and exhibit them around the area.

"These have included a poetry reading done with semaphore flags by the Mississippi River, a movie screening series in a parking lot, a game show in an Eagles Hall about historic American flags and projecting a short film on the side of a neighborhood bar during the first blizzard of the season," Sturdevant said. "I've done walking tours, too, of sites around bookstores where we've had readings. A walking tour gives the attendees something fun to do beforehand, and a chance to escape unnoticed if they get bored before the reading actually begins. I've always liked doing art and culture-related activities out of the traditional venues. It's fun to have an excuse to do those kinds of things around town because they related loosely to a book."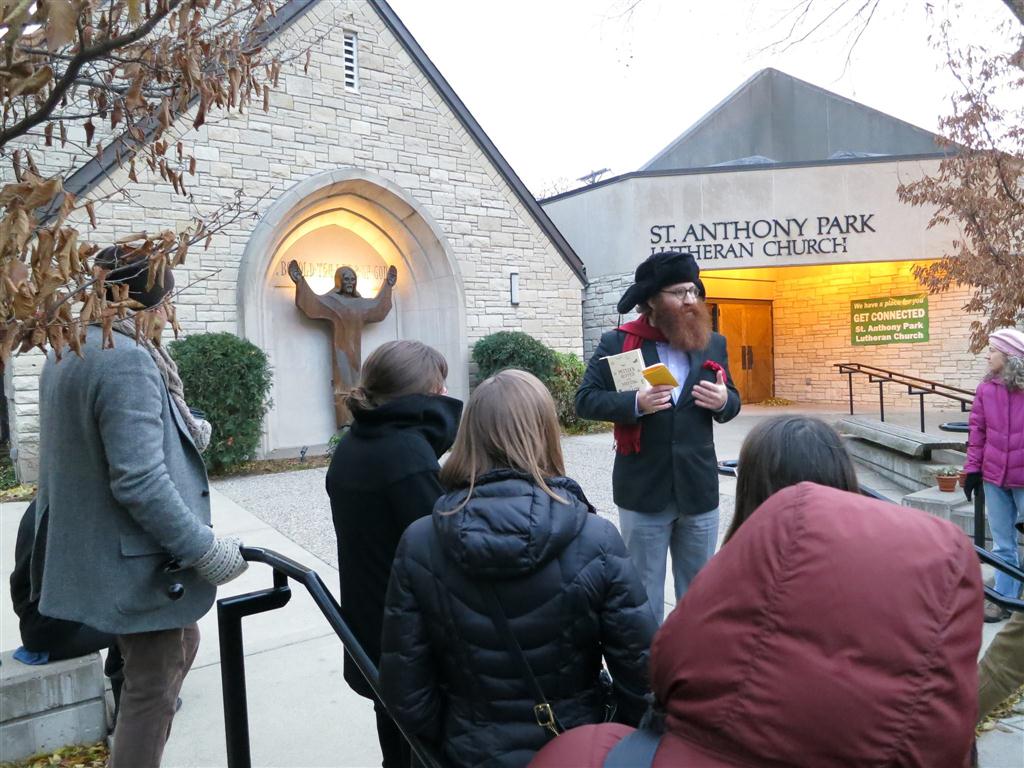 Weyandt described just such an event, held recently at--as well as near--his bookshop. Sturdevant and Carrie Elizabeth Thompson, who shot the photos in the book, "led a group of us on a short tour of the blocks near Micawber's. We saw a house built in 1917 by some artists who became Charles Schulz's mentors. And he told us about the artist whose wood sculpture adorns a church up the street and compared it to some of his work, which is near the Minnesota/Canadian border. It was, in short, no normal event. Then we returned to the bookstore where he read from his fictional letter correspondence with a management type at Buffalo Wild Wings."

I like that. It speaks to the ambition and range I discovered while reading the book. I'd probably anticipated (though would never admit so publicly) that this would be a "regional" read when I first opened it. I love the Twin Cities, so that wouldn't have been an issue, but Sturdevant's narrative voice challenged my assumptions from the first line of his acknowledgments page: "This book is named Potluck Supper with Meeting to Follow for an agenda item in a Maoist newsletter published on the West Bank of Minneapolis in the seventies..."

"I didn't write it for a local audience specifically, though a lot of the material is directly about the area," Sturdevant explained. "But some of my favorite books, both growing up and currently, have been about places where I've never lived or even visited. A lot of what I'm writing about in the book is true of anywhere--the way you see it from foot versus car, the layers of history in terms of architecture or other pieces of physical culture, the billboards and advertisements you come across, the weird stories you hear about the city from people you meet at parties or at bus stops. I hope people see where they live reflected in what I've written."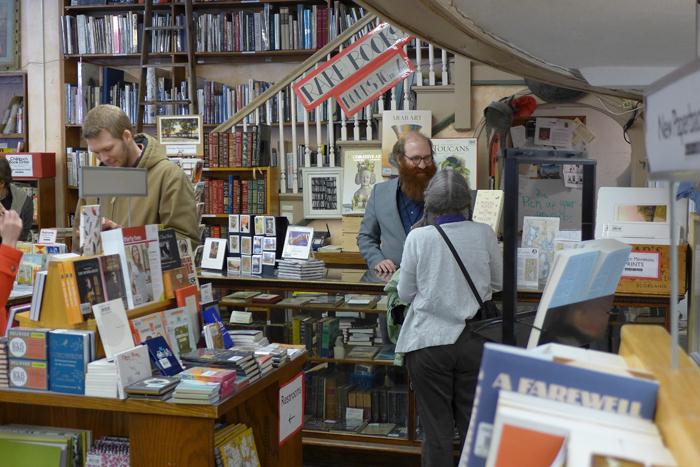 On Small Business Saturday, Sturdevant participated in Indies First by helping out at Magers & Quinn Booksellers in Minneapolis. "I haven't had my post-work performance review yet, so I can't really say if I'm any good at it or not," he reported. "But it did come to me very naturally. I worked for many years as a sales clerk in an art supply store--there's an essay about it in the book--and it's very similar, in the sense of listening to what people are interested in, and making recommendations based on your experiences using the products you're selling.

"Thinking on your feet that way is really enjoyable. It's kind of performative, like being on stage and interviewing someone and trying to figure out what to say next so you're not just looking at them blankly and saying, 'Uhhhhhhhhhh.' That's important, and so is knowing where the bathroom is. And I certainly helped a number of people find the bathroom."

Weyandt observed that "the thing I most love about Andy's work and his artistic presence is that it's nearly impossible to describe it in a way that properly showcases its power. On the face of it, the essays can seem simple. But they aren't. His willingness to do events all over town (at bookstores, in parking lots of coffee shops, you name it) goes way beyond the call of duty. He is our true artistic patron saint." --Published by Shelf Awareness, issue #2144.
Robert Gray
|
Comments Off
|