Saturday, July 23, 2016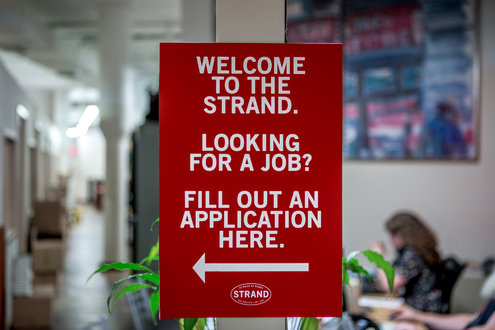 Earlier this week we highlighted a New York Times piece on hiring practices at the Strand in Manhattan that focused particularly on "a final hurdle to enter its ranks: the literary matching quiz." While I don't recall whether I took a book quiz as part of my application process to become a bookseller long ago, there were certainly general questions that probed my relative bookishness. A quick scan of online indie bookstore applications yields examples that probably are close to the ones I faced:
Who is your favorite author? Why?
Can you name an author from each of these genres: Scifi, Mystery, Western, Romance, Classic Literature?
What is your definition of customer service?
In the past year, what two books have you read that you didn't like or that disappointed you? Why?
What do you know about us?
I was impressed by the questions Left Bank Books, St. Louis, Mo., asks its applicants:
It's the weekend and you want to make plans. How do you get the information you need to plan your weekend?
I just read Cutting for Stone, an epic novel that spans three generations of an Indian expatriate family in Ethiopia. I really loved the sweeping family saga and the political intrigue. What should I read next?
What do you look for in a good bookseller?
What are three things a retail sales associate should be able to do?
Please tell us about your last customer service experience with Left Bank Books. Do you have any ideas about how to make it better?
We live in an age of online quizzes. Readers are used to being grilled daily about their book knowledge: The page 69 quiz--Can you identify the classic book from a single paragraph?; Name the book titles without vowels or spaces; Do you actually have good taste in books? Even booksellers aren't immune to the siren call of the quiz: Which independent Brooklyn bookstore are you?; Which independent Berkeley bookstore are you?

The Strand article prompted my interest in the prospective bookseller q&a, and then I stumbled across a Financial Review piece that featured a selection of "banned Google interview questions: can you answer them?" Well, no I couldn't. Google's interview brain teasers are the stuff of Silicon Valley legend, but they prompted me to consider some indie bookseller job interview alternatives. With apologies to Google, here's what I've got thus far:
If all of the books you own were placed end to end, in what country would the last one be put down?
What super power would you like to have? How would you apply it to bookselling?
Where do you see yourself in a century? (specifically for writers applying to be booksellers)
If you could choose different songs to play every time you walk into various sections of the bookshop, what would your songlist be? Give reasons for your picks.
How much would you charge for all the books in the store?
If you were to get a book-inspired tattoo (assuming you don't already have one), what and where would it be?
What is your least favorite section of the bookstore, and how would you improve it?
If unsold hardbacks are returned to the publisher after six months and paperbacks after a year, then why are there so many old books on the shelves?
Assume you were hired, but as a bookstore cat. Which book section would be ideal for undisturbed sleeping?
If you didn't have to work at all, what would you do instead besides read?
Explain why you love reading to someone who hates reading in a way that doesn't make them feel bad.
If the inventory system showed a book in stock, but it isn't on the shelf, what is your next step? Assume the customer is waiting impatiently.
What do you think your reason would be if you left this job after three years.
What is the sound of an author event when no one shows up?
Where is the nonfiction section in this store?
What scares you about bookselling?
How would you answer this question: "Do you have that book with the red cover and there's a woman's leg on it and it's by the same author who wrote that dog mystery whose name is Smith or Crowley or something with a D in it?"
Have you ever been in this bookstore before in your life?
Or... maybe the most basic question is still the most challenging. From the online application of Oblong Books & Music in Millerton and Rhinebeck, N/Y.: "Why do you want to work in a bookstore?"
--Published by Shelf Awareness, issue #2801
Robert Gray
|
Comments Off
|